Home » Entertainment »
The Big Bull Movie: Star Cast, where to watch, HD download online
The film was going for a theatrical release in October 2020 but due to coronavirus pandemic, the makers decided to go for a direct-to-OTT release.
April 8, 2021 13:12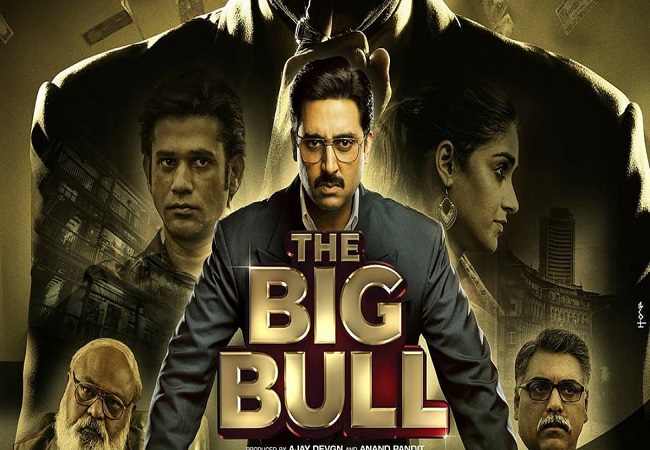 New Delhi: Abhishek Bachchan starrer Big Bull will be out on Disney+ Hotstar at 7:30 pm today. The trailer for the film was released last week and since then it is being compared to the 'Scam 1992: The Harshad Mehta Story' web series on SonyLiv app.
The three-minute-eight-second trailer starts from a voice-over, "In this country, one can do anything – use fake promoters, bribe the police, threaten the media, we can buy people -but there is one rule- you can never get caught." The clip sees Abhishek in the role of stockbroker – Hemant Shah on board a taxi as he went to a bank, post which he shows some documents to the bank officer, just when one the fake document is about to get caught, he bribes the bank employee.
The film was earlier set to release in October 2020 but was delayed owing to the coronavirus-led pandemic. The makers then decided to go for a direct-to-OTT release. A web show titled 'Scam 1992: The Harshad Mehta Story' tells the same story and was launched last year on SonyLIV. Helmed by Hansal Mehta, the series made Pratik Gandhi, who played the titular role, the breakout star of 2020. The massively successful series named names and was not afraid to show the events as they happened decades back.
Watch the trailer
Cast
Abhishek Bachchan, Ileana D'Cruz, Nikita Dutta, Ram Kapoor, Sohum Shah, Sanjeev Pandey, Lekha Prajapati, Saurabh Shukla and Samir Soni
When and where to watch
'Big Bull' will release directly on OTT platform Disney+ Hotstar and will be available to stream and download at 7:30 PM.