Amid Corona crisis, CM Vijay Rupani unveils projects to turn Gujarat into tourism hotspot
"State government is considering setting up a tourism circuit connecting Jyotirlinga-Somnath, Sasangir, Sinhadarshan, Girnar Parvat, Uparkot and Somnath beach," CM Rupani said while inaugurating projects.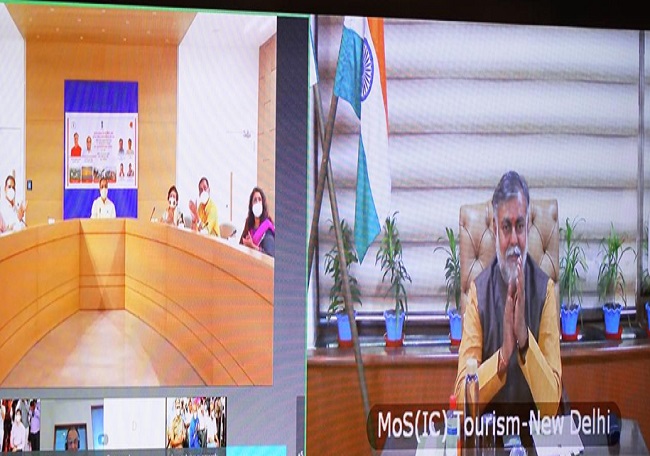 New Delhi: Gujarat Chief Minister Vijay Rupani on Thursday inaugurated and laid foundation of various tourism and pilgrimage projects worth Rs 126 crore through e-launching event from Gandhinagar.
Gujarat CM inaugurated various tourism and pilgrimage projects at the e-launching and e-dedication event organized by state tourism department, in presence of Tourism Minister Prahaladsinh Patel.
The projects include dedication of facilities for tourists worth Rs 45 Crore at Somnath under Prasad Yojana and laid foundation stone of Uparkot Fort work at Junagadh, Raiyali Musium fase-2 work, various works at Dhorado-white dessert, Shrimad Rajchandra Bhavn and Vir Meghmaya Smarak Bhavn.
In the inauguration of the facilities for Parking, Tourist Amenities Centre and Solid Waste Management created with the cost of Rs. 45 crore funded by the Ministry of Tourism under its PRASHAD Scheme. @prahladspatel @vijayrupanibjp @GujaratTourism @pspoffice pic.twitter.com/xt8YUqEQoq

— Ministry of Tourism (@tourismgoi) July 16, 2020
* The largest ropeway on Girnar mountain will be a tourist attraction.
* White Desert in Kutch – Smritivan-Shyamjikrishna Varma Smarak – Bhujio Dungar-Narayan Sarovar-Mata's Madh tourism circuit has been developed and the government is dedicated to realize 'Kutch nahi dekha to kuch nahi dekha' slogan.
* The state's tourism sector is the largest employer and has become a new force in economic growth.
* Gujarat continues the journey of development work even in the global slowdown following Pandemic Corona.
Creating Tourism Circuit in Gujarat
Speaking on the occasion, Chief Minister pledged to make Gujarat a World Tourist Destination by setting up a complete tourism circuit of various tourist centers in Gujarat. In this regard, he said that the state government is considering setting up a tourism circuit connecting Jyotirlinga-Somnath, Sasangir, Sinhadarshan, Girnar Parvat, Uparkot and Somnath beach. He added that the ropeway on Girnar Mountain, which will be launched in the coming days, will be a new attraction for the entire tourism sector.
Vijay Rupani said that the Government of Gujarat, Government of India and Somnath Trust are continuously working for the holistic tourism development of this pilgrimage by setting up world class facilities in Somnath including huge parking lot, community kitchen, tourism information center, Somnath Museum, library.
Sh. @prahladspatel , Hon'ble Union Minister of State(IC) for Tourism joined on virtual platform from Delhi with Sh. @vijayrupanibjp , Hon'ble Chief Minister, Gujarat. @pspoffice @GujaratTourism pic.twitter.com/jhCRmPWUxx

— Ministry of Tourism (@tourismgoi) July 16, 2020
Vijaybhai Rupani made it clear that the service sector, especially the tourism sector, is emerging as a new force in economic growth by providing the most employment. The diversity of tourism in Gujarat attracts tourists from all over the world and the rapid growth of the tourism sector in the last two years has led to steady growth in economic growth, including employment, he added.
Gujarat taking strides despite Corona crisis
Even in this times, when Corona transmission has crippled world economy we have given a fight back and learned to live with it, following the mantra of the Prime Minister "Jaan Bhi Hai Jahan Bhi Hai" and not let the daily activities and pace of development in the state stop.
He also added that with such e-Lokarpan-Khatmurhat chains, Gujarat has moved forward on the path of development and we have developed the culture of turning a disaster into an opportunity that has neither stopped nor stop.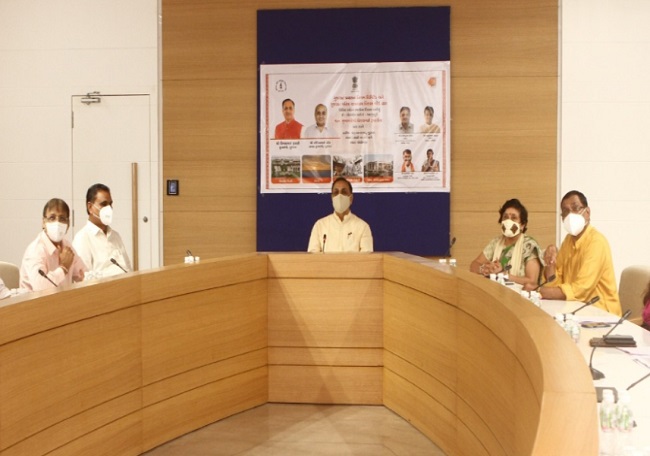 The Chief Minister said that the tourists visiting Smritivan, Shyamjikrishna Varma Smarak, Bhujio Dungar, Mandvi beach, Mata Madh and Narayan Sarovar, Panchtirth and other tourist spots are also being focused by the state government.
The Chief Minister laid foundation stone of the development of Shrimad Rajchandra Bhavan in Vavaniya, Morbi worh Rs.6 crore and also e-inaugurated various facility works worth Rs. 3 crore of Veer Meghmaya Smarak Bhavan in Patan.