Ashoka symbol at new Parliament complex: Opposition finds fault with 'ferocious' lions, BJP rubbishes charge
The political rivals are upset and agitated over the 'makeover' of lions, which has become ferocious unlike the calm & composed in original avatar.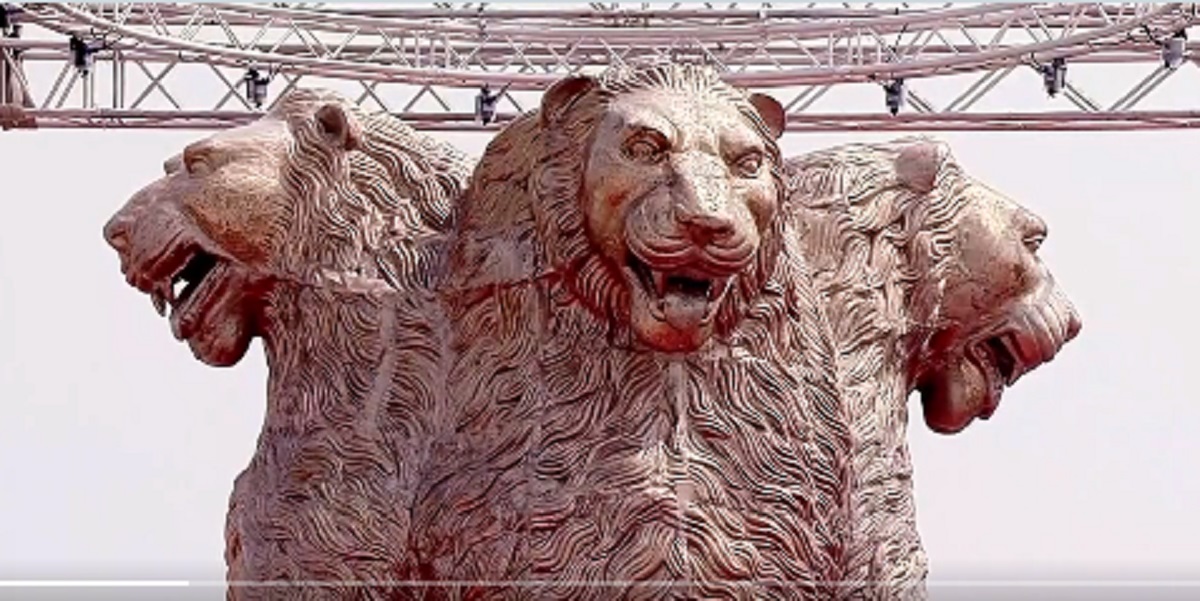 New Delhi: Hours after Prime Minister Narendra Modi unveiled the Ashoka Symbol on the rooftop of new Parliament building in the national capital, the Opposition parties have trained guns at the Centre and are accusing it of fiddling with the national symbols.
The Ashoka emblem is an adaptation of the Lion Capital of Emperor Ashoka at Sarnath.
Rival parties have raised objections to the 'changed design' of the iconic structure and are slamming the Centre for baring the fans of 4 lions in the national emblem, which is in different from the Lion Capital of Sarnath.
This morning, I had the honour of unveiling the National Emblem cast on the roof of the new Parliament. pic.twitter.com/T49dOLRRg1

— Narendra Modi (@narendramodi) July 11, 2022
The opposition parties are upset and agitated over the 'makeover' of lions, which has reportedly become ferocious unlike the calm & composed in original avatar. From RJD to AAP to TMC, all have launched scathing attack on Modi government, calling it a migration from 'Gandhi to Godse ideology'.
Rashtriya Janata Dal (RJD) said that in the original version, lions look 'gentle' but the "copy" in Amrit Kaal" has lions that show penchant to swallow everything.
Senior lawyer Prashant Bhushan likened the Ashoka emblem with the lions sitting 'majestically' with Mahatma Gandhi and the ones with bared fangs on the new Parliament building with Nathuram Godse, Gandhi's assassin.
"From Gandhi to Godse; From our national emblem with lions sitting majestically & peacefully; to the new national emblem unveiled for the top of the new Parliament building under construction at Central Vista; Angry lions with bared fangs," he said in a tweet.
Taking a dig at the unveiling of national emblem atop Parliament building, TMC MP Mohua Moitra tweeted, "This is Modi's new India!"
— Mahua Moitra (@MahuaMoitra) July 12, 2022
The TMC Parliamentarian also shared 2 contrasting images of national emblem.
Refuting the charges as baseless & politically motivated, the BJP said that opposition parties always take refuge in unfounded allegations to target the Centre and it's very unfortunate.
War of words between AAP & BJP
Sanjay Singh, RS MP of Aam Aadmi Party, tweeted, "I want to ask 130 crore Indians whether those who change the national symbol should be called "anti-national" or not."
संजय सिंह जी, भगवंत मान जी वाली दवाई पीकर ट्वीट मत किया कीजिये , आप झेल नहीं पाते ?

अशोक चिन्ह के शेर को आदमखोर कह कर आप केवल खुद की बची खुची इज्जत का केजरीवाल बनवा रहे हो ???? https://t.co/5wtc7MTgQ9

— Kapil Mishra (@KapilMishra_IND) July 11, 2022
He got a strong retort from BJP's Kapil Mishra, who advised him not to target anything just for the sake of it.
Taking a dig at AAP leadership, he tweeted, "Sanjay Singh ji, you should tweet with caution, else it may invite satire."