India-Bangladesh Virtual Summit: Bangladesh is a major pillar in our neighbourhood first policy, says PM Modi | TOP POINTS
PM Modi had delivered a video message on the historic occasion of Mujib Borsho in March 2020. Both leaders have remained in regular touch during the COVID pandemic.
December 17, 2020 08:58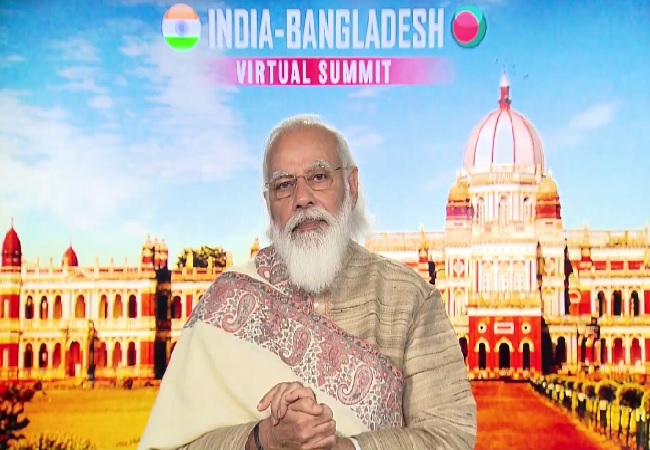 New Delhi: Prime Minister Narendra Modi and his Bangladesh counterpart held a virtual summit on Thursday and have comprehensive discussions on the entire spectrum of the bilateral relationship, including further strengthening cooperation in the post COVID era.
The summit is being held a day after Vijay Divas, which marks India's victory over Pakistan in the 1971 war that led to the creation of Bangladesh.
India and Bangladesh have continued to maintain regular exchanges at the highest level with Bangladesh Prime Minister paying an official visit to India in October 2019.
TOP POINTS
PM Narendra Modi and Bangladesh PM Sheikh Hasina release a commemorative stamp on Sheikh Mujibur Rahman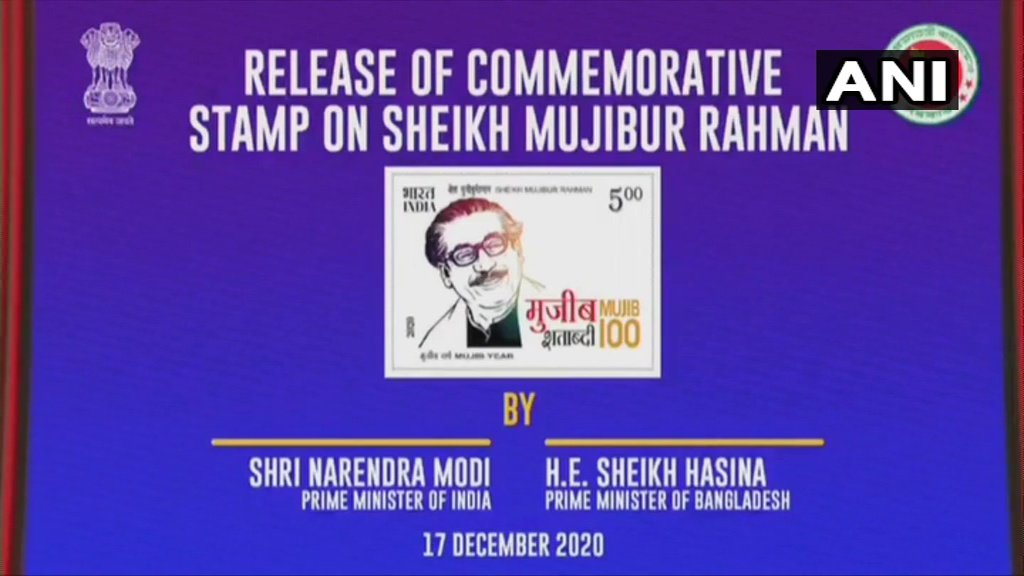 Here is what Bangladesh PM Sheikh Hasina  said:
Bangladesh is on the verge of celebrating 50 years as an independent nation. Your (PM Modi) visit to Dhaka on 26th March 2021 will be the crowning glory of our joint commemoration of Bangladesh's Liberation War 1971: Bangladesh PM Sheikh Hasina
I must commend you for the manner in which your government has countered COVID 19: Prime Minister of Bangladesh, Sheikh Hasina during virtual summit with PM Modi
I pay deep homage to the 3 million martyrs who laid their lives. I pay tribute to the members of the Indian armed forces martyred in the 1971 war. I pay my gratitude to the govt and people of India who extended wholehearted support for the cause of our liberation: Bangladesh PM
PM Narendra Modi and Bangladesh PM Sheikh Hasina jointly inaugurate the Chilahati-Haldibari rail link between India & Bangladesh
Here is what PM Modi said:
Cooperation between India and Bangladesh has been good not withstanding coronavirus pandemic: PM Narendra Modi
Our relationship has continuously moved ahead in other fields apart from health sector. We've reduced hurdles in land-border trade. We've also improved connectivity in the two countries and all of these show our commitment to strengthen ties: PM
This year has been full of challenges due to the COVID19 pandemic. During this time, there has been good cooperation between our countries in the sphere of working with health professions, COVID19 vaccine etc: PM Modi
Bangladesh is a major pillar in our neighbourhood first policy. It has been a special priority for me from Day 1 to strengthen our relations with Bangladesh: PM
It is a matter of pride for us to celebrate Vijay Diwas as a mark of victory over Anti-Liberation Forces. Today, when Bangladesh is celebrating 49 days of its existence, I pay my tributes to all the bravehearts who laid down their lives in the fight of 1971.
WATCH
PM Shri @narendramodi addresses India-Bangladesh virtual bilateral summit. https://t.co/dOgQOCUEI7

— BJP (@BJP4India) December 17, 2020