Manusmriti remarks row: BJP's Khushbu Sundar detained during protest (Video)
The party has demanded an apology from Mr Thirumavalavan for his remarks, with its women's wing calling for protests across Tamil Nadu. The BJP said the comments could trigger a communal clash.
October 27, 2020 10:07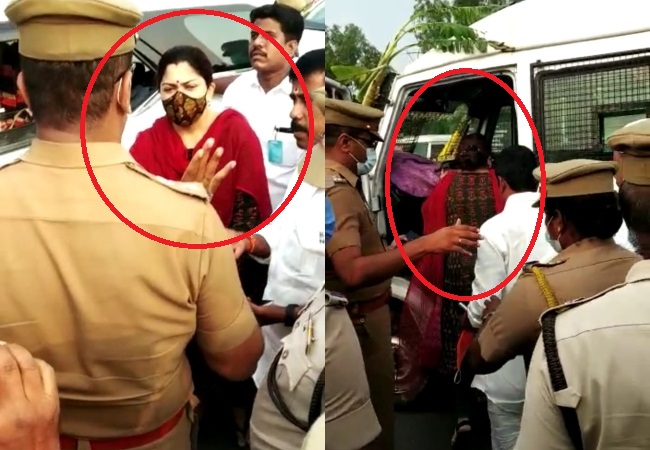 New Delhi: BJP leader Khushbu Sundar was detained in Tamil Nadu's Chengalpattu district on Tuesday (October 27) while on her way to protest against VCK leader Thirumavalavan's remarks on Manusmriti. She had had recently joined the Bharatiya Janata Party (BJP) earlier this month.
After the BJP leader was detained, Khushbu Sundar took to Twitter and questioned the AIADMK government in Tamil Nadu, saying why was she being "denied our democratic right for a peaceful protest". She also alleged that other parties are being allowed to hold the protest.
#TamilNadu: प्रदर्शन करने जा रहीं भाजपा नेता खुशबू सुंदर को पुलिस ने हिरासत में लिया
| @khushsundar @BJP4TamilNadu | pic.twitter.com/iI0iceqdYN

— Newsroom Post (@NewsroomPostCom) October 27, 2020
"When your journey is cut short by force, you know you are on right track. I question @AIADMKOfficial n #CM of TN @EPSTamilNadu avl, why we are denied of our democratic right for a peaceful protest when other parties are given the permission to do the same? Why this partiality?"
Arrested.. been taken in police van. we will fight till our last breath for the dignity of women. H'ble PM @narendramodi ji has always spoken about the safety of women and we walk on his path. We will never bow down to the atrocities of few elements out there. BHARAT MATA KI JAI! pic.twitter.com/71CKjFewri

— KhushbuSundar ❤️ (@khushsundar) October 27, 2020
In another tweet, Khushbu Sundar said, "Or is @AIADMKOfficial govt aware that #VCK is capable of riots and goondaism and they fear the same?"
Cowards #VCK. Dont rejoice. Its your failure. Arrested bcoz they know we are a force to reckon with. We will not bow down. @BJP4India @narendramodi
Ji shall take every step to ensure the respectability of every daughter of this soil.Darpoks VCK, respecting a woman is alien to you

— KhushbuSundar ❤️ (@khushsundar) October 27, 2020
During a recent address to a group, Viduthalai Chiruthaigal Katchi (VCK) chief Thol Thirumavalavan claimed that Manusmriti demeans women and that Manu Dharma treats women as prostitutes. He had also demanded a ban on Manusmriti.