Mukroh Firing: Transportation of fuel to Meghalaya stopped, says Assam Petroleum Mazdoor Union
Mukroh Firing: Assam Petroleum Mazdoor Union stopped the transportation of fuel to Meghalaya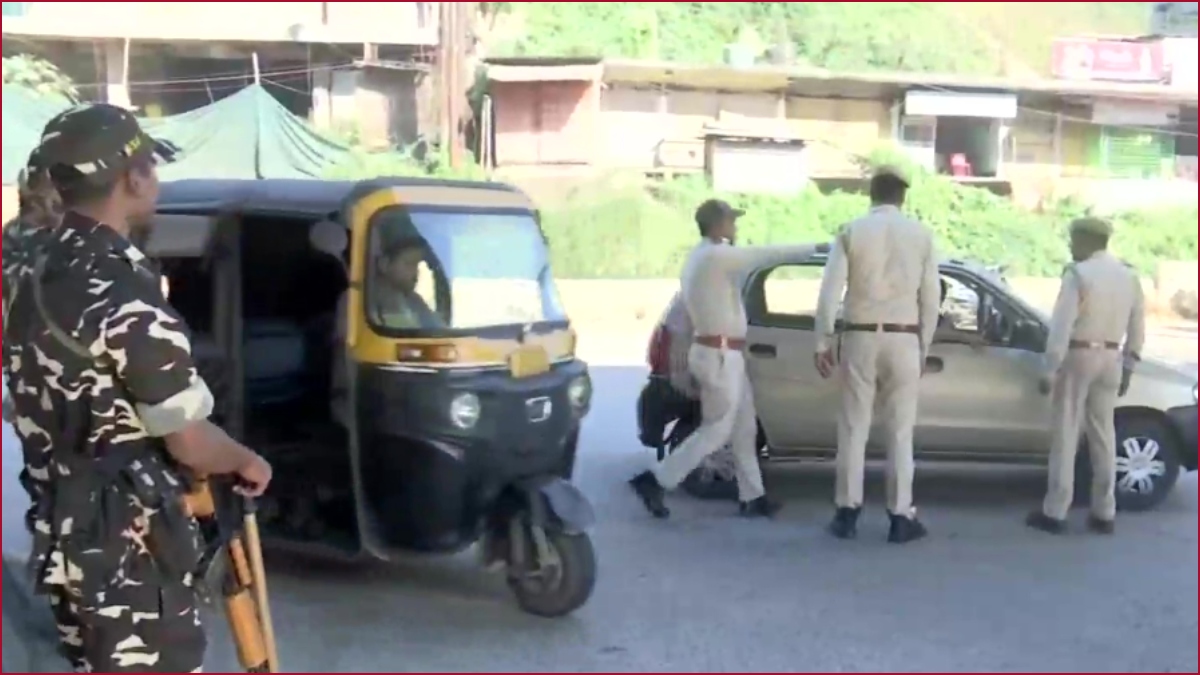 New Delhi: As tension continued in Meghalaya after the Mukroh firing incident, Assam Petroleum Mazdoor Union has sent a letter to PSU oil marketing companies informing them of their decision to not load fuel in tankers.
The Union said that it has stopped the transportation of fuel to Meghalaya as it has been brought to their notice that the situation in Meghalaya's Ri-Bhoi, Khasi Hills & Jaintia Hills districts remains abnormal.
The letter further said that they are afraid to go to the above-mentioned area for supplying petroleum products.
So looking at the current situation they have decided not to take any load from today (Friday, November 25) onwards until and unless the Government of Meghalaya assures them of the safety and security of T/T (tank trucks) crews.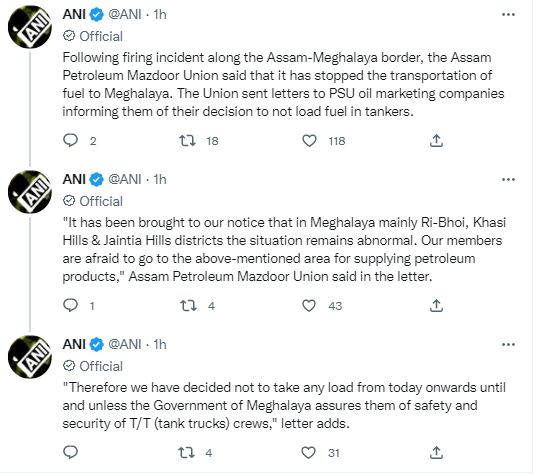 Also, after the border firing incident, only vehicles with Meghalaya's registration were allowed entry into the state.
Visuals from Jorabat – entry point to Meghalaya along Assam-Meghalaya border where Assam police restricted vehicular movement. Only vehicles with Meghalaya's registration are being allowed entry into Meghalaya, in the aftermath of a firing incident that killed 6 people in Mukroh. pic.twitter.com/e5uS4aZwe3

— ANI (@ANI) November 25, 2022
Traffic booth torched in Shillong
On Thursday (November 24), some miscreants torched a traffic booth and attacked three police vehicles, including a city bus near Civil hospital in Shillong late at night.
The incident took place during a candlelight vigil organised by some groups to protest against the violence on the November 22 Assam-Meghalaya border.
Internet suspended in seven district
The government of Meghalaya has suspended mobile Internet services in the seven districts of the state.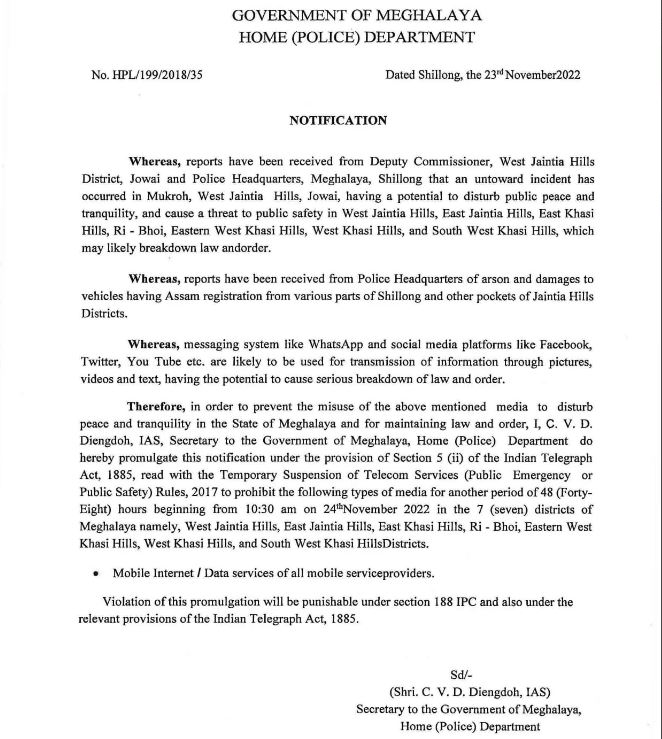 Mukroh Firing Incident
On November 22, six persons were killed in the firing incident including five from Meghalaya and a personnel of Assam Forest Guard in Mukroh area of West Jaintia Hills district of Meghalaya.
The visit to Mukroh today to pay respects to families of the 5 victims who lost their lives in the Mukroh firing incident was heart-wrenching.

May God give the families strength in this difficult time. Meghalaya and its people mourns with them. pic.twitter.com/SnS6ro9ilx

— Conrad Sangma (@SangmaConrad) November 23, 2022
Condolence and Prayer Meeting for the victims of the firing incident at Mukroh joined by religious leaders and the various Rangbah Shnongs of Shillong. Meghalaya stands in solidarity with the families of the 5 victims who lost their lives in the incident. @AmitShah pic.twitter.com/uUqquEwp3v

— Conrad Sangma (@SangmaConrad) November 23, 2022