Peace can only be ensured through the ability to deter war, says Rajnath Singh | TOP POINTS
The minister also touched upon special partnerships with France and Israel and referred to PM Narendra Modi's outreach to nations in West, South and East Asia.
November 5, 2020 12:52
New Delhi: Defence Minister Rajnath Singh while speaking on the Diamond jubilee seminar of the National Defence College (NDC) said that India has forged close relationships with like-minded nations like the US, Australia and Japan that have common interests on security.
"India is a peace-loving country. We believe that differences should not become disputes. We attach importance to the peaceful resolution of differences through dialogue. We are committed to respect for various agreements and protocols that India has entered into for the maintenance of peace and tranquillity on our borders. However, India is determined to protect its sovereignty and territorial integrity in the face of unilateralism and aggression, no matter what the sacrifice," the defence minister.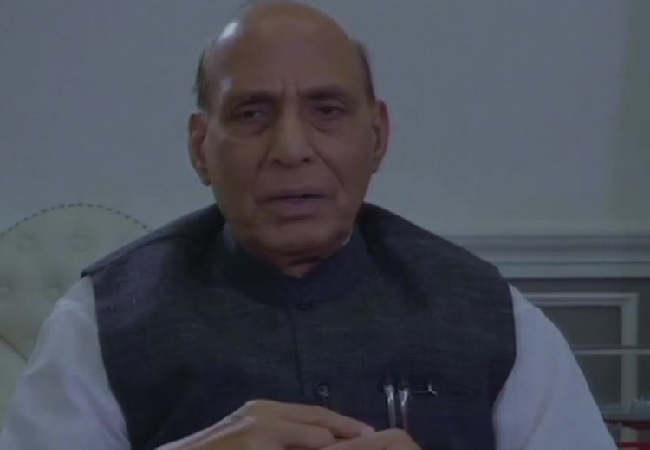 TOP POINTS
Undertaken 3-pronged approach towards internal security challenges including the development of areas affected by terrorism & provision of justice to aggrieved. Willing to challenge the status quo if it becomes a tool for exploitation of helpless citizens & provisions of governance: Def Min
The last six years provide a blueprint for India's approach towards national security over the next decade. Let me try and outline four broad principles that are likely to guide our quest for national security in the future: Defence Minister Rajnath Singh
Perhaps the most fundamental lesson that the roller coaster of the rise and fall of nations taught us was that peace cannot necessarily be achieved by a desire for peace but by the ability to deter war: Defence Minister Rajnath Singh
It gives me immense pleasure to address National Defence College which is the highest seat of strategic learning in our country on its Diamond Jubilee. Congratulations to Commandant & NDC staff on completing 60 yrs of dedicated service to the nation: Defence Minister Rajnath Singh
Peace can only be ensured through the ability to deter war; we have attempted to build deterrence through capability development: Rajnath Singh
India determined to protect its sovereignty, territorial integrity in face of unilateralism and aggression: Rajnath on border row with China
India committed to respect various agreements with China for maintenance of peace along borders: Rajnath Singh on the border row
We attach importance to the peaceful resolution of differences through dialogue: Defence Minister Rajnath Singh on border standoff with China
India is a peace-loving country; we believe differences should not become disputes: Rajnath Singh on border standoff with China