Porn video played at Patna Railway Station: Twitterati says "Bihar never fails to entertain","50 Shades of Railways"
Porn video played at Patna Railway Station: Twitterati says "Bihar never fails to entertain","50 Shades of Railways"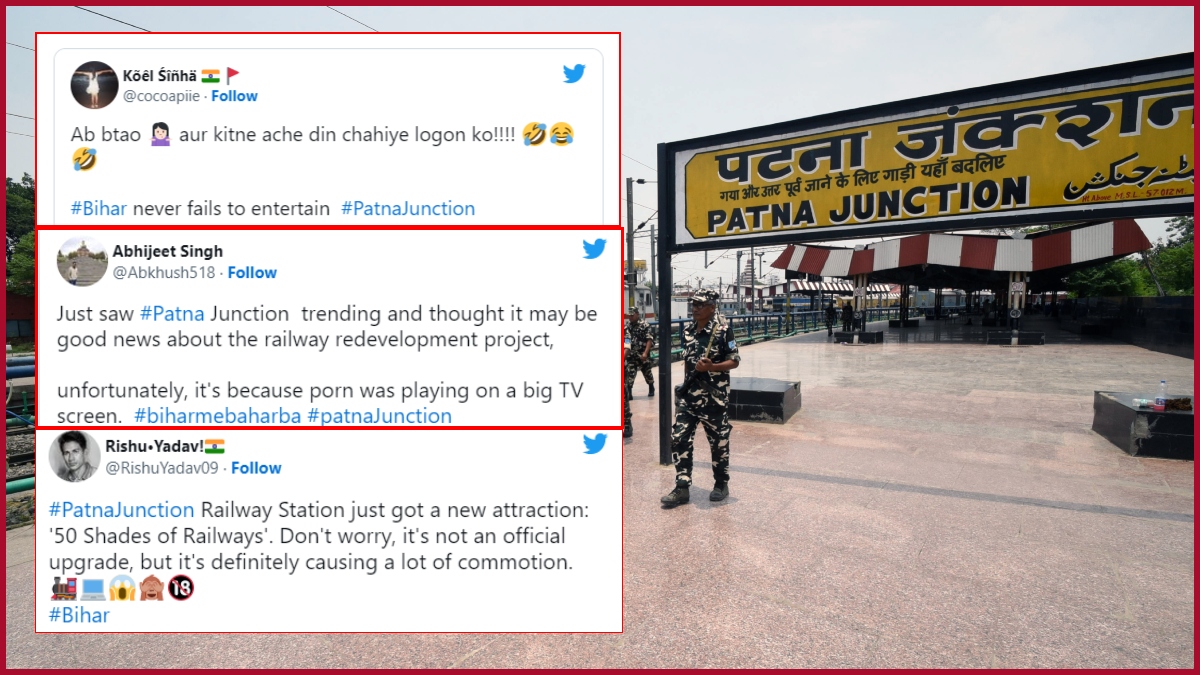 New Delhi: Patna Junction started trending on social media after 'Porn Film' was played on TV Screen of Bihar's Patna Junction Railway Station at platform number 10 for about 3 minutes.
Instead of advertisements being played on the LED screens, pornographic visuals were displayed at a platform at the Patna Junction Railway Station around 10 am on Sunday.
Angry people who were present at the platform reported the event to the GRP and the RPF.
Even after informing about the incident to the Government Railway Police, they received no response, soon the Railway Protection Force contacted Dutta Communication, which is responsible for running advertisements on the screens, and were asked to stop playing porn clip in front of people, including women and children.
The incident was recorded by the passengers on their smartphones.
Here is how social media users are reacting to this incident:
A Twitter user named Kõêl Śîñhä said "Bihar never fails to entertain"
Ab btao ??‍♀️ aur kitne ache din chahiye logon ko!!!! ???#Bihar never fails to entertain #PatnaJunction pic.twitter.com/9aLbooFOPw

— Kõêl Śîñhä ??? (@cocoapiie) March 20, 2023
While one said that when he saw Patna Junction trending he expected good news about the railway redevelopment project, unfortunately, it's because porn was playing on a big TV screen
Just saw #Patna Junction trending and thought it may be good news about the railway redevelopment project,

unfortunately, it's because porn was playing on a big TV screen. #biharmebaharba #patnaJunction

— Abhijeet Singh (@Abkhush518) March 20, 2023
Another user said "Patna Railway Station just got a new attraction: '50 Shades of Railways'. Don't worry, it's not an official upgrade, but it's definitely causing a lot of commotion."
#PatnaJunction Railway Station just got a new attraction: '50 Shades of Railways'. Don't worry, it's not an official upgrade, but it's definitely causing a lot of commotion. ?????#Bihar pic.twitter.com/XdJDVk6jIC

— Rishu•Yadav!?? (@RishuYadav09) March 20, 2023
After Rajiv chowk in delhi few years ago, porn movie started playing on installed tv screen for advertisement and information at #PatnaJunction. A FIR has been registered against agency responsible for this shameful act. #Patna पटना जंक्शन pic.twitter.com/LjQTmUKtOB

— Prashant Ranjan (@pranjan21) March 20, 2023
#Bihar never ceases to surprise me!!#Patna #PatnaJunction #IndianRailways https://t.co/UJOypXPgqe

— †hê Hå†êlï  (@TheHateli) March 20, 2023
#Shamefule #viralvideo from पटना जंक्शन

Porn film suddenly started playing on the TV screen at #Patna_Junction.#PatnaJunction #Patna #Bihar #patnajunction #viral2023 #Railways बिहार पुलिस pic.twitter.com/jBRCR9Ulcu

— Journalist Aniket Rai (@KrAniketRai1) March 20, 2023
What if Porn Sites are banned in India….! #PatnaJunction https://t.co/dl7akdCcyL

— ????? | आमिर | عامر ?? (@Aamir_Capri) March 20, 2023
पटना रेलवे स्टेशन पर चला Porn.. जिम्मेदार कौन?

स्क्रीन पर 3 मिनट तक चलती रही वीडियो

अब एफआईआर दर्ज..#Patna #PatnaJunction pic.twitter.com/LcW2PGImVC

— Himanshu Garg (@Himansh83559135) March 20, 2023
Also Read: Viral Video: Patna man rapes stray dog in Faisal Colony of Phulwari Sharif, Probe ordered