Presidential Polls 2022: Former PM Manmohan Singh arrives on wheelchair to cast his vote [VIDEO]
In the now-viral pics and videos, 4 government officials can be seen helping the ex-PM to get up from the wheelchair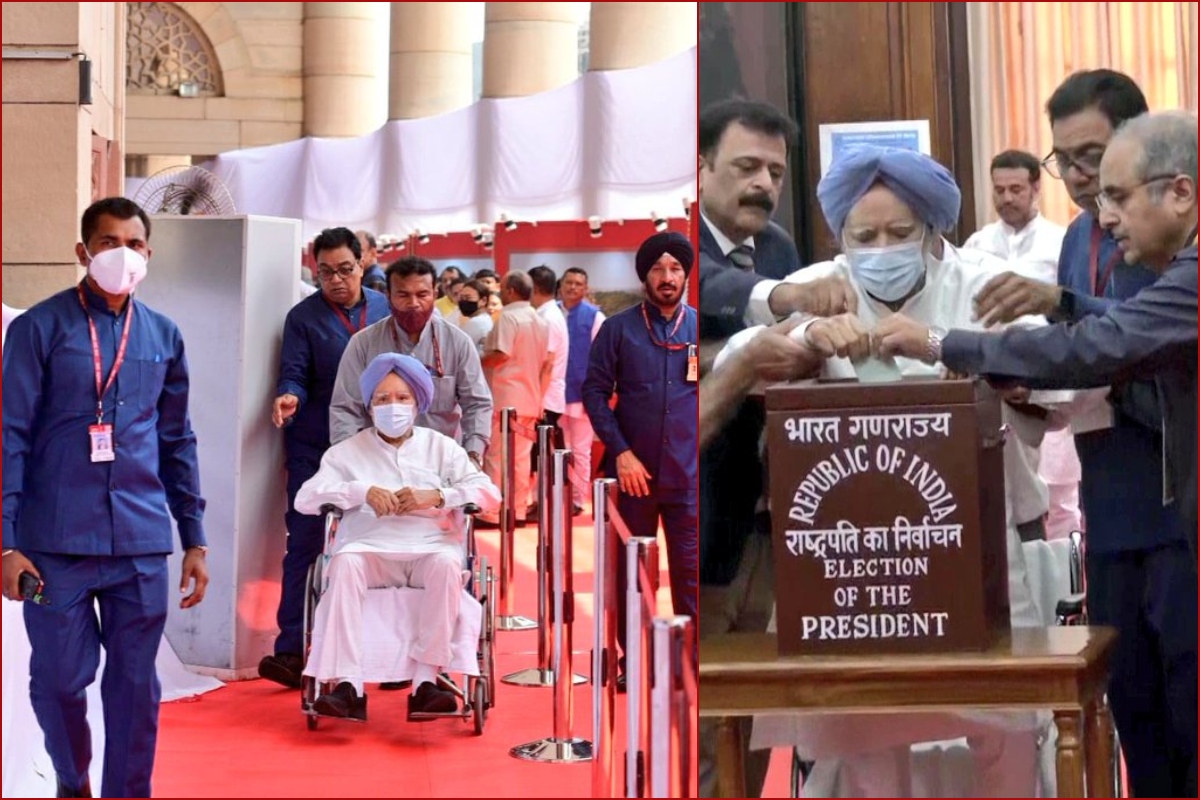 New Delhi: Former Prime Minister and senior Congress leader Manmohan Singh reached in a wheelchair today, to cast his vote in the ongoing presidential elections. This happens to be the first time when Singh has been spotted in a wheelchair, and hence several snaps and clips of the instance drew attention on social media.
The 89-year-old cast his vote inside room No. 63 of the parliament building on the second floor. In the now-viral pics and videos, 4 government officials can be seen helping the ex-PM to get up from the wheelchair and reach the ballot box.
Watch:
Former Prime Minister and Rajya Sabha MP Manmohan Singh casts his vote for the Presidential Election. #PresidentialElection2022
pic.twitter.com/7V5MarGZc6

— Central Bureau of Communication,FieldOfficeDodaJ&K (@CBCDoda) July 18, 2022
Social media users via microblogging site Twitter shared their concerns regarding the veteran economist's deteriorating health along with prayers for his recovery.
खराब स्वास्थ्य के बाबजूद अपनी लोकतांत्रिक जिम्मेदारी निभाने के लिए संसद पहुंचे सरदार मनमोहन सिंह जी हम सभी के लिए प्रेरणा है।

ईश्वर उन्हें बेहतर स्वास्थ्य एवं लंबी आयु प्रदान करें 🙏🙏 pic.twitter.com/Odz5WVHS5c

— Srinivas BV (@srinivasiyc) July 18, 2022
Glad to see former PM Dr.Manmohan Singh ji who have come to Parliament to cast his vote for presidential elections. Nation remembers every single deed done by him & every single warning he gave prior to 2014 LS polls.
May God keep blessing him with healthy life. Singh Is King🏆 pic.twitter.com/gaoYT9T8PP

— Bhushan Patil (@bhushankpatil12) July 18, 2022
Dr. Manmohan Singh Ji casts his vote for the presidential election in the Parliament.

History will always remember Sir as the Visionary Leader with Unparalleled Dedication for Nation Building.

May you be blessed with good health, happiness & Longevity. pic.twitter.com/GKBjhOFnZk

— Nitin Agarwal (@nitinagarwalINC) July 18, 2022
Previously, Singh was rushed to AIIMS hospital in Delhi last year, owing to constant fever and physical weakness. Singh was admitted to the hospital for 18 days in October 2021.
Union Health Minister Mansukh Mandavya has also went to the hospital to meet Singh and check on his health condition. The latter has been undergoing treatment from cardiologist Nitish Naik.
Manmohan Singh could not even attend the winter session in the previous year due to his ailing health.
The former Prime Minister was also admitted to the trauma unit after getting covid positive in April last year. Singh, who is currently a Rajya Sabha MP from Congress, underwent a bypass surgery in 2009.