Rs 35 lakh crore investment proposal in UP is result of 6 years of hard work: CM Yogi
Earlier, where proposals of 4.68 lakh crores used to come to the state, today proposals of Re 35 lakh crores have come in UP. Proposals worth lakhs of crores have been received in Purvanchal and Bundelkhand.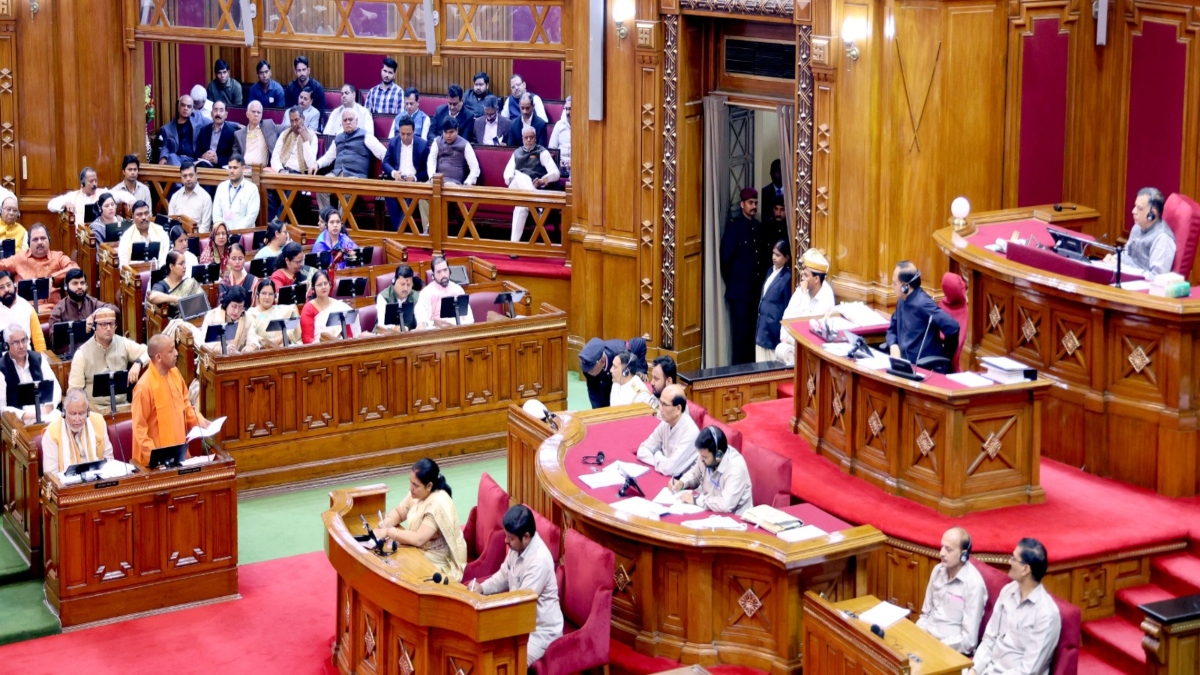 New Delhi: After giving a befitting reply to the opposition in the Legislative Assembly on the budget, CM Yogi Adityanath listed the achievements of the government in the Legislative Council on Thursday.
The Chief Minister focused on the Global Investors Summit that concluded in February. He stated that the UP Investors Summit was held in February 2018. Now, in 2023, it has happened again. Earlier, where proposals of 4.68 lakh crores used to come to the state, today proposals of Re 35 lakh crores have come in UP. Proposals worth lakhs of crores have been received in Purvanchal and Bundelkhand.
Team UP has worked continuously for six years, and then the perception changed. We now have better connectivity, with expressways, rail networks, and air networks. We formulated a sectoral policy and implemented it by creating an action plan. A policy was formulated, an anti-land mafia task force was formed, and a 64,000 hectare land bank was cleared of land mafia.
'Investment came from abroad to backward areas of the state'
Giving information about the efforts made by the government for the Global Investors Summit, CM Yogi said that, "this time our Deputy CM and senior ministers were welcomed with respect everywhere in the country they visited. Our team attracted huge investments from 16 countries across the world as well as eight cities in India. Our public representatives held investor conferences in every district of UP. This is the biggest success in UP, with 75 districts covered, and huge investment coming for even the most backward areas of Purvanchal and Bundelkhand. Earlier the Investors' Summits used to be held in Delhi and Mumbai. It was asked why it is not done in UP, the answer was that no one would come to UP."
'This budget shows the development in the economy of UP'
CM Yogi further stated that the BJP has returned to power in the state with two- thirds majority after successfully ruling it for five years. The 2016 budget was Rs 3.29 lakh crores and Rs 3.40 lakh crores in 2017. After 6 years, we presented a budget of 6.90 lakh crore in the House today, which is in line with the aspirations of the state's 25 crore people. This budget depicts the evolution of the UP economy.
He also said that, "we were successful in strengthening the state's arrangements.The mantra of this government is "Sabka Saath, Sabka Vikas, Sabka Vishwas, and Sabka Prayas". Development is visible in all areas by connecting villages, the poor, women, farmers, and youth. When there was an identity crisis among the youth, mafia used to run parallel government. Farmers were committing suicide, and their daughters were not safe. Today's UP youth are respected everywhere they go. Every village, locality, and district in UP, India's heartland, is developing.
'We talk about development, they talk about caste'
Targeting the opposition, CM Yogi said that, "there are two ways to solve the problem: participate in it or run away from it. We have a problem-solving team. When we discuss Vasudhaiva Kutumbakam, they discuss caste. When we discuss the Global Investors Summit, they bring up the subject of caste. Knowing all of this, the youth of UP experienced an identity crisis. In this regard, a great scholar once stated that the solution to the problem is determined by who your advisor is. Shakuni was Duryodhana's advisor, and Shri Krishna was Arjuna's."
Talking about the G20, he stated that India under the leadership of Prime Minister Narendra Modi is presiding over the forum of 20 major countries that control 65 percent of the global population, 75 percent of global trade, more than 85 percent of global GDP, and 90 percent of global research.
He added that Agra and Lucknow hosted conferences of the global forum, which was attended by representatives from 20 major countries, 9 friendly countries of India, and 7 other countries.
"With the spirit of Vasudhaiva Kutumbakam, we have always thought of the world as one big family", CM Yogi said.