Sports Minister Anurag Thakur felicitates FIDE World Cup runner-up Praggnanandhaa
Following his brilliant performance in the World Cup, 18-year-old Chess prodigy R Praggnanandhaa had met Prime Minister Narendra Modi on Thursday. He thanked PM Modi for encouraging him and his parents on his 'X' (formerly Twitter) handle, "It was a great honour to meet Hon'ble Prime Minister @narendramodi at his residence! Thank you sir for all the words of encouragement to me and my parents."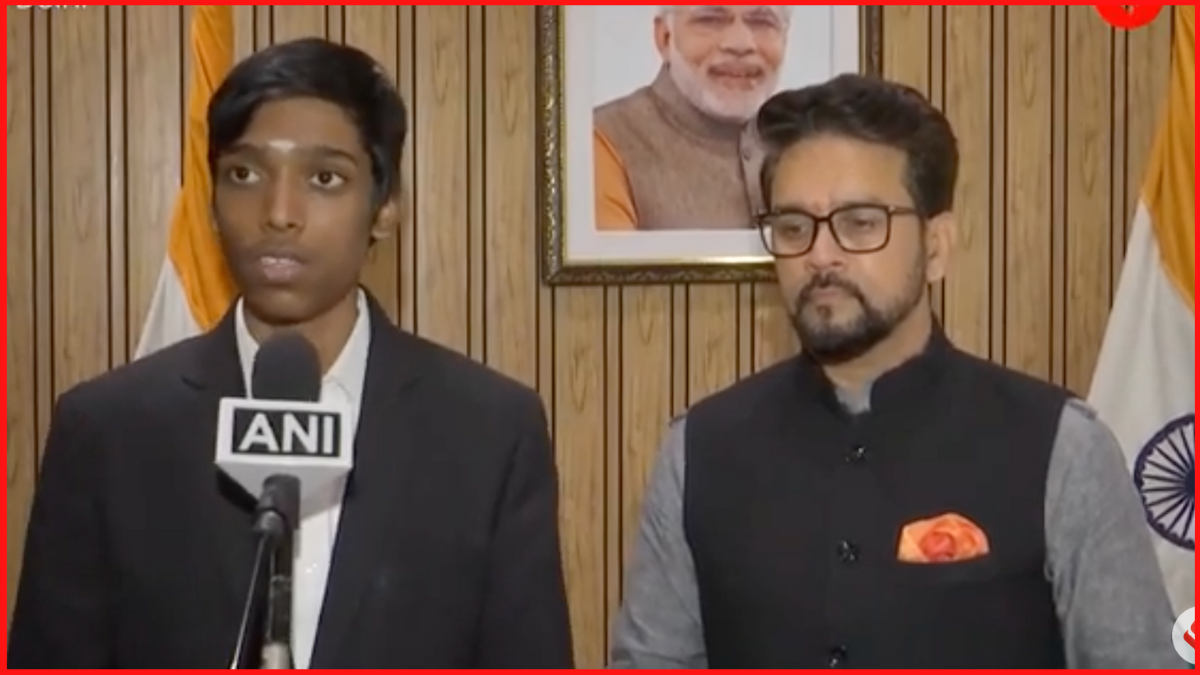 New Delhi: Union Sports Minister Anurag Singh Thakur on Friday felicitated the runner-up of the International Chess Federation FIDE World Cup 2023, R Praggnanandhaa, and his parents for his outstanding performance in the World Cup in New Delhi.
Praggnanandhaa expressed his joy for the support he has got and said that this motivates him to work harder.
"We are happy that we are getting this support, and it is also motivating us to work hard and perform well in the tournaments and bring laurels to the country," the Indian prodigy told ANI.
During the felicitation, Union Sports Minister Anurag Thakur congratulated Praggnanandhaa for making India proud.
"I congratulate him. He has made India proud. At the age of 16, he did what others could not. Many youngsters get inspiration from him to play Chess. Chess originated in India but it took hundreds of years to organise a Chess Olympiad in the country and it was organised successfully," Anurag Thakur said.

Following his brilliant performance in the World Cup, 18-year-old Chess prodigy R Praggnanandhaa had met Prime Minister Narendra Modi on Thursday. He thanked PM Modi for encouraging him and his parents on his 'X' (formerly Twitter) handle, "It was a great honour to meet Hon'ble Prime Minister @narendramodi at his residence! Thank you sir for all the words of encouragement to me and my parents."
On August 24, World No. 1 Magnus Carlsen defeated India's grandmaster R Praggnanandhaa to clinch the title of the International Chess Federation World Cup in Baku, Azerbaijan. The Norwegian chess grandmaster won the first game of the Rapid Chess tie-breaker with black pieces and managed to hold on for a draw in the second game with white pieces. The tiebreaker is played in a Rapid Chess quicker-time control format.
Praggnanandhaa fought hard but fell short, with Carlsen summoning all his big match experience when it mattered the most.