We will form the govt in West Bengal and will help the farmers, says JP Nadda in Bardhaman
This is Nadda's first visit to West Bengal after the attack on his convoy during his journey to Diamond Harbour from Kolkata on December 10.
January 9, 2021 11:08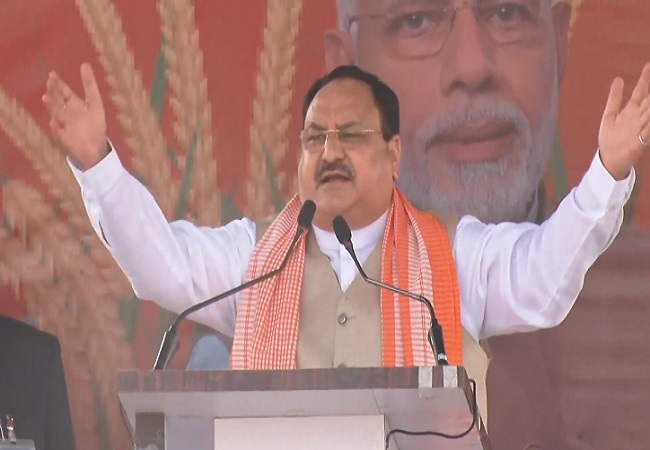 New Delhi: Bharatiya Janata Party (BJP) President JP Nadda will launched a campaign "ek mutho chaal" (a handful of rice) in Bardhaman district in West Bengal on January 9.
The state is due for its Assembly elections by the middle of this year. Nadda will be visiting the residence of farmers and make "anna daan" from them. After this, he will do a roadshow in the district.
Watch here:

Sources further said the BJP plans to directly connect with the farmers of West Bengal through the "anna daan" programme. The BJP leaders and workers will visit all the villages of West Bengal and will hold this programme.
HIGHLIGHTS
The situation has fallen to such a low level in Bengal that people have to pay cut money even for last rites of their close ones. This is the level of corruption they're doing in Bengal at the moment.
The Modi govt was providing ration during the COVID pandemic, but TMC workers transformed their homes into ration offices!
Such was the loot done by the ruling party here in Bengal.
Nearly 70,000 families have not got the benefits of PM-KISAN Samman Nidhi in Bengal. Mamata Ji is now writing letters to the PM, now that the elections are approaching.
We will form the govt in Bengal and will help our farmers in Bengal.
जय श्री राधा गोविंद !!!

आज बर्धमान जिले के कटवा में श्री राधा गोविंद मंदिर में दर्शन कर पुण्यलाभ अर्जित किया… pic.twitter.com/GBd1vFVAoL

— Kailash Vijayvargiya (@KailashOnline) January 9, 2021
West Bengal: Bharatiya Janata Party (BJP) President JP Nadda offers prayers at Radha Gobind Temple in Bardhaman. pic.twitter.com/ZCsHdtRcfY

— ANI (@ANI) January 9, 2021
जय श्री राधा गोविंद !!!

आज बर्धमान जिले के कटवा में श्री राधा गोविंद मंदिर में दर्शन कर पुण्यलाभ अर्जित किया… pic.twitter.com/GBd1vFVAoL

— Kailash Vijayvargiya (@KailashOnline) January 9, 2021
TMC goons are removing the BJP flags just before the program of @BJP4India
National President Shri @JPNadda Ji.

TMC is rattled by huge public support @BJP4Bengal is getting in Bengal.

They will bite the dust this election.#KrishokSurokhaAbhijan @DilipGhoshBJP @KailashOnline pic.twitter.com/hmeicaCoga

— Dr. Sukanta Majumdar (@DrSukantaMajum1) January 9, 2021
পশ্চিমবঙ্গের মানুষ প্রস্তুত বিজেপি সর্বভারতীয় সভাপতি শ্রী জেপি নাড্ডা জীকে বাংলার পবিত্র ভূমিতে স্বাগত জানাতে। #KrishokSurokhaAbhijan pic.twitter.com/kqnI9mh3VF

— BJP Bengal (@BJP4Bengal) January 9, 2021
During the visit, Nadda will hold a "Krishak Suraksha Gram Sabha" at Katwa in Bardhaman. Farmers will take part in this programme where Nadda will speak with the farmers and will also inform about the initiative taken by the Union government in the last six years for the welfare of farmers, sources added.
On January 30, Union Home Minister Amit Shah will visit West Bengal and apart from other programmes, he will address the Matua community in North 24 Parganas.
West Bengal is going for election this year. The BJP is holding a number of Jan Jagaran (public awareness) programmes nationwide to reach out to farmers to weaken the narrative set by farmers' protest on the Delhi borders.