Viral Video: Youth's invention to reuse plastic bottle to pluck fruit wins Anand Mahindra's heart
In his recent post, the 66-year-old industrialist shared a video of a youth inventing a tool made of a plastic bottle.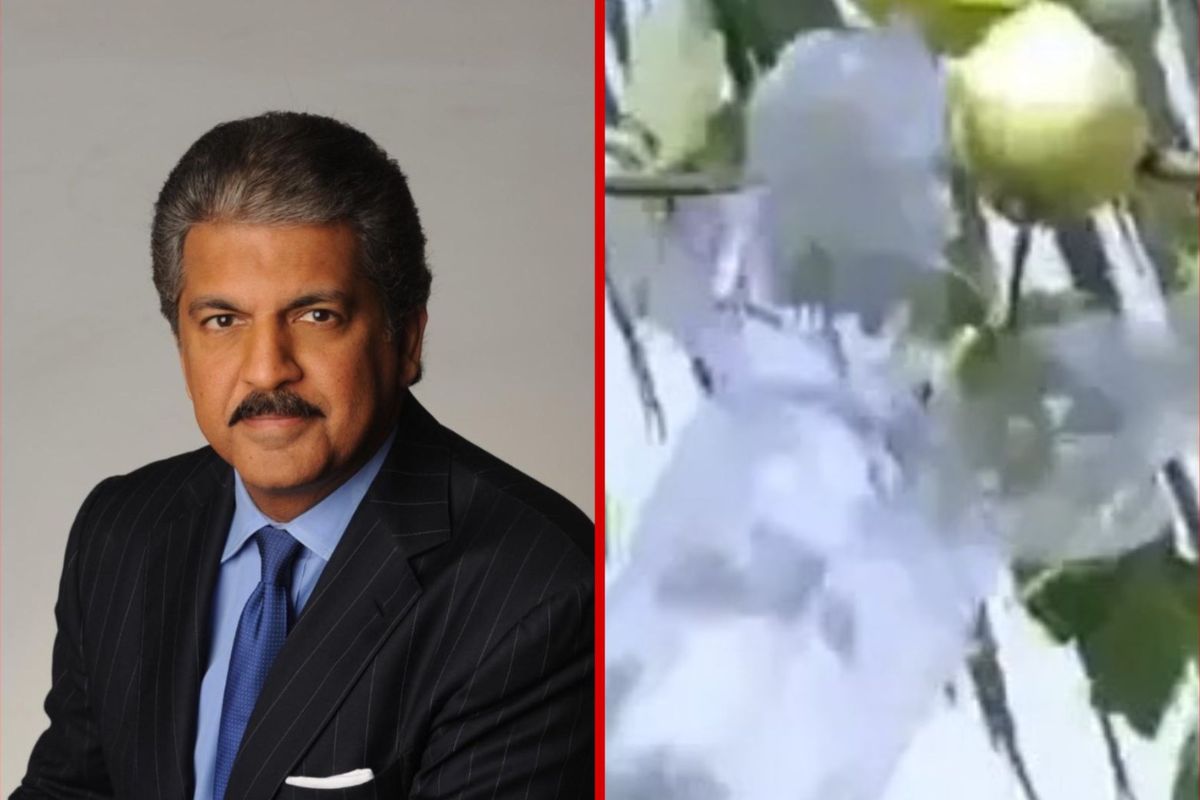 New Delhi: The industrial tycoon, Anand Mahindra is an avid social media user. He is often seen sharing inspirational images, and videos of the common people. He never fails to introduce his fans and followers to new talents as well as inventions. His recent post on Twitter is sending thought-provoking vibes on social media.
In his recent post, the 66-year-old industrialist shared a video of a youth inventing a tool made of a plastic bottle. He wrote in the caption, "Not an earth-shattering invention. But I'm enthusiastic because it shows a growing culture of 'tinkering.' America became a powerhouse of inventiveness because of the habit of many to experiment in their basement/garage workshops. Tinkerers can become Titans of innovation."
See the video here:
Not an earth-shattering invention. But I'm enthusiastic because it shows a growing culture of 'tinkering.' America became a powerhouse of inventiveness because of the habit of many to experiment in their basement/garage workshops. Tinkerers can become Titans of innovation. 👏🏼👏🏼👏🏼 pic.twitter.com/M0GCW33nq7

— anand mahindra (@anandmahindra) June 2, 2022
The idea was loved by many netizens. Some really got inspired by the hard work of the youth and the way he recycled the plastic bottle into a useful tool. One of the users wrote, "Someone got their hands dirty and made it on their own. That's what matters. The more you build the more you learn," while another wrote, "Amazing invention, a few ways of reusing #plastic bottles! Brilliant."
Someone got their hands dirty and made it on their own. That's what matters. The more you build the more you learn.

— Bored Engineer (@nataraj_hari) June 2, 2022
Amazing invention, a few ways of reusing #plastic bottles! Brilliant 💯 https://t.co/1WUsCxL2ZA

— Suraj Pratim Saikia 🇮🇳 (@SurajSaikia12) June 3, 2022
See some of the reactions here:
Wonderful https://t.co/LMyUA38AM9

— MSSP (@ms_suryaprakash) June 3, 2022
Amazing invention.#Backyardscience #newinvention https://t.co/8NvspQbWDj

— Parvez shaikh (@Parvez_04) June 3, 2022
Innovation at its best ! Definitely deserves a Re-Tweet by legend @anandmahindra ! https://t.co/lTh29ojo34

— Mango Man (@ca421205ab464bd) June 3, 2022
Talented👏👏👏 https://t.co/xtPpPpUPqE

— Roshni (@Roshni57085446) June 3, 2022
Small things which we can do in our life……#NayaKashmir https://t.co/cy7R6UrGn8

— Arshi🍁Wani☃️Kaaju🌏 (@DALuv_e_Kashmir) June 3, 2022
Wow! That's neat! 🍈
Ideas need not be earth-shattering to make life simple and beautiful. 😊🙏🏼#savesoil https://t.co/33Ry2OO6gW

— Purnima #SaveSoil (@purnimoon) June 3, 2022
Wow, innovative idea https://t.co/mqQD5BxQXK

— Varun Jain (@varunjtech) June 3, 2022
The fact that it is not earth shattering is a relief. Because in our greed to develop better machines, we r eating up the limited resources that our earth has. In the end we may end up having fancy inventions but the 🌏 wont be able to support life🌺.@anandmahindra #SaveSoil https://t.co/LYVEMZg5Yg

— Amit । अमित 🇮🇳 (@neuralamit) June 3, 2022
Well said sir! 👏

Fire in the mind to improve life and challenge the 'Status Quo' is important for #innovation! https://t.co/KZMhwAlRLZ

— VSEC (@vseconsultants) June 3, 2022
May God give a healthy life to India's legendary businessman @anandmahindra Ji, who boosts the morale of the people. https://t.co/oek9K9fNdy

— Anjali (@Youranjali01) June 3, 2022
Simple sweet way to pluck fruit https://t.co/KWIglUNXBa

— Anu Jindal (@AnuJindalArt) June 3, 2022