Why Kejriwal distributes Free-Ki-Revadis ?
After disastrous handling of Covid-19 crisis, Kejriwal is again selling his Health Model to people of India. One needs to be aware of how the government failed in providing relief and still tried to hardsell its policies, by means of Advertisements and media publicity.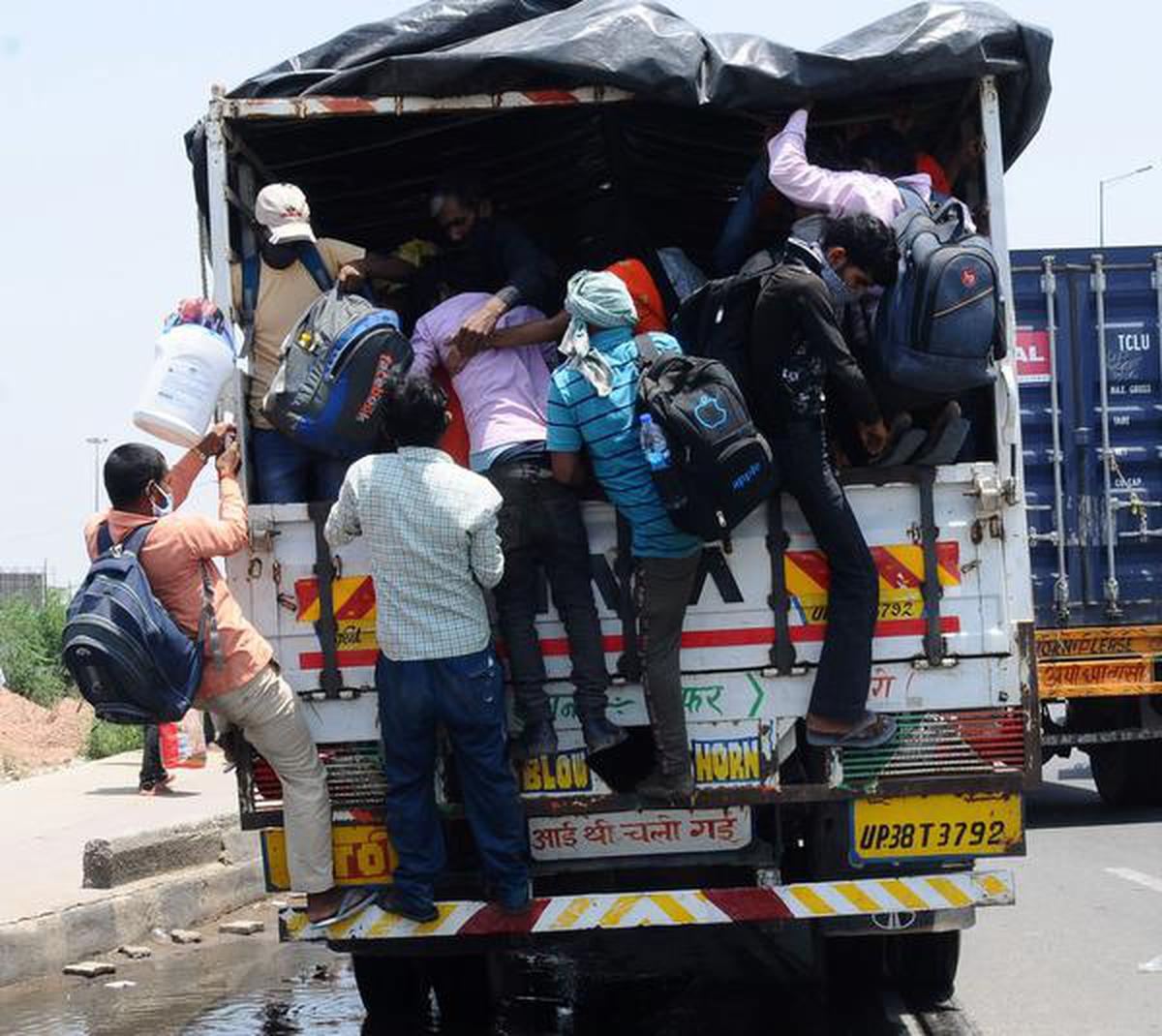 The health care infrastructure and so called famous Kejriwal Health Model of Delhi went into a tailspin. As the second wave struck Delhi in April to July 2021, harrowing pictures of patients dying and unable to get admission in hospitals continued to flood newspapers and TV screens. Delhi was full of panic-stricken people, running helter-skelter.
The much celebrated Mohalla Clinics were closed in these times and were in-fact initially focal points for increase in infection.
Hospitals reported scarcity of oxygen, black racketeering and hoarding have been going on unchecked, earning brickbats for Chief Minister Arvind Kejriwal's government from the Delhi High Court.
I have tried to list down what really happened as thousands in Delhi died and how the only work AAP was seemingly doing was blaming and throwing its responsibility away. I have listed how courts pulled them up several times and how even corruption was centre-point of this tragic time when people were looking up to their elected government to save their loved ones.
Yet, the media continued to support Kejriwal. In my research I couldn't find one article that has implicated Kejriwal Sarkar or has been critical of them. The AAP PR management of Journalist is now famous. I was shocked by the fact that all this disaster went largely unnoticed as Media firmly stood behind the CM.
Again, Kejriwal is selling his Health Model to people of India. We all need to be aware how he uses Advertisements and Journalists and very smartly chooses words to 'con and grab' power. The Health Minister of Delhi is already in ED custody and with courts not granting bail, the health model of Delhi is sadly looking as if it's in Jail.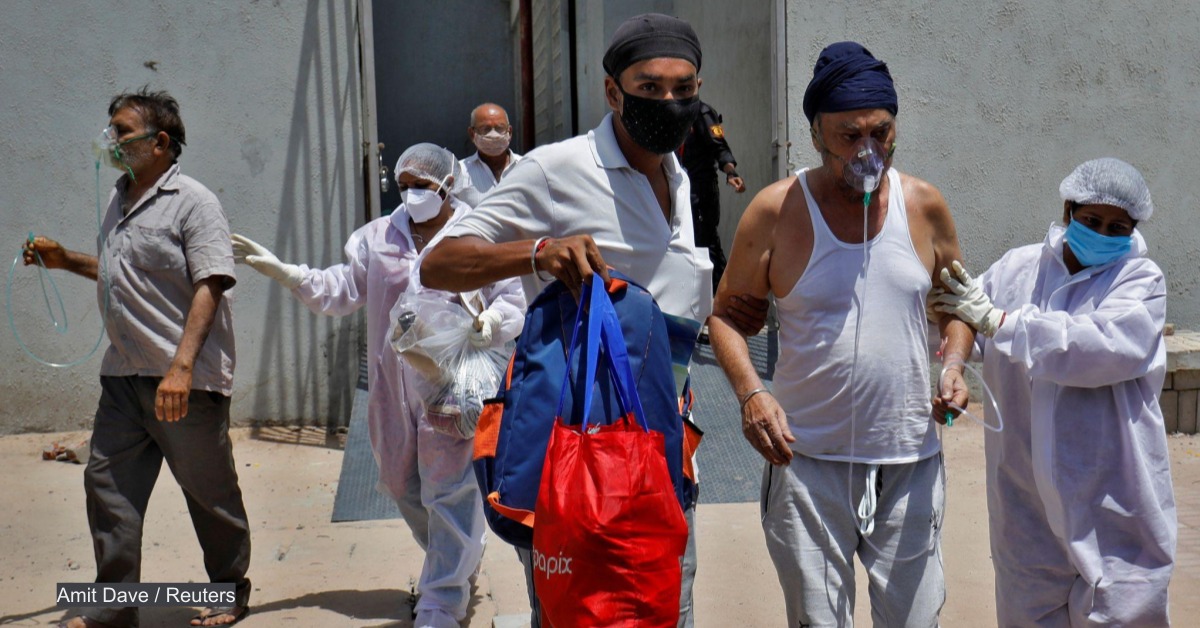 Kejriwal's 'Blame Everyone Else' Model :
The Kejriwal government accused neighbouring states of willfully stalling oxygen supplies to it even as patients continued to gasp for breath. On April 29, Deputy Chief Minister Manish Sisodia said that the State Police of Uttar Pradesh and Haryana were trying to block the supply of oxygen to Delhi.
The Delhi government also alleged that the Centre was discriminating against it by delivering far fewer oxygen concentrators to it compared with other states.
Kejriwal live-streamed an in-house meeting of Chief Ministers chaired by the Prime Minister. Kejriwal is seen asking PM Modi whether the two crore people of Delhi should go without oxygen just because the State did not have an oxygen plant.
Chaos in crematoriums:
Delhi continued to appall people with chaotic scenes at crematoriums. With municipal-run crematoriums facing a shortage of wood for funeral pyres in the face of surging COVID-19 fatalities, North Delhi Mayor Jai Prakash on April 28 urged the Chief Minister to direct the Forest Department to ensure a smooth supply of firewood to these facilities. The Mayor also asked for at least 100 ambulances or hearse vans to be made available to municipal corporations to transport patients to health care facilities or take the dead to cremation grounds.
HC and SC observations on Delhi Government
On April 27, the court pulled up the government saying that it had failed to monitor oxygen distribution to hospitals and prevent individuals and hoarders from stockpiling essential medicines. "Set your house in order. Enough is enough. If you can't, we will ask the Central government officers to take over. We can't let people die like this," the court observed.
The oxygen audit committee set up by the Supreme Court during the peak of the second wave of Covid-19 last month has noted "gross discrepancy" in actual consumption claimed vs calculated consumption in the national capital and said that the Delhi government sought four times more oxygen than what was required.
The sub-group's interim report, submitted to the apex court, said that the Delhi government's claim of 1,140 Metric Tonnes was four times higher than the calculated consumption as per bed capacity formula, which was 289 MT only. "Sub-group set up by Supreme Court for Oxygen audit of Delhi "noted gross discrepancy" in actual consumption claimed vs calculated consumption by formula for bed capacity. Former (1140 MT) was "about 4 times higher" than latter (289 MT)," the report read.
Delhi High Court hit out at Kejriwal Government of Delhi over its management of the crisis and told it to arrange tankers for the transportation of liquid oxygen. "It's not that you will just write and keep waiting. What is the nodal office doing? You had to speak to the suppliers in the last three days. You knew where the supply was coming from. Get in touch with the suppliers. We cannot help you at every moment," the court told the Delhi government.
It said the Delhi government should make "all-out efforts" for procurement of such tankers from whatever source they can be made available and look for all possible avenues.
"The problem is you think allocation is done so everything will be served at your doorstep. Why didn't you look for tankers? Your political head has himself been an administrative officer," the court observed
Delhi High Court, during its hearing on Tuesday, 27 April, pulled up the AAP government over black-marketing of medical resources, as the city battles a deadly wave of COVID-19.
The Court said people were forced to buy oxygen cylinders in the black market for lakhs of rupees while their original cost is only a few hundred rupees. The court said those persons indulging in black marketing of oxygen should be taken into police custody.
During the hearing, the High Court said if the Delhi government is unable to manage oxygen cylinders then they should tell the court for procuring them. The court will ask the Central government to take over the charge of managing oxygen.
Slamming the Delhi government, the court said, "Non-accounting of oxygen cylinder supplies by Delhi government is leading to artificial shortage of gas and black marketing."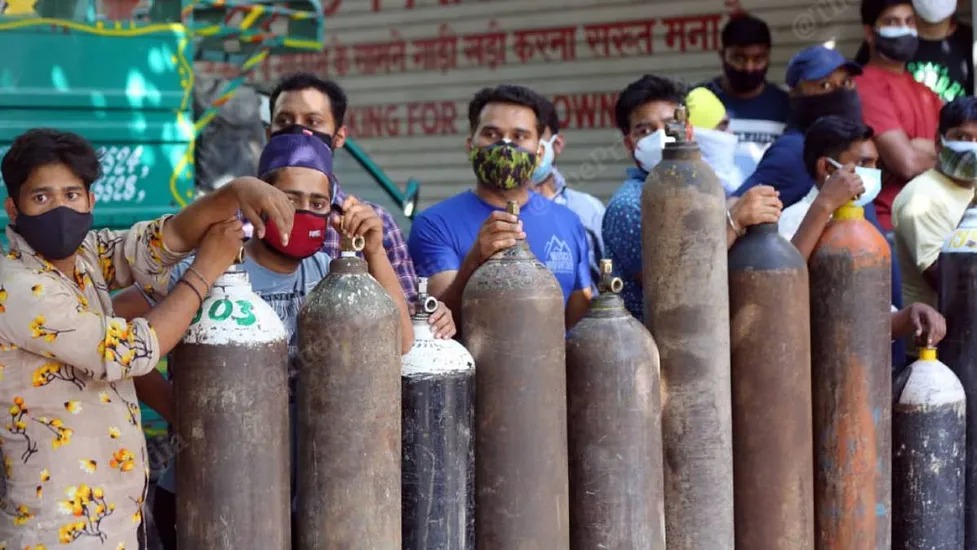 "This is a mess that you have been unable to resolve," the court told the AAP government over black marketing of oxygen cylinders.
The court suggested the appointment of accounting officials to the Delhi government. The court's order came after it was told by the Delhi Heart and Lung Institute that they, too, were facing lack of oxygen and the nodal officials concerned were helpless.
"This submission of respondent 1 (Delhi government) has been noted only to be rejected…. It is a matter of public knowledge that the deadly, highly infectious nature of the second wave of COVID-19 and the unpreparedness of the health infrastructure in the city had compelled many desperate citizens of the NCT of Delhi, like the petitioner's father, to seek admission/medical attention at hospitals in the neighbouring states," Justice Rekha Palli said.
The observation by the High Court came during hearing of a Delhi citizen's plea seeking Liposomal Amphotericin B Injection /Amphonex-50, used in treatment of Black Fungs, for his father who is admitted in a hospital in Gurugram.
And then what was this……….
As the national capital gasps for breath amid the acute oxygen shortage, the Delhi government on Monday decided to convert 100 rooms of Ashoka Hotel into a Covid Health facility for Justices and other judicial officers of the Delhi High Court and their families. The official order said that Primus Hospital in Chanakyapuri will run the community health centre (CHC) facility at Ashoka Hotel.
Delay in Setting up Oxygen plants
Central government sources claim proposed oxygen plants in four hospitals were delayed as the Delhi government did not submit "site readiness certificates". Sources in the Railway Ministry also alleged that even now, the Delhi government has not provided cryogenic tankers for the 'Oxygen Express'.
the Ambedkar Nagar Hospital, Dakshinpuri, the site was made ready by the state government only on April 19. Site readiness certificate of another hospital – Satyawadi Raja Harishchandra Hospital, located in Narela – has not yet been submitted by the Delhi government, the centre has said.
"I am, therefore, of the view that it would be in the interest of justice to direct the respondent 1 to take a compassionate view towards the petitioner's request and, if at all possible, to provide his father with the necessary medicine for his treatment, at least for the next few days," Justice Palli said.
Kejriwal Health Model : Mismanagement and Migrants Mishandling
The Centre had made an allocation of 480MT of oxygen daily for Delhi which the state needs to pick by arranging for cryogenic tankers. However, the state argued that it was getting only 380 MT oxygen per day over the past few days and it had received less than 300 MT on Friday. The Centre, on the other hand, said that it had mapped sources of oxygen to their destinations and deployed the Indian Air Force (IAF) to help fly empty oxygen tankers.
"We are daily wagers, the chief minister should have given us some time before announcing the lockdown," one of the migrant labourers told news agency ANI during their long wait at the bus station. "It takes us ₹200 to reach home, but they are charging ₹3,000 to ₹4,000 now, how will we go home?" they added. 
The PM & CM Yogi  stepped in to the Migrant crisis :
"They told them the danger is immense, go to your village, go home. Then they gave them buses, abandoned them halfway and plunged them into multiple problems," PM said.
"And because of that," Mr. Modi continued, "corona picked up speed in Uttar Pradesh, Uttarakhand and Punjab — places where it was not as severe had it not been for this sin which aggravated it," he said
He also accused Mr. Kejriwal of forcing migrant workers out of the capital, and leaving them to fend for themselves.
"Listen Kejriwal, You forced the workers of UP to leave Delhi when humanity was groaning due to the pain of Corona. Your government did an undemocratic and inhuman act like leaving even small children and women helpless on the UP border in the middle of the night," he tweeted.
The U.P. CM also alleged that migrant workers were "picked up and sent to the UP border by buses."
"Announcement was made that buses are going for Anand Vihar, beyond that buses will be available for UP-Bihar. The UP government arranged buses for the migrant laborers and brought them back safely," he tweeted.
Over eight lakh migrant workers left the Capital for their hometowns in the first four weeks of the lockdown, according to a report prepared by the Delhi Transport Department in May last year.
Kejriwal Seals Delhi Borders for outsiders
According to the government decisions, all the around 10,000 beds in Delhi government-run hospitals will be earmarked for residents of the capital. Beds in private hospitals are also earmarked for Delhiites only.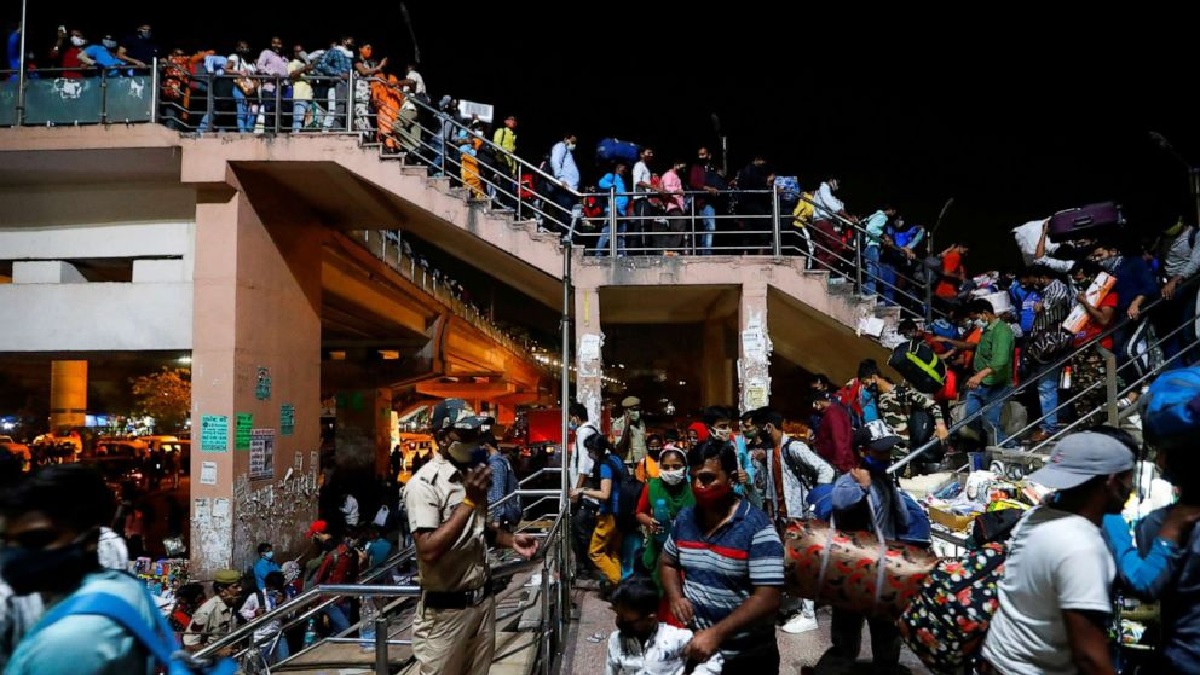 Lieutenant governor Anil Baijal scrapped the Delhi government's order reserving a chunk of the hospital beds in the city for residents of the national capital and restored federal guidelines on who can be tested for coronavirus disease (Covid-19), overturning a set of recent decisions by the administration that had become a political flashpoint and led to public anger.
Delhi Corona App flops :
No beds available, this was the response from each Delhi hospital India Today TV team called even though the Delhi government's Covid-19 app showed otherwise. A reality check by India Today TV has revealed that there are major lapses in the city government's 'Delhi Corona' app.
Delhi Congress chief Ch. Anil Kumar on Tuesday said the launch of the "Delhi Corona" app by the Delhi government was a pointless exercise as Chief Minister Arvind Kejriwal has been concealing the actual figures of deaths and patients.
The app was launched to divert the attention of the people from the ground reality, which was that due to lack of beds in government hospitals, Mr. Kejriwal hired five-star hotels and expensive private hospitals to treat COVID-19patients, Mr. Kumar alleged.
Fudging of Data
A National Herald  Investigation : The difference in death numbers between the official COVID-19 death numbers and that provided by the local bodies is not so stark from July to December 2020, which reveals much less fudging of data in the previous year.
During July to December 2020, the Delhi government recorded 7,794 COVID-19 deaths and during the same period 73,757 deaths were registered by all the five local bodies in the National Capital. The average deaths during the same period for previous two years have been 74,808.
In May 2020, an analysis of the COVID-19 data put out by the Delhi government had revealed that the state had been hiding the number of deaths due to coronavirus in the National Capital. It was then corroborated by the excess number of cremations following COVID-19 protocol.
Health Minister Satyendar Jain (Now in Custody )did not answer any calls and did not respond to the messages too.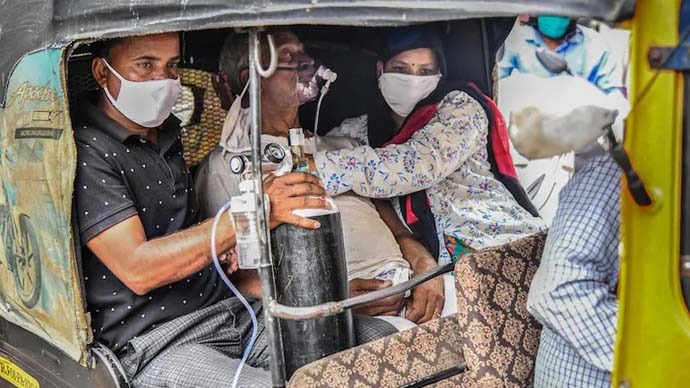 Corruption : 'Hospital functional in files in Delhi's Kirari :
"During the COVID period, the DDA, on being asked by the Centre, gave this plot to the Kejriwal government for a hospital. The State government talked about setting up a 458-bed hospital, which, in its files, was ready on June 28, 2020," Mr. AdeshGupta BJP said.
"In the name of building a hospital,Kejriwal has cheated Delhiites. It is surprising that ₹27 crore was spent on its advertisement alone," he said.
Mr. Tiwari said the Delhi government had claimed to have treated 600 patients at the facility, which does not seem to exist.
When reached for a comment, AAP spokesperson did not respond.
Mr. Tiwari had, in October 2021, alleged corruption to the tune of ₹1,256 crore in the award of a contract for setting up seven temporary hospitals to treat COVID patients in the Capital. L-G V.K. Saxena recently granted permission to the Anti-Corruption Branch to probe the allegations under section 17A of the Prevention of Corruption Act, 1988.
Centre Steps in again to Save Delhi :
On June 14, Shah held a meeting with all the stakeholders including Delhi chief minister Arvind Kejriwal, ministers and officials concerned—an intervention that was surprisingly welcomed by AAP leaders, who seemed to be struggling with the pandemic.
As Shah spelt out a multi-pronged strategy for Delhi, it exposed AAP government's weakness in the public healthcare system, something it had showcased as its biggest achievement.  And then the image of Shah visiting the LNJP hospital, run by Delhi government, showed that he was in-charge. Usually associated with strategising skills to win elections, Shah gave a peek into his administrative acumen, and that he could outsmart Kejriwal, who had won Delhi with a huge margin just a few months ago.
Here are 10 things the Delhi government did after Shah's intervention:
Streamlining Process
Testing
Aggressive Contact Tracing and Streamlining of Containment Zones
Door-to-Door Serological Surveys
Additional Covid Facilities and Beds
Capping Treatment Cost
Supply of PPEs And Other Essential Medical Equipment
CCTVs for More Transparency and Accountability
Respectful Last Rites
Common Strategy For NCR
There were 9,937 beds available for Corona patients before June 14, 2021. Nearly 20,000 beds were added after that,8000 beds in 500 railway coaches, 10,000 beds in Radhasoami Ashram managed by ITBP, and 1000 in DRDO facility.