#DeshKaDhoni:'Flying Beast' begins pan-India bicycle journey, MSD's fans urged to share wishes for nation's most-loved cricketer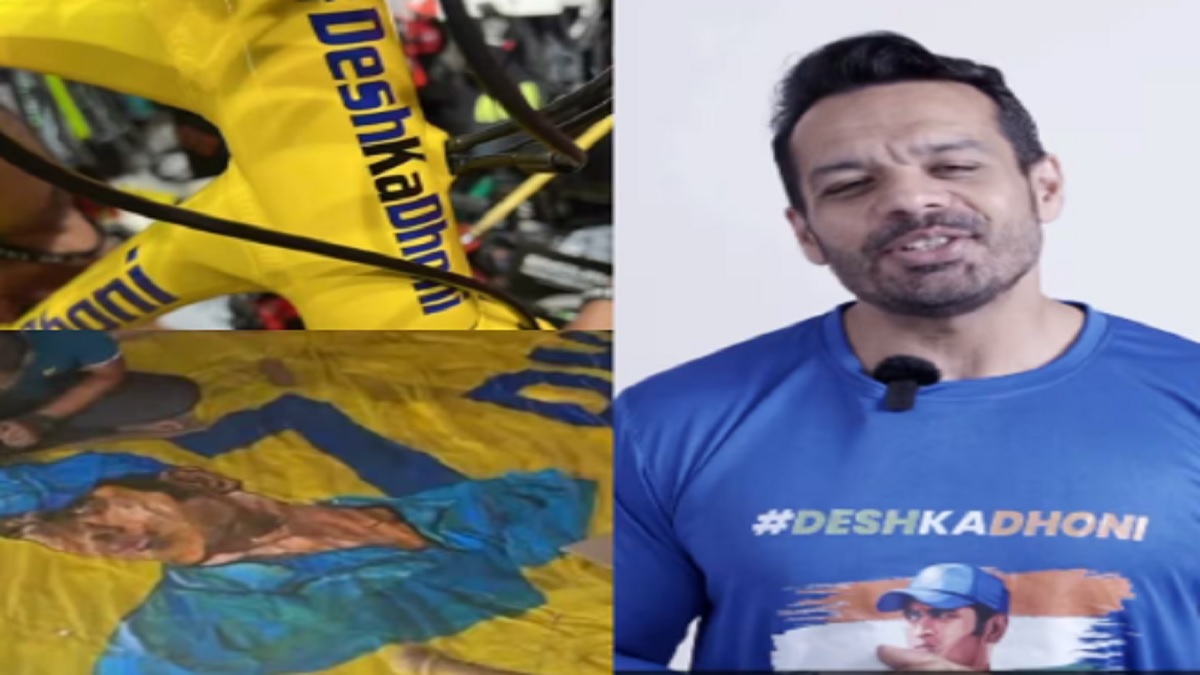 New Delhi: After a successful journey of creating the largest Map of India in the sky under the mission 'AASMAN MEIN BHARAT', Captain Gaurav Taneja aka Flying Beast is marching ahead with yet another exciting mission.
With hashtag #DeshKaDhoni, starting from April 26, 2023, Taneja aka Flying Beast is starting a bi-cycle road journey for a period of 14 days while travelling across 6 different cities routed via Delhi – Jaipur – Kota – Bhopal – Nagpur – Hyderabad – Chennai, thereby, covering an approx. distance of about 2400 Kms in total. This attempt is a legendary tribute to the Ace-Cricketer and Ex Indian Captain Mahendra Singh Dhoni, from one of his biggest fans in the history of Indian cricket.
Since, the cricket is all about emotions, this whole journey will also make an attempt at binding the emotions of millions of Dhoni's fans. A custom-painted truck carrying a picture of MS Dhoni (along with the hashtag #DeshKaDhoni) will travel across the above listed cities which will be used for collecting messages and wishes of fans for their favourite and most loved captain. Big drop-boxes named #DeshKaDhoni will also be placed at central locations during the meet-ups planned by Captain Gaurav Taneja & his team across all 6 cities for people to visit and drop their messages and wishes. The details of these planned meet-ups and locations will be announced by Taneja aka Flying Beast via his social media handles.
A grand meet-up is planned in the city of Nagpur on May 06, 2023 to celebrate the efforts and journey of Mahendra Singh Dhoni and his contribution towards the India Cricket, which is also expected to be joined by the Hon'ble Deputy Chief Minister of Maharashtra, Shri Devendra Fadnavis Ji. Taneja will be reaching Chennai on May 14, 2023 during the upcoming match of Chennai Super Kings under the current season of Indian Premier Leaugue (IPL). Thereafter, this grand tribute will be culminated in Ranchi – the home city of MS Dhoni where a big surprise will be unveiled along with messages and wishes from millions of Dhoni's fans.
View this post on Instagram
There is a flood of emotions all around the country especially in the hearts of every loyal fan of MS Dhoni as it is anticipated that this IPL might be the last innings for MS and he may not lead the team of Chennai Super Kings from next IPL onwards.
Like Taneja, several of his fans are desiring to relay a deep emotion in the form of their wishes and messages to Dhoni and hence, through this attempt, Taneja will now become the front relayer (sutradhaar) towards this historical journey. Several celebrities, influencers and cricketers will lead support to this exciting mission along with Dhoni's fans and supporters.