'Fake Vs Real' Mr Bean memes flood Twitter ahead of Pakistan-England final clash in T20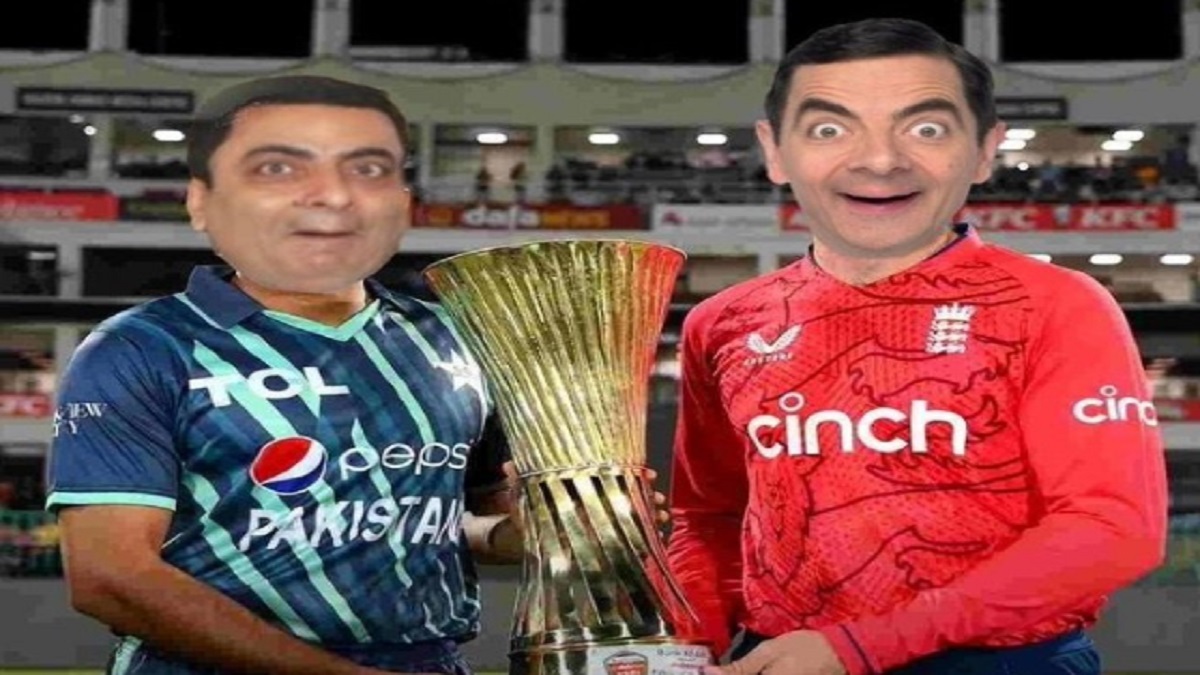 New Delhi: Melbourne Cricket Ground (MCG) is all set to host the final face-off between England and Pakistan on November 13. Though, the raingods are expected to play spoiler in the final match, the organizers have kept November 14 as the reserve day for the epic clash.
Both Pakistan & England are in high spirits and hoping to walk away with the trophy. For Pakistan, it has been a dream run this T20 World Cup. At one point of time, it was staring at exit from the tournament but now is a strong contender for the trophy.
Meanwhile, Fake Vs Real Mr Bean memes has taken the Twitter by storm as the Men in Green get ready to take on the English in final at Melbourne. Babar Azam-led Pakistan & Jos Buttler-led England are also being sent numerous wishes & good luck for the final match.
The Fake Bean memes took over Twitter earlier also, when Zimbabwe stunned Pakistan in the Group Stage. This prompted Zimbabwe fans to troll Pakistan with fake Mr Bean memes.
This time ahead of T20 final, breaking the internet is Fake Vs Real Mr Bean. People are sharing memes and even replacing the faces of Pakistan and England captains with faces of fake & real Beans.
Final
Fake Mr. bean vs Real Mr. Bean https://t.co/gBl3hC7vTG pic.twitter.com/we5mpSdMOE

— Shivaay (@PawanSahani_) November 12, 2022
This Sunday: Real Mr Bean vs Fake Mr Bean 😂
The Ultimate Battle#T20WorldCupFinal #PakVsEngFinal#T20WC2022 pic.twitter.com/jsMhz3M5nQ

— Aasim Siddiqui 🇵🇰 🌐🇵🇸🇹🇷 (@AasimSmarty) November 11, 2022
Real Mr Bean after seeing fake one: pic.twitter.com/X2B5sY3TIa

— Karthik ♡ ꕤ (@_itz__karthik) November 12, 2022
Sack #RohitSharma𓃵 #FinalT20WC #T20Iworldcup2022 #T20WorldCup #T20worldcup22 #INDvENG #PAKvsEng #PakvsEngland #Zimbabwe

🏆🏆🏆🏆🏆🏆 FINAL 🏆🏆🏆🏆🏆

It's Real Mr.Bean🇬🇧 vs Fake Mr.Bean🇵🇰 pic.twitter.com/cFYpOCKSHh

— Deepak Prashar (@facethemusic10) November 10, 2022
For the unversed, Fake Mr Bean aka Asif Mohammad is from Pakistan while Real Mr Bean aka Rowan Atkinson is from England.
What is the Fake Bean controversy?
It all started on October 27 when Zimbabwe vanquished Pakistan in the Super 12 match. After defeating Pakistan, Zimbabwe fans shared the videos of fake Mr Beans, who was actually a Pakistani person masqueraded as Mr Beans visiting their country and befooling their nationals.
Fake Mr Bean aka Asif Mohammad is a Karachi resident. He visited Harare in 2016 and made quite a buzz with his appearance.
People of Zimbabwe wanted Mr Bean to make appearance at an event, what they got was "Mr Pak Bean". Now they are upset and want revenge against pak cricket team.

Can't blame them, this is betrayal of highest order 🤣 #PAKvZIM #ZimVsPakpic.twitter.com/OPp5TPqX4O

— APJ (@apj234) October 26, 2022