FIDE World Cup 2023 Final: Heartbreak for R Praggnanandhaa, Carlsen wins clincher
Indian prodigy R Praggnanandhaa takes on top ranked Magnus Carlsen in the FIDE World Cup 2023 fiinals tie-breaker round.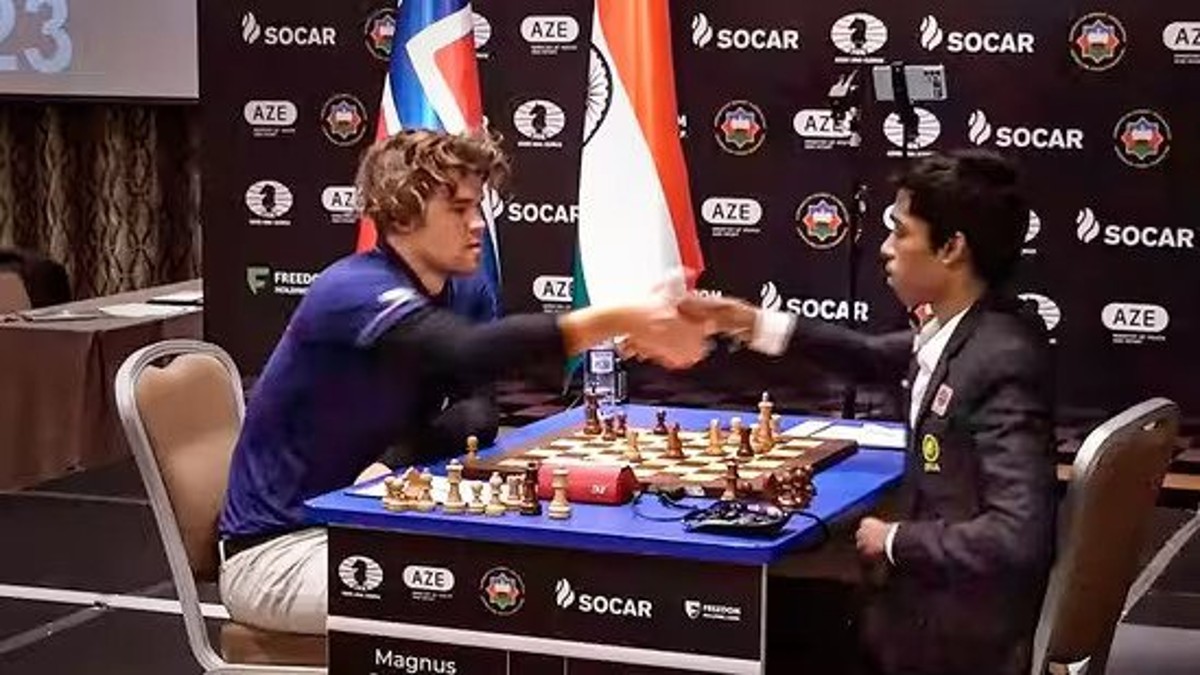 New Delhi: The young Indian Prodigy fought valiantly against world rank 1 Magnus Carlsen on day 3 FIDE World Cup 2023 finals in the tie-breaker round, only to settle down for second place after losing the rapid fire and blitz round by 0.5 to 1.5.
🏆 Magnus Carlsen is the winner of the 2023 FIDE World Cup! 🏆

Magnus prevails against Praggnanandhaa in a thrilling tiebreak and adds one more prestigious trophy to his collection! Congratulations! 👏

📷 Stev Bonhage #FIDEWorldCup pic.twitter.com/sUjBdgAb7a

— International Chess Federation (@FIDE_chess) August 24, 2023
After settling down for 35 moves draw on day 1 and 30 moves draw on day 2, the day of tie-breaker came into play where both the finalists faced each other in two game 25 minuuted time controlled rapid fire and blitz round to determine the ultimate winner.
Carlsen put the pressure on Praggnanandhaa from the beginning with his quick moves in game 1 and securing a comfortable time gap for himself. The top ranked player finally used the acquired time advantage to his benifit forcing Praggnanandhaa to commit errors and won the game in the last minute.
Already in pressure after game 1, Praggnanandhaa never looked comfortable in the game 2 as well. Carlsen took control of the game as soon as it began and acquired a huge time gap benefit.
Finally 15 minutes into the game 2 Praggnanandhaa offered a handshake to the now World Champion Carlson, who graciously accepted the offer as it wa more than enough for him to become the World Champion.
The 33-years-old Norwegian before the game said that he will not be taking any risk and will go all-out against the young Indian prodigy. Carlsen stood true to his words and never let Praggnanandhaa in the game as he won the FIDE World Cup for the first time in his career.
On the other hand, India's R Praggnanandhaa even after losing the game managed to create history by becoming the youngest FIDE World Cup finalist at the age of only 18.
Meet Pragg @rpragchess, 18 y/o chess prodigy

Out of the 206 world class chess players in the #FIDEWorldCup he was the youngest one, he finished 2nd in the tournament. Couldn't have asked better than this 🔥#Praggnanandhaa won the prize money of 66 Lakhs 🔥 pic.twitter.com/z4OHCyqXbD

— Abhay 👔 (@xavvierrrrrr) August 24, 2023
Indian maestro still have a long career ahead of him and have nothing to be disheartend about as his performance in this World Cup proves he is indeed the future of this game.
17:10 Hrs- Top ranked Carlsen wins his first ever FIDE World Cup defeating India's R.Praggnanandhaa.
17:05 Hrs- Praggnanandhaa is still struggling while Carlsen is sitting comfortable with huge time gap advantage.
17:00 Hrs-  Carlsen takes early control and only 5 minutes and Praggnanandhaa is already looking under pressure.
16:55 Hrs- Game 2 begins, Carlsen will be using whites in this game while Praggnanandhaa will be with blacks.
16:45 Hrs- Praggnanandhaa needs to make a come back in round 2 to stay alive in the comptition. Game 2 will begin shortly.
Magnus Carlsen prevails with black in the first rapid game of the Final tiebreak, leaving Praggnanandhaa in a must-win situation. Will the world #1 win his first #FIDEWorldCup?

📷 Stev Bonhage pic.twitter.com/X0cX2J8TxJ

— International Chess Federation (@FIDE_chess) August 24, 2023
16:40 Hrs- Carlsen takes away game 1. Praggnanandhaa struggled against fast moving Carlsen who kept buling time pressure on the young Indian prodigy.
15:30 Hrs- Game 1 begins, Praggnanandhaa will play with whites and Carlsen will be using black for game 1.
Game 1 (25 min rapid fire and blitz)