Ramiz Raja targets BCCI, PCB as he receives Lifetime Achievement Award by GCU, students & netizens react
While he alleged BCCI to have a 'BJP mindset', he accused PCB of being unconstitutional and unfair.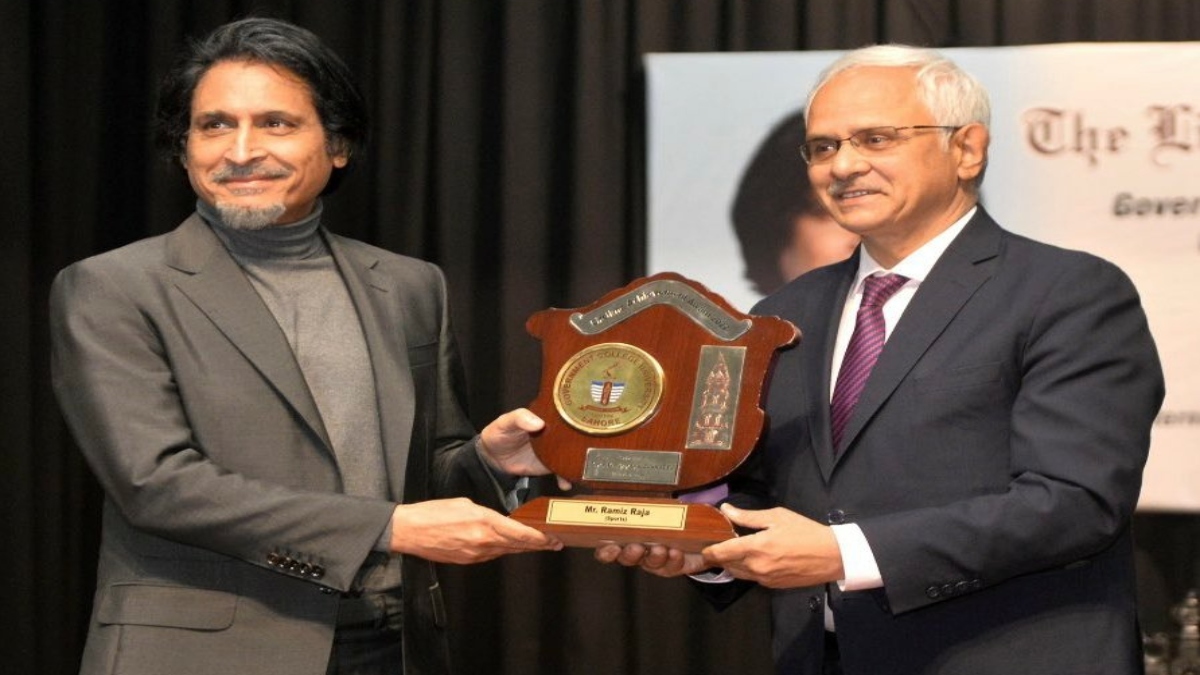 New Delhi: Former PCB President Ramiz Raja received a Lifetime Achievement Award from the Government College University (GCU) in Lahore at the University's Bukhari Auditorium. While delivering a speech at the University, he targeted BCCI and PCB and again became controversial. While he alleged BCCI to have a 'BJP mindset', he accused PCB of being unconstitutional and unfair.
A true inspiration to many. @iramizraja receives the GCU Lifetime Achievement Award from Vice Chancellor Prof. @zaidia. Thank you #RamizRaja for your outstanding contributions to cricket as a player, administrator, and commentator. #GCULahore #Achievements #Cricket https://t.co/d4mGCwBNTd

— GC University Lahore (@gcuniversitylhr) January 10, 2023
He has been in controversy for his remarks over the Pakistan team setup, Sarfaraz Ahmed and Mohammad Amir. At the event, he was also questioned about his statements. Most of the users on Twitter are congratulating him on the award, while videos from his speech are also being circulated on social media.
Ramiz raja strike on M Amir
Gcu host the legend and give the awards of All times achievement ??#psl #PSL2023 #NationalChampionship pic.twitter.com/EpOAJyiCP4

— Habibullah (@habibkhanwushu) January 10, 2023
Former Chairman PCB Ramiz Raja's special session with students in GCU https://t.co/3ojA5fWmyk @iramizraja

— Events & Happenings Sports (@happenings2019) January 10, 2023
Congratulations to ramiz raja sb. He truly deserves this award….. Proud to be ravian.

— Farhan Ahsan (@ravianfarhan) January 5, 2023
Ramiz is an alumnus of GCU and pictures of him from his college time also surfaced on the internet.
GC University Lahore
Established: 1861 – 159 Years ago

GCU Alumni: Allama Iqbal, Faiz Ahmd Faiz, Har Gobind Khurana, Fawad Chaudhry, Ishfaq Ahmad, Ramiz Raja, Raheel Shrif, Javed Ahmd Ghamdi, Najam Sethi, Aftab Iqbal, Saqib Nisar Chief Justice, #Punjab #Punjabi #PunjabiParhao pic.twitter.com/vVg91uDDoy

— Babar Jalandhari ਬਾਬਰ ਜਲੰਧਰੀ (@BabarJalandhari) December 25, 2020
Me, Ramiz Raja and Sajjad Akbar were part of GCU cricket team in, 1980-81 pic.twitter.com/jacvLztshS

— khalid niazi (@khalidniazi2831) August 9, 2020
Talking about India, he said that there is a 'BJP mindset', which is why it is important for PCB to make money and free itself from ICC's funding. He added that most of ICC's resources are created in India, which tries to 'marginalise' Pakistan. While answering a question, he also said that he asked Cricket Australia and England Cricket Board to take over leadership roles in ICC.
He also mentioned the ACC controversy and said that ACC nominated Pakistan as the host for the Asia Cup and India one day says they won't come to Pakistan and the Asia Cup will also be taken from here, then Pakistan also has options. He recalled telling captain Babar Azam that they have to beat India in order to prove their position in world cricket.
Talking about PCB, he alleged that the board lacked a 'process-oriented approach' and needs to have a constitutional attitude and a tenure, free from political interference, for a PCB chief. He also emphasised the significance of PJL to boost Pakistan's cricket.