Video of Shahid Afridi giving autograph to fan on Indian Flag goes viral, Twitterati calls him "illiterate"
Viral Video of Shahid Afridi giving an autograph to a fan on the Indian flag.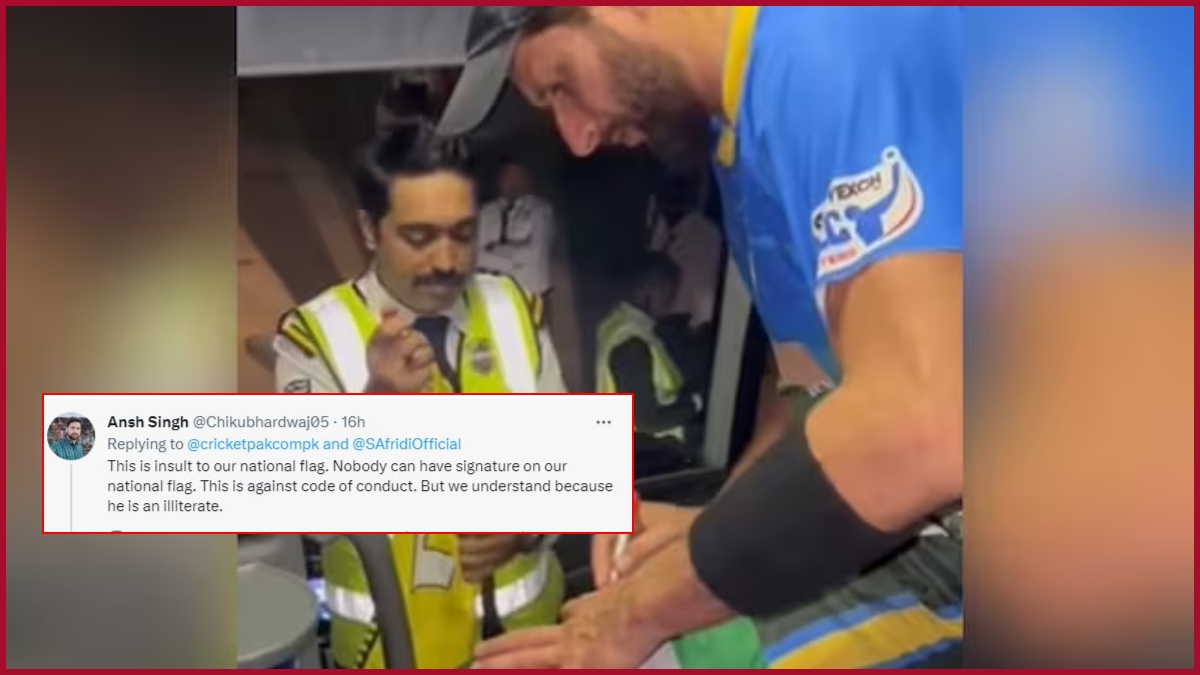 A video of Shahid Afridi signing an autograph for a fan on the Indian flag after a game of the ongoing Legends League Cricket (LLC) has taken the Internet by storm. The video which has now gone viral shows Afridi obliged to the request of the supporter who approached him with the tri-colour.
The video was shared by Cricket Pakistan's Twitter handle. In the video, the former Pakistan skipper can be seen respectfully holding the India flag and giving an autograph to the fan, who returned with a smile on his face.
??? ??? ???? ? ??? ????? ?

Shahid Afridi gives an autograph to a fan on the Indian flag ?#LLC2023 @SAfridiOfficial pic.twitter.com/LonnLwlDAt

— Cricket Pakistan (@cricketpakcompk) March 19, 2023
While this gesture of Shahid Afridi was not appreciated by some users as he signed the flag by keeping it on his thigs.
On of the users said that signing on the flag is wrong even if the celebrity is from the same country.

While another user said that this is and an insult to our national flag.

Meanwhile, there were some users who appreciated his gesture and called him a  great sportsman and a true ambassador of love.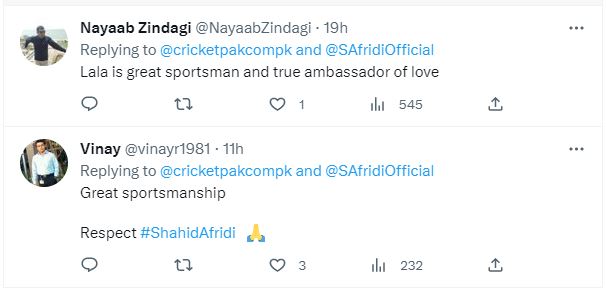 Shahid Afridi signing the Indian flag given to him by an Indian security official. He has a very big heart Ma Shaa Allah ❤️ #LegendsLeagueCricket pic.twitter.com/F0ItuTdsDo

— Farid Khan (@_FaridKhan) March 18, 2023
Now this is what we call "GRACE" Shahid Afridi signing the Indian flag.
That is how we respect other nations. Little actions like these,bring the world closer and promote love and peace on the planet!Proud of you Lala❤️ #LLCT20 #ShahidAfridi #LegendsLeagueCricket @SAfridiOfficial pic.twitter.com/RVH7CIMxZD

— Maham Gillani (@DheetAfridian) March 18, 2023
Shahid Afridi on Lahore winning the PSL final, and they also reached the final in Legends League Cricket. Other stars also joined the conversation ✨️ #Legends #LLCT20 pic.twitter.com/ndIyUenNul

— TEAM AFRIDI (@TEAM_AFRIDI) March 19, 2023
Shahid Afridi owned Gautam Gambhir both times when he captained against him ?? #LegendsLeagueCricket pic.twitter.com/AzjEu66mL8

— Farid Khan (@_FaridKhan) March 18, 2023