Virat Kohli vs Shah Rukh Khan Twitter fight: Two fanbases share memes, jokes and mocks as "Popularity war" gets uglier
Virat Kohli vs Shah Rukh Khan Twitter fight: Check out reactions here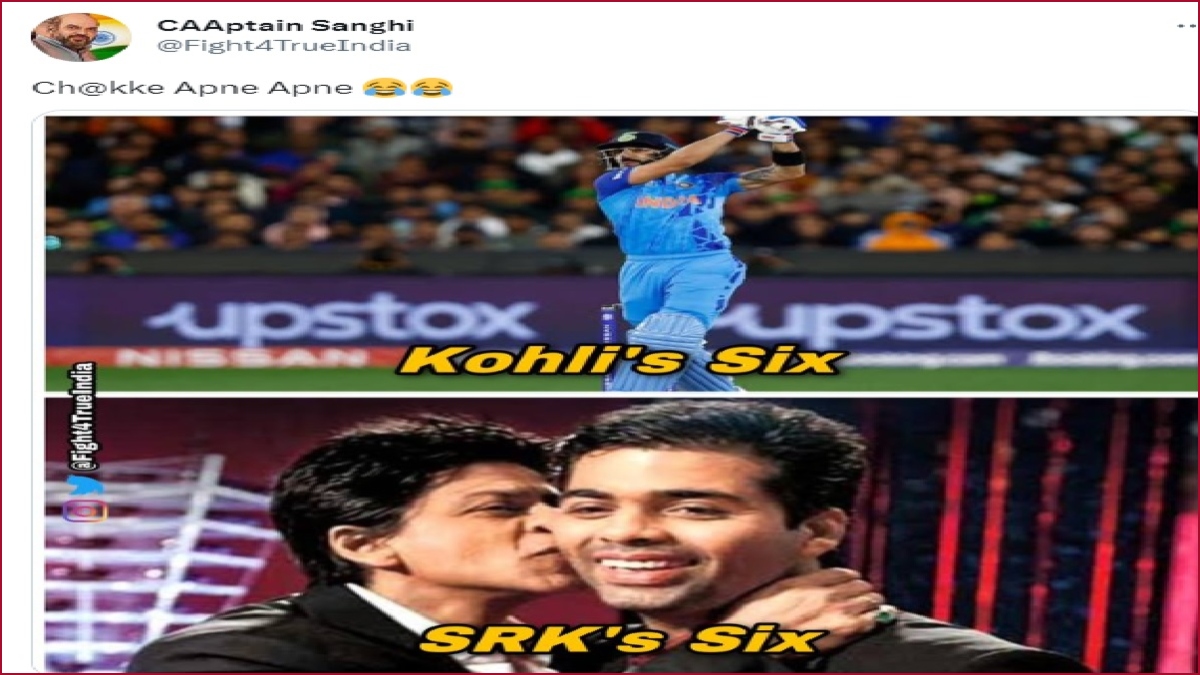 New Delhi: Twitter war is very much common these days, we have seen several people and some celebs fan bases getting into a tough fight on the micro-blogging site, but what's new and is trending is the ugly Twitter war between Virat Kohli fans and Shahrukh Khan's fans over who is more popular.
Tensions have escalated between the two fanbases ahead of the upcoming IPL season.
Knowing the fact that there cannot be any comparison between SRK and Virat for the reason that both the celebs belong entirely to different professions. Also, their contributions to the nation cannot be compared.
Reality of Chokli, Salman & Akshay pans who are doing everything to defeat their father Shah Rukh Khan on Twitter poll?
These guys talks about popularity ???#ShahRukhKhan #ViratKohli pic.twitter.com/J3CXKYchmH

— Tabish SRKian (@srkian_tabish) March 28, 2023
Since Shah Rukh Khan's supporters are mocking Royal Challengers Bangalore's (RCB) previous performances in the IPL while on the other hand, Virat's fans are boosing about the cricketer having more followers than SRK on Instagram while some are also mocking SRK's recent release-Pathaan.
srk fans say Virat fans only in india yeh dekhle mc? pic.twitter.com/yH03SX6vdU

— Ayush⚡️ (@Viratian_fire) March 27, 2023
Check out memes and other reactions here: 
Pathaan destroying a missile with the help of his mobile phone. RIP Physics pic.twitter.com/jwFS4TsciP

— Conjectural Truth (@sarkarstix) March 29, 2023
Ananya Pandey has a better legacy in IPL than VIRAR DOMBIVALI , sit down kid. https://t.co/gsEmlhvfc4 pic.twitter.com/9yjDaROrRk

— Pratap (@pratmist) March 27, 2023
Forget IPL and WC trophy

Kohli's 82* vs pak is bigger than anything srk did in his 57yrs of life https://t.co/vDiOzjD4BD pic.twitter.com/O2O0tdLoUh

— Gaurav (@Melbourne__82) March 27, 2023
This single scene is bigger than Virat kohli's whole career.#ShahRukhKhan? #SRK? pic.twitter.com/8VhktS1OmE

— Daemon (@Four_Tea_Five) March 27, 2023
Best Actor Best Cricketer.
SRK not found Kohli at top pic.twitter.com/CRlwRGBqlQ

— Pankaj Msdian (@Dhoni_Gawd) March 28, 2023
SRK was never this big like Virat Kohli pic.twitter.com/eD36XX6Z5Y

— Kevin (@imkevin149) March 27, 2023
[email protected] Apne Apne ?? pic.twitter.com/1CYRpoPn7Z

— CAAptain Sanghi (@Fight4TrueIndia) March 28, 2023
Shah Rukh Khan Virat Kohli
Owner of Gets Owned by
5 Cricket Every Cricket
Teams Team pic.twitter.com/W2vkOqmN4S

— ?????? ♔︎ (@KnightOfEden_) March 28, 2023
#SRK Vs #ViratKohli Net Worth:-

SRK : $735 MILLION

VIRAT KOHLI : $122 MILLION

SRK's net worth is 6x more than Virat's #SRK can buy virat 1000 times in ipl auction and make him play for #KKR

Nobody knows cricket except a few countries who participate in it ..?? pic.twitter.com/lQCCQ62Yf3

— SRK'sMjolnir?⚒️ (@SrkMjolnir) March 27, 2023