Mass exodus of Kiev: Huge crowd of people rush to border as Ukraine crisis worsen [WATCH]
The Russian President taking on national TV on Thursday announced the military operation in Ukraine as a move to respond to threats from Ukraine.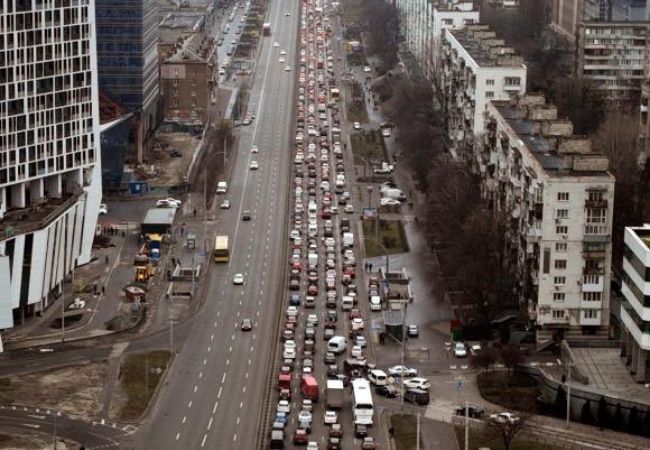 New Delhi: As the Russian President announced 'special military operations' in Ukraine with tanks rolling across the border of their war-torn country, Ukrainians are fleeing to the border. According to reports by the eyewitnesses, a large number of vehicles were seen leaving the capital of Ukraine, Kiev, as they could experience the presence of actual war with Ukraine President Volodymyr Zelensky martial law.
Several photos and videos surfaced on the web which showed Ukrainians driving out from the capital as air raid sirens wailed across the capital. Many people were either heading toward the exit, while some were lining up in long queues for gasoline and some stopped at the cash machines before leaving.
Many Ukrainian were seeing at the Kiev's metro station making long lines as they were planning to catch the trains to flee from the city while others were just heading to the station to take refuge. People have shown evidence of Ukrainian fleeing away from Kyiv on social media.
See here:
Hello World,
what a terrible day…#Kiev, Ukraine, now.
People are fleeing the city.#PutinsWar and misery in Europe have begun.

Inconceivably… 😔

🇺🇦 💙 💛 🇺🇦

(pic: Chris McGrath/Getty Images) pic.twitter.com/6pKPEAzccH

— Marko Silberhand (@MarkoSilberhand) February 24, 2022
There are many kilometers of traffic jams at the exit from Kiev, people are leaving the city, The Insider reports.#Russia #Ukraine #Kiev #Kyiv #RussiaUkraine pic.twitter.com/Rd8wIrTuG7

— WORLD WAR 3 – RUSSIA vs Ukraine #2022 (@WW32022) February 24, 2022
Roads in #Kyiv busy as people leave the Ukrainian capital. pic.twitter.com/qcoTJmXTSa

— Aurora Intel (@AuroraIntel) February 24, 2022
Not much has changed in #Europe. It's just the pictures are now in colour.

London 1941: Men women & children seek safety in the underground from Nazi German bombs.#Kyiv #Ukraine. Men women and children seek safety in the underground from Russian bombs. #RussiaInvadedUkraine pic.twitter.com/gfS7onmizU

— Glasnost Gone (@GlasnostGone) February 24, 2022
Traffic jams for miles as people head West out of #Kyiv. Many have their family, pets and belongings with them and emotional conversations on all uncertainty for what will the future hold. #Ukraine pic.twitter.com/avV40NeYLj

— Michael Downey (@mgdowney) February 24, 2022
The Russian President taking on national TV on Thursday announced the military operation in Ukraine as a move to respond to threats from Ukraine. Further, he stated that Russia does not have any plan to capture Ukraine and that the responsibility for the bloodshed during the action lies within Ukraine 'regime.'
Besides, he also warned the other countries who are attempting to interfere with the Russian action will have to face "consequences they have never seen."
On the other hand, earlier, defiant Ukrainians disobeyed pressure from Moscow with a national show of flag-waving unity on Wednesday even though the West warned, it had no sign of a promised pullback of Russian troops from the country's border.
President Volodymyr Zelensky, declared the 'unity day' to coincide with the rumoured date of Putin's invasion after Russia's attack declared to his countrymen that "we can defend our home only if we stay united."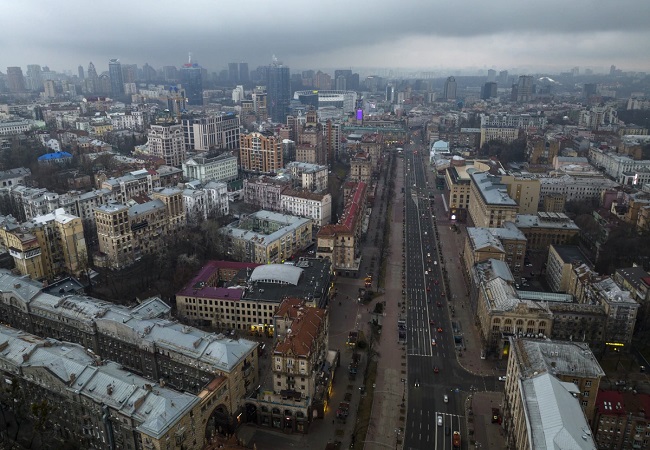 "We are united by a desire to happily live in peace," he added before flying through a helicopter to a training range in the west of Ukraine where the live-fire tank and aircraft drills were underway.
Besides, Ukrainian Minister of Foreign Affairs, Dmytro Kuleba taking to Twitter said that Russia has launched a "full-scale invasion of Ukraine." He added that Ukraine would defend itself from the Russian aggression "and will win."