Pak PM elicits laughter from Putin, 2 VIDEOs of embarrassment emerge; netizens have a field day
The awkward moment left the Pakistani PM red-faced while Russian President Vladimir Putin couldn't hold his laughter and could be seen smiling softly.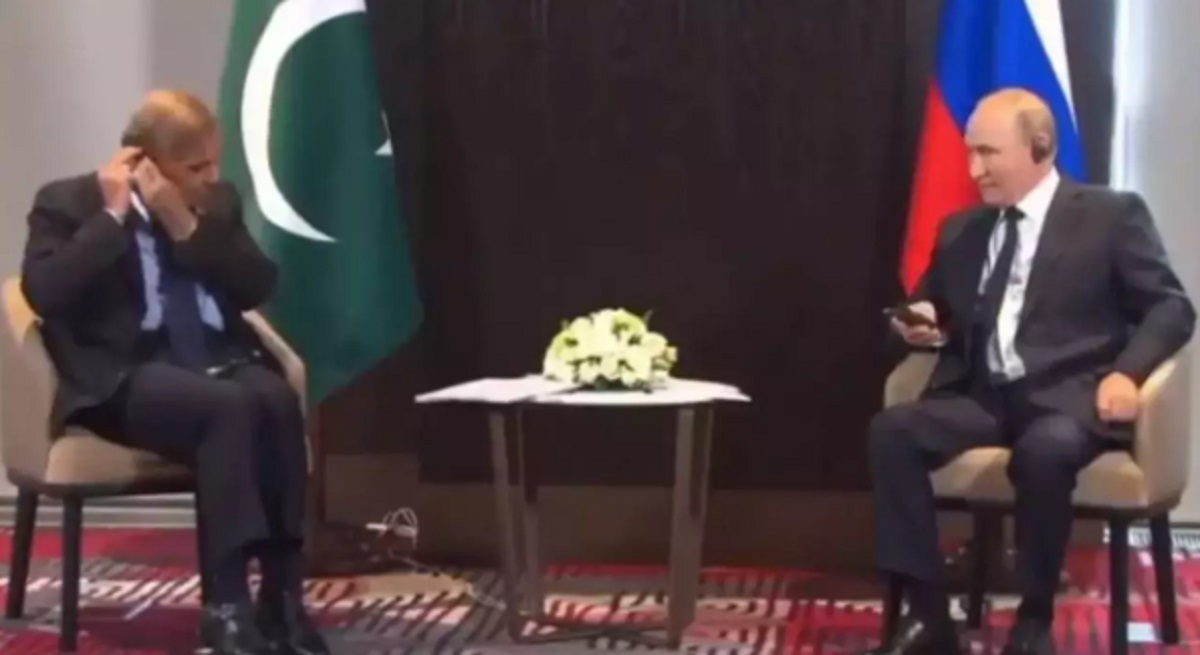 New Delhi: At the Shanghai Cooperation Organisation (SCO) Summit in Uzbekistan, Pakistan Prime Minister Shehbaz Sharif had an embarrassing moment as he struggled to put up his earphone and eventually had to seek assistance from the staff.
A video of the incident is being shared widely on the internet, where Shehbaz Sharif is seen trying hard to put earphone but failing to do so.
After struggling for some seconds, Pak PM asks, "Can somebody help me?"
The awkward moment left the Pakistani PM red-faced while Russian President Vladimir Putin couldn't hold his laughter and could be seen smiling softly. The two leaders were meeting in Uzbekistan, on the sidelines of SCO Summit.
This CrimeMinister is a constant embarrassment for Pakistan. Even President Putin had to eventually just laugh at this clumsy man. Pathetic. This is what conspirators wanted? To have by design a politician who would not only be a crook but also a pathetic apology for a PM? pic.twitter.com/mmEhLY7RZg

— Shireen Mazari (@ShireenMazari1) September 15, 2022
As the video of embarrassment landed on social media, the Pakistani PM found himself at the receiving end of trolls including own citizens, who taunted Sharif for bringing global embarrassment.
One more foreign visit one more shame:

Imported rulers defaming the Nation on all national & international platforms. pic.twitter.com/TcLSst0EEZ

— Tehreek-e-Insaf (@InsafPK) September 15, 2022

Former Pak PM Imran Khan's party latched on the moment and shared video with sharp jibes.
Pak PM trolled by Pakistanis
As Shireen Mazari, a member of PTI party shared the video, lot many Pakistani citizens mocked Shehbaz Sharif and said that the Prime Minister was bringing shame to the country.
"One more foreign visit, one more shame," tweeted PTI.
Pak PM 'left out' while others get taste of menu
Sharing another video of embarrassment for Pakistan PM, Imran's party shared av video of Shehbaz Sharif and lamented at the treatment meted out to him by SCO members.
It took 4 hours for Social Media to bust PMLN's fake projection of Shahbaz Sharif as center of attention. This video contains the truth … he was one of the last ones invited to taste food.

There was a time when our PM was the real center of attention. #MissYouPMImranKhan pic.twitter.com/JncTfQO2Zl

— PTI (@PTIofficial) September 15, 2022

Busting the 'propaganda machinery' of Pakistani establishment, it shared a video t show how Pakistan PM was almost left out and was last to be offered a taste of food.
Taking a jibe at Shehbaz Sharif, it said that when Imran Khan was Pak PM he remained the centre of attraction but Sharif is only bringing embarrassment for the country.
Twitter has a field day
While Pak PM receives media attention more for bungling up with his earphone, the netizens also had a field day. Both videos received many reactions & emojis from Twitterati including many from Pakistani handles.
The contrast is so vivid – here is IK, a Pakistani leader striding confidently to meet President Putin & seated comfortably not fumbling & bumbling! pic.twitter.com/bWi0AanNnZ

— Shireen Mazari (@ShireenMazari1) September 15, 2022