Chaitra Navratri 2020, Day 2: Devi Brahmacharini, the second form of Goddess Durga (Navdurga)
Devi Brahmachaarini is the expansion of the follicle of the egg. She is often depicted as a young girl, pre-pubescent and chaste. Yet, it is this form of Devi that is filled with all-knowledge.
March 26, 2020 17:43
During this time of Navratri Celebrations, Renooji (RenooNirula), has enabled us with knowledge and mantras to connect to, understand, and invoke the energies of Devi. It is a Journey that the Guru Invites You to take with Surrender and Devotion. (Below are extracts from Renooji's lectures on Devi, Shakti, Durga and her many forms to empower you further)
DEVI BRAHMACHAARINI, 2020
The second form of the Feminine Divine is Devi Brahmachaarini. Devi is floating down on Planet Earth to connect us to our inner healers. This downpour of the light is a cause for celebration. So, let us chant the mantra below and connect to Devi in all her 9 forms – blessing us all, (this mantra can be chanted in an endless loop, much like a song)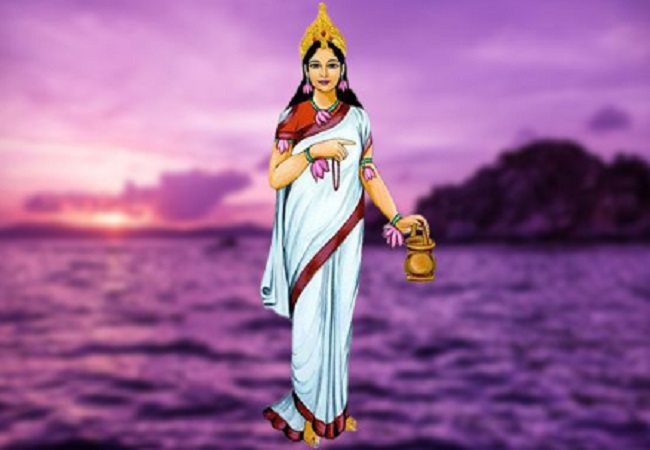 II MATARANI KI JAI, MAHARANI KI JAI,
MATA RANI KI JAI, MATA RANI KI JAI,
MAHA RANI KI JAI, MAHARANI KI JAI, MAHARANI KI JAI,
MATA RANI KI JAI, MAHARANI KI JAI II
We are in day two and night two of the Navratri Celebrations, 2020. What is the Navratri? Simply put – they are 9 days and 9 nights where we as humans get an opportunity to express gratitude to all that is provided by Mother Nature. Connecting to the Feminine Divine in 9 glorious forms from mother, child, warrior and mystic, to protector, creator, kinetic energy and progenitor. The Goddess blesses us all!
Renooji describes this downpour of energy on day 2 of the Navratri as follows,
"…Brahmachaarini is the expansion of the follicle of the egg. She is often depicted as a young girl, pre-pubescent and chaste. Yet, it is this form of Devi that is filled with all-knowledge. As Devi appears today she activates the seeds within us. Can there be good seeds, and bad seeds? Yes there can be. However, Brahmachaarini, with all her knowledge deactivated the negative, and expands the positive. This results in the spurting and growing of divine consciousness everywhere. Especially across the three zones of the past, the present and the future. And again there appears the Bindu – the consciousness of supreme joy, and bliss and truth."