Holika Dahan 2021: Date, Muhurat, History and Importance; check here
Holika Dahan 2021: Date, Muhurat, Timings, History and importance-Read here
March 28, 2021 12:56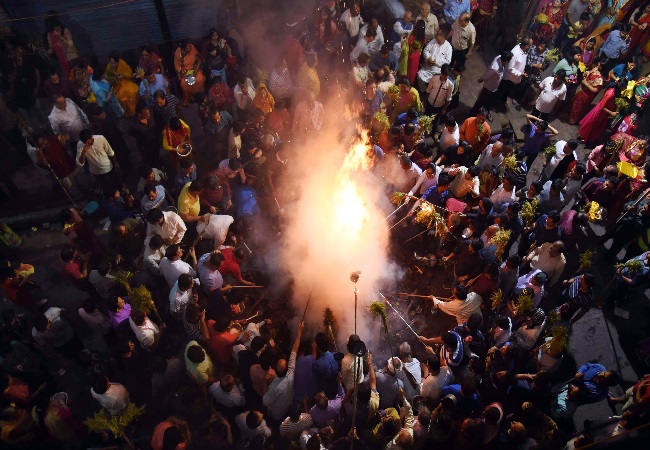 New Delhi: Holika Dahan 2021, also known as Holika Deepak or Chhoti Holi, is celebrated during Pradosh Kaal (which starts after sunset) while Purnimasi Tithi is prevailing.
It is said that all good work should be avoided when Bhadra prevails. Bhadra prevails during first half of Purnimasi Tithi .
Holika Dahan 2021 Date:
Holika Dahan on Sunday, March 28, 2021
Holika Dahan 2021 Muhurat:
Holika Dahan Muhurta – 06:37 PM to 08:56 PM
Duration – 02 Hours 20 Mins
Holi 2021 Date:
Rangwali Holi on Monday, March 29, 2021
Bhadra Punchha – 10:13 AM to 11:16 AM
Bhadra Mukha – 11:16 AM to 01:00 PM
Holika Dahan during Pradosh with Udaya Vyapini Purnima
Purnima Tithi Begins – 03:27 AM on Mar 28, 2021
Purnima Tithi Ends – 12:17 AM on Mar 29, 2021
Holika Dahan History, Significant and Importance
Holika Dahan is a festival that is observed as a victory of good over evil owing to the legend that is associated with it.
Holika Dahan story is about the triumph of the honest and the good despite the evil being stronger and powerful.
The story of Holika Dahan  basically revolves around an evil king named Hiranyakashipu, his devil sister Holika and Prahlad, the king's son.