Home » Coronavirus »
Covid-19 Bulletin: 60% Corona cases from 5 states, all symptomatic –ve cases of rapid antigen tests to be retested via RT-PCR
September 10, 2020 20:42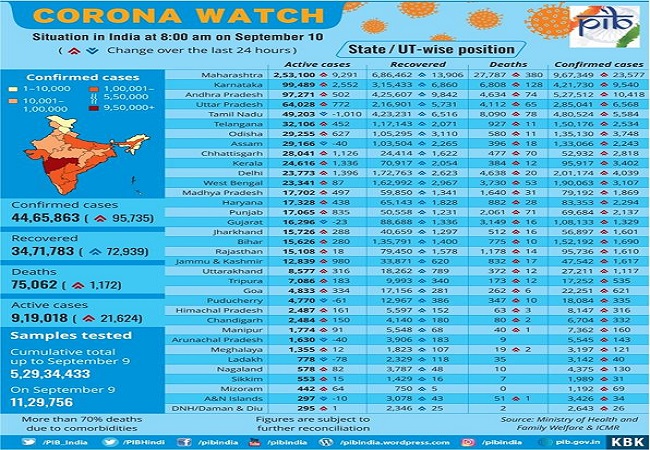 New Delhi: The Covid-19 recovery is edging higher with each passing day. In latest data, it has now improved to 72,939 people recovering from Coronavirus and getting discharged in last 24 hours.
Total number of recoveries has reached 34.71 lakh, said the Health Minstry. It said, the increase in recoveries has resulted in reduction of actual caseload and currently comprises only 20.58 per cent of the total positive cases.
The 'Test,Track and Treat' approach has led to higher recoveries and lower fatality, said the Health Ministry.
74% of total active corona cases in 9 states
A total of 95,735 new cases have been reported in the last 24 hours in the country. 60% of the total cases are reported from only five States. Maharashtra has alone contributed more than 23,000 and Andhra Pradesh has contributed more than 10,000. The total number of active cases in the country stands at 9,19,018, as on date. More than 74% of the Total Active Cases are in 9 most affected States. Maharashtra, Karnataka and Andhra Pradesh presently contribute 49% of total active cases.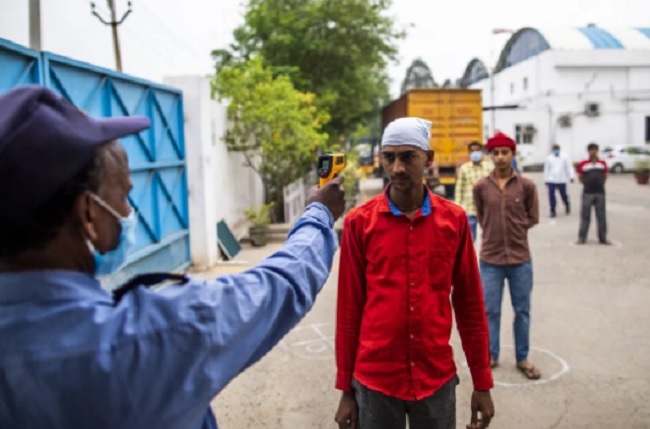 Maharashtra is leading this tally with more than 2,50,000 whereas Karnataka and Andhra Pradesh follow with more than 97,000 each. A total of 1,172 deaths have been registered in the past 24 hours. 32% of deaths reported yesterday are from Maharashtra with 380 deaths followed by Karnataka with 128 deaths, and Tamil Nadu with 78 deaths. Of the total deaths, 69% are concentrated in five States/UT of Maharashtra, Tamil Nadu, Karnataka, Delhi and Andhra Pradesh.
States/UTs told to retest all symptomatic -ve cases of Rapid Antigen Tests via RT-PCR
Union Health Ministry has noted that in some large States, symptomatic negative cases tested by Rapid Antigen Tests (RAT) are not being followed up by RT-PCT testing. The Guidelines of ICMR as well as the Union Health Ministry clearly state that the following two specific categories of persons must necessarily be retested through RT-PCR tests: All symptomatic (fever or cough or breathlessness) negative cases of RAT and Asymptomatic negative cases of RAT that develop symptoms within 2 to 3 days of being tested negative. In this background, the Union Health Ministry and ICMR have jointly written to all the States/UTs and urged them to ensure that the all symptomatic negative cases of RAT are mandatorily retested using the RT-PCR test.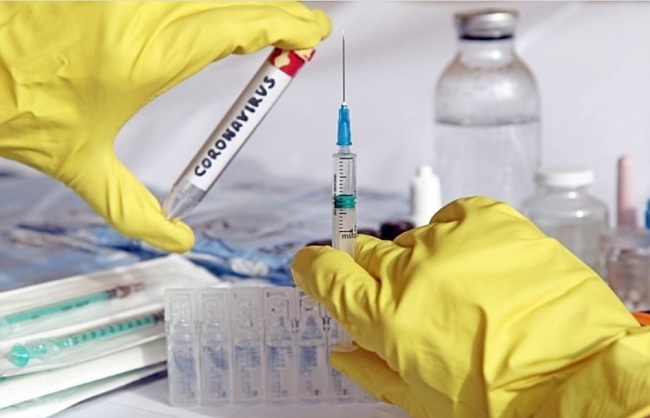 This is necessary to ensure that such symptomatic negative cases do not remain untested and do not spread the disease among their contacts. It has also been reiterated in the joint letter that while the RAT is being used to increase access and availability of testing in the field, RT-PCR remains the gold standard of COVID tests. The Union Health Ministry has also urged the States/UTs to urgently establish a monitoring mechanism in every district (a designated officer or a team) and at the State level to follow up such cases. They have also been advised to undertake an analysis on a regular basis to monitor the incidence of positives during the RT-PCR tests conducted as a follow up.
Dr. Harsh Vardhan addresses round table session on COVID-19 emergency preparedness
Dr. Harsh Vardhan, Union Minister for Health and Family Welfare attended the73rd session of WHO South East Asia Region through video conference, here today. Representing India, Dr. Harsh Vardhan offered two interventions in the ministerial round table session on COVID-19 Emergency Preparedness. He first spoke on the three important interventions that were applied to manage COVID – 19 and maintain essential non – COVID health services in India. He later expounded on the strategies that are being applied to ensure that there are increased investments in health and health emergency preparedness and response as well as in International Health Regulation core capacities to prevent future pandemics, in the second round of interventions. Speaking on India's public health measures to prevent and contain spread of SARS nCoV – 2 since January 2020, he outlined the measures undertaken by the Government of India.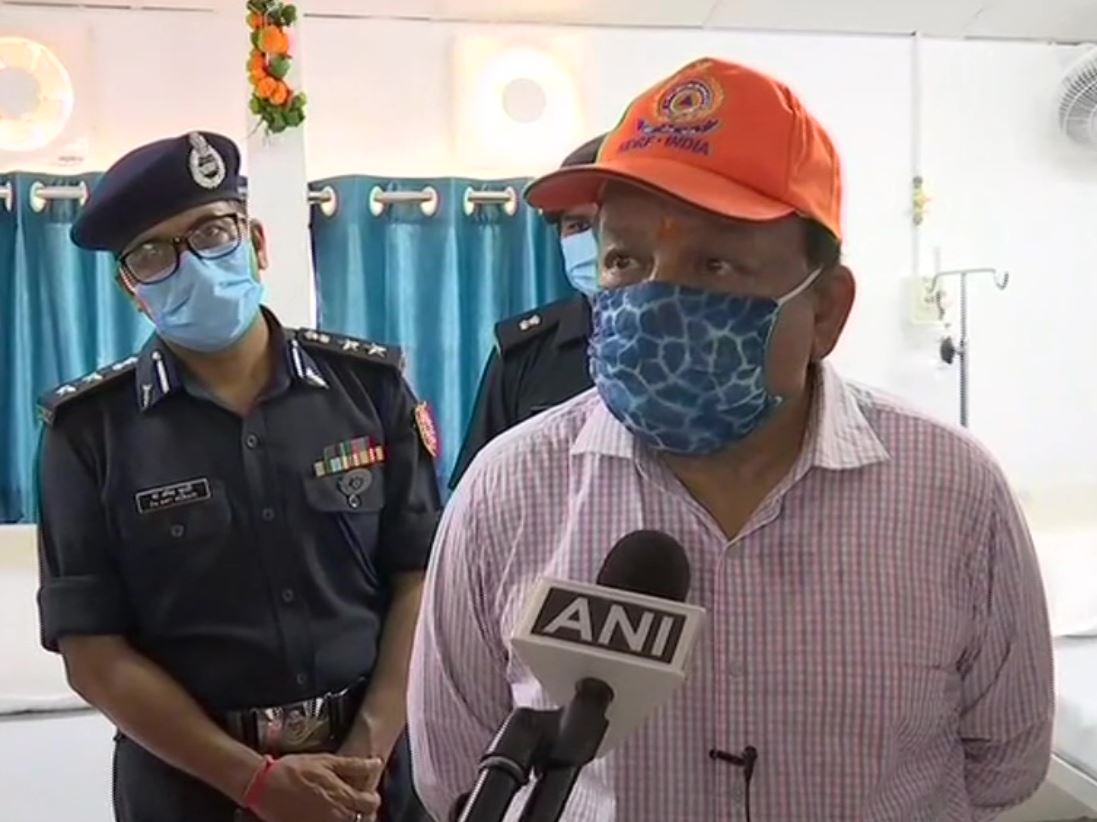 RS chairman conducts mock session of House for smooth functioning
M. Venkaiah Naidu, Rajya Sabha chairman, has taken stock of the entire gamut of special arrangements put in place for holding the Monsoon Session of Parliament summoned from Monday, the 14th September. A mock session of the House was conducted, with him in the Chair, and the Chamber and the four galleries of the House occupied by the staff of the Secretariat as per the seating arrangements already earmarked keeping in view the social distancing norms. Staff members were also made to sit in and participate from the Chamber of the Lok Sabha, which becomes a part of the House for the entire session. Chairman, Shri Naidu, expressed satisfaction over the arrangements made. Shri Naidu advised the senior officials of the Secretariat to ensure that all the guidelines issued by the Ministries of Home and Health & Family Welfare have to be followed very scrupulously. He also directed the officials to remind Hon'ble Members through an advisory about the health protocols to be observed by them before and during the upcoming session.
Ayush-based solutions to be projected in the Poshan Maah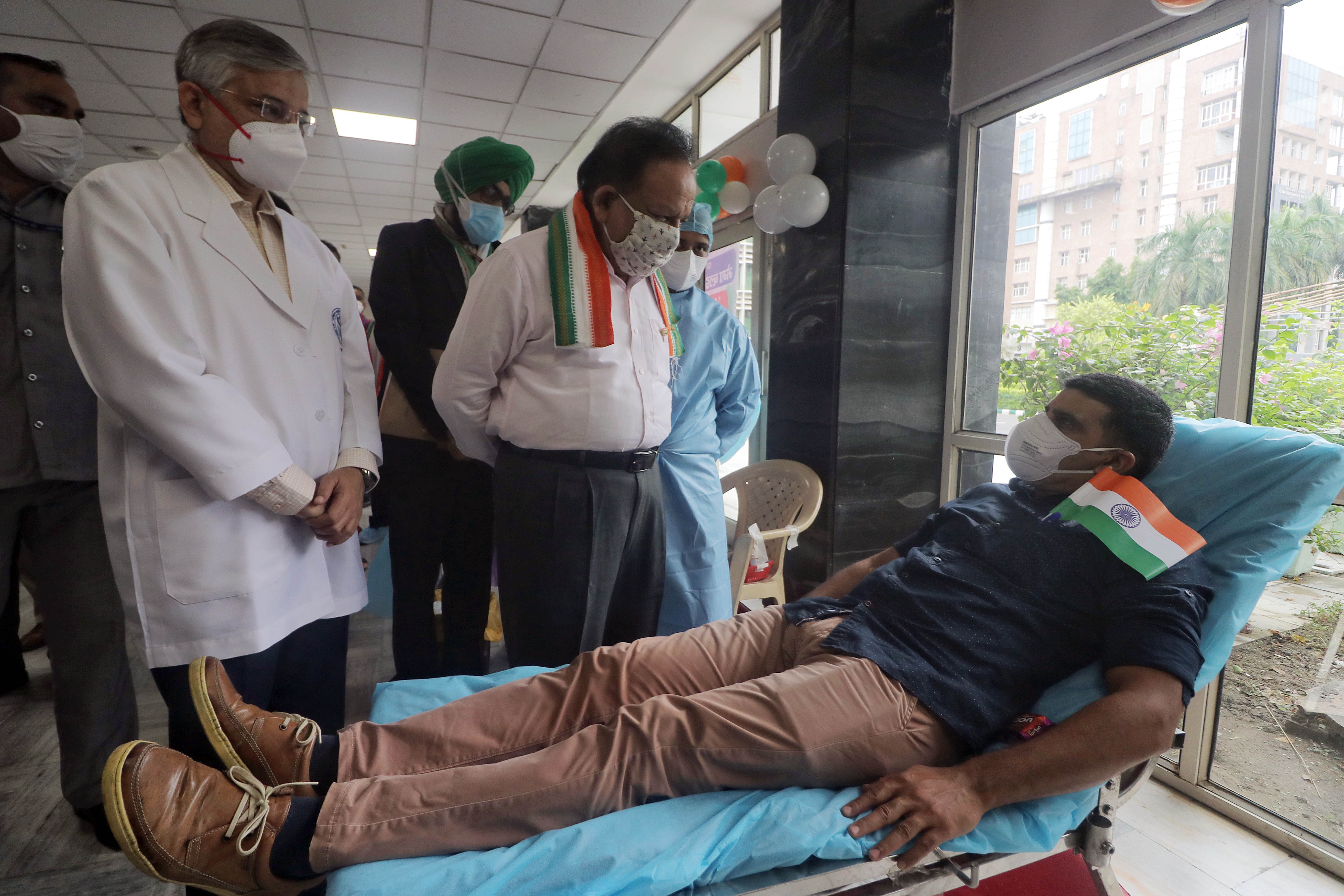 Nutrition solutions based on traditional healthcare wisdom will be an integral part of the Poshan Maah celebrations during the month of September 2020. This will further accelerate various activities under POSHAN Abhiyaan, while adhering to COVID-19 protocols. POSHAN Abhiyaan (National Nutrition Mission) is the Prime Minister's overarching Scheme for Holistic Nourishment, and was launched by him on 8th March, 2018. Experts from indigenous systems of Ayurveda, Siddha and Unani will be co-opted to provide guidance on good nutrition, complementary feeding etc. The Ministry of AYUSH will initiate and coordinate special measures for this, through the network of its Autonomous Bodies as well as through Stake-holders like Ayush Educational Institutions. The Ministry will customise its ongoing awareness campaign during the month by focusing on the theme "Ahara" which is directly related to the subject of nutrition, and reach out to the public with targeted messages.
DST's journey of catalyzing innovation, entrepreneurship and incubation report launched
A report on the journey of the National Science and Technology Entrepreneurship Development Board (NSTEDB) in catalyzing innovation, entrepreneurship, and incubation was launched by the Secretary Department of Science and Technology, Professor Ashutosh Sharma at an online programme earlier this week. The report also indicates a fivefold increase in investments raised by the seed supported startups as a follow on funding from angels, venture capitals, and other stakeholders with significant valuation gains. Overall, NSTEDB approach has leveraged the technological strength of the higher learning institutes to the benefit of the startups through a network of academic incubators seeded and supported by it. It has led to an effective incubation support system that led to success of these fledgling startups. The collective strength and power of NIDHI program, the DST Incubator network and its startups was tested successfully during the COVID 19 pandemic through the Centre for Augmenting WAR with COVID-19 Health Crisis (CAWACH) program by supporting various solutions to resolve the crisis.