Home » Coronavirus »
Covid-19 Bulletin: Improvement in recovery rate, 5 out of 8 N-E states Corona free and Fact-checking fake news
ICMR has asked the States/UTs to stop using rapid-antibody tests and return them to the supplier as the kits supplied by Chinese firms were faulty.
April 27, 2020 21:41
New Delhi: The good news on Covid-19 is that five out of eight North-Eastern states have become pandemic free. As May 3 approaches, preparations are underway to re-start the economy. Prime Minister Narendra Modi today spoke to several CMs on the emerging situation and also to seek their inputs in fighting the pandemic.
Government also issued a clarification over the rapid anti-body tests and ruled out any loss of money. ICMR asked the States/UTs to stop using rapid-antibody tests and return them to the supplier as the kits supplied by Chinese firms were faulty.
Covid recovery rate @ 22.17%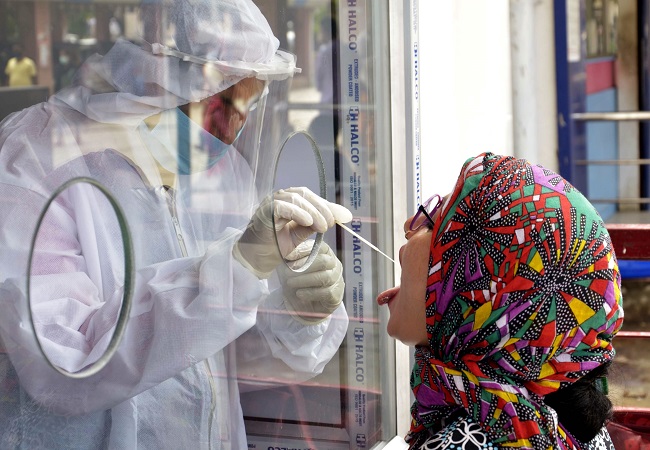 As of now, 6,184 people have been cured with a recovery rate of 22.17%. Since yesterday, an increase of 1396 new cases has been reported. A total of 27,892 people have been confirmed positive as of now for COVID-19 in India. In the last 24 hours, 48 new deaths have been reported, with total fatality of 872.16 Districts in the country, which earlier had cases, have not reported any fresh cases since the last 28 days. A total of 85 districts have not reported any new cases since the last 14 days.The percentage of trucks moving food and pharmaceuticals has increased from 46% on March 30 to 76% on April 25, 2020. In the same period, the percentage of railway rakes moved has increased from 67% to 76%, percentage traffic handled by ports has increased from 70% to 87%, and percentage of operational major mandis has gone up from 61% to 79%. More than 1.5 cr people are being provided cooked meals every day by Government agencies, NGOs and industries.The Government is focusing on easing policy and implementation bottlenecks in supply chains of essential items, troubleshooting specific bottlenecks on the ground and tracking key indicators and disseminating best practices of supply warriors.
PM's virtual meet with CMs on plan ahead to tackle COVID-19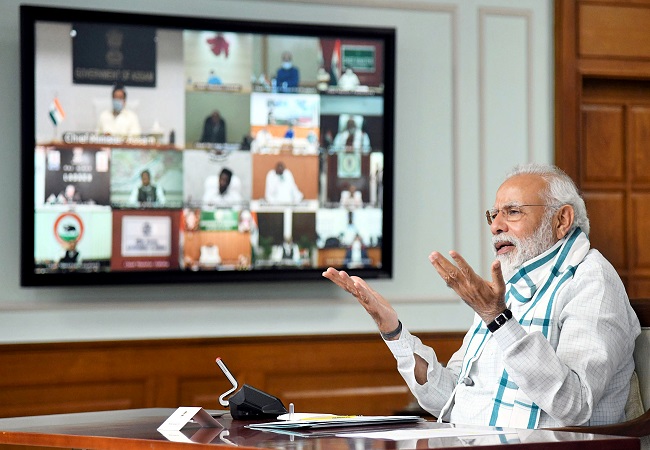 Prime Minister ShriNarendraModi today interacted with Chief Ministers of states via video conferencing to discuss the emerging situation and plan ahead for tackling the COVID-19 pandemic. He underlined that the Lockdown has yielded positive results as the country has managed to save thousands of lives in the past one and a half months. He added that India's population is comparable to that of the combined population of several countries. The situation in many countries, including India, was almost similar at the start of March. However, due to timely measures, India has been able to protect many people. He however forewarned that the danger of the virus is far from over and constant vigilance is of paramount importance.Prime Minister also urged Chief Ministers to factor in the changes in weather – advent of summer and monsoon – and the illnesses that can potentially come in this season, while strategizing ahead.
Govt sets record straight over alleged losses in Rapid Antibody test kits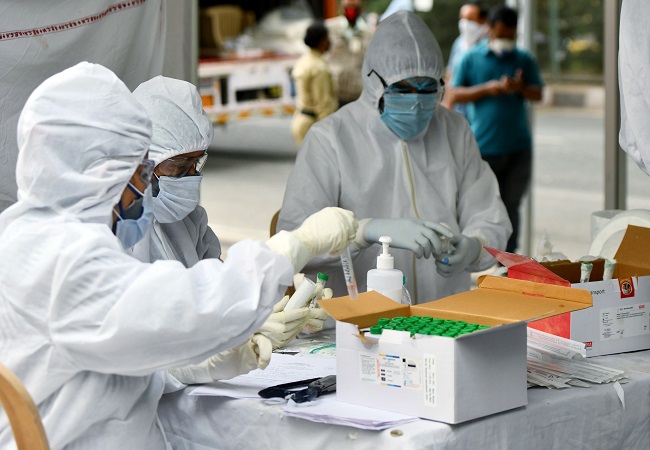 Testing is one of the most crucial weapons to fight COVID-19 and ICMR is doing everything it can to ramp up testing. This requires procurement of kits and supplying them to states. This procurement is being undertaken when globally there is huge demand for these test kits and various countries are applying their full might, monetary and diplomatic, to acquire them.Based on scientific assessment of their performance, the order in question (Wondfo) along with order in respect of another make found under-performing have been cancelled.ICMR has not made any payment whatsoever in respect of these supplies. Because of the due process followed (not going for procurement with 100% advance amount), GoI does not stand to lose a single rupee.
'No move to reduce retirement age of govt employees'
Strongly refuting the reports in a section of media that Government has moved a proposal for reducing the age of retirement of government employees to 50 years, Union Minister DrJitendra Singh has categorically stated that there is no such move to reduce the retirement age nor has been such a proposal discussed or contemplated at any level in the government.
Dr. Harsh Vardhan takes stock of AIIMS Trauma Centre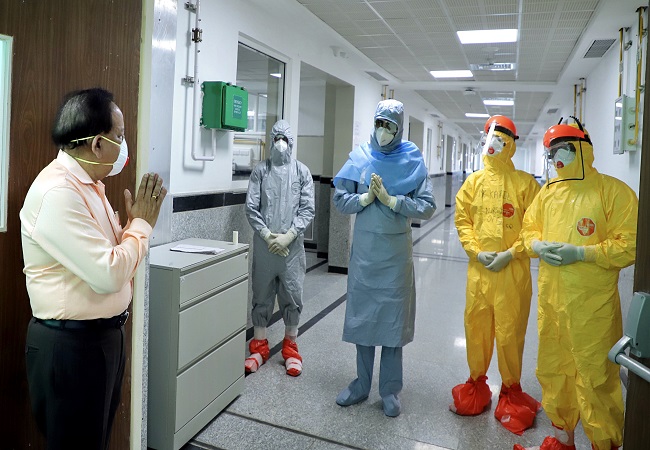 The Union Minister for Health & Family Welfare, Dr. Harsh Vardhan today visited Jai Prakash Narayan Apex Trauma Centre (JPNATC) of All India Institute of Medical Sciences (AIIMS), New Delhi to take stock of their preparedness to overcome COVID-19 as well as witness first-hand the treatment and assistance being offered to COVID-19 patients in the Dedicated COVID Hospital.
5 out of 8 Northeast States are Corona free
Five out of eight Northeast States are Corona free while the other three States have not added any new Corona positive case in the last few days. This was disclosed by Union Minister DrJitendra Singh, after a review meeting through video conference, in which senior officers from North Eastern Council (NEC) Shillong as well representatives of different government bodies and PSUs.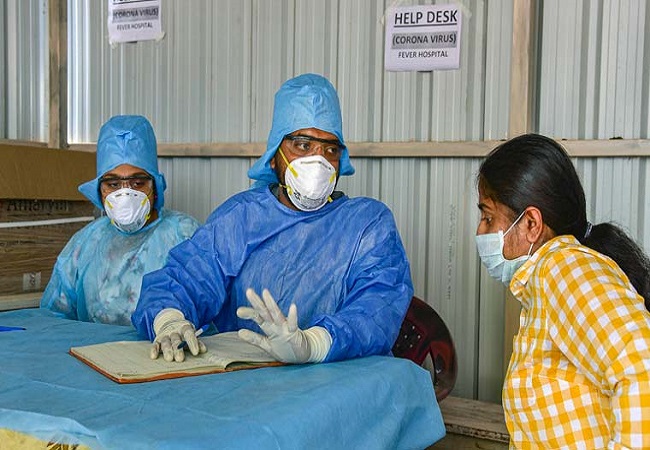 Nitin Gadkari speaks to Overseas Indian Students
The Minister interacted with Indian overseas students in various countries like UK, Canada, Singapore, other European Countries and Australia under the theme Indian Response to Global Pandemic : Roadmap for India. Addressing the students, he said, the way ahead for India is clearly in us remaining positive and making concerted efforts to convert this adversity into an opportunity.
Over 684 tons of essential and medical cargo delivered via Lifeline Udan
'Lifeline Udan' flights are being operated to transport essential medical cargo to remote parts of the country to support India's war against COVID-19. 383 flights have been operated under Lifeline Udan by Air India, Alliance Air, IAF and private carriers. Cargo transported till date is around 684.08 tons, covering an aerial distance of over 3,76,952km.Helicopter services including Pawan Hans Ltdhave been operating in J&K, Ladakh, Islands and North East region transporting critical medical cargo and patients.
IAF's support towards fight against COVID-19
Indian Air Force (IAF) has stepped up its efforts to meet all the emerging requirements of the Govt of India during the ongoing novel corona virus pandemic. IAF continues to airlift essential supplies of medicine and ration along with medical personnel within the country, to equip state governments and supporting agencies to combat the contagion effectively.