Home » Coronavirus »
Covid-19 Bulletin: Record 1 lakh recovery in a day, fatality rate drops further to 1.59%
September 22, 2020 22:07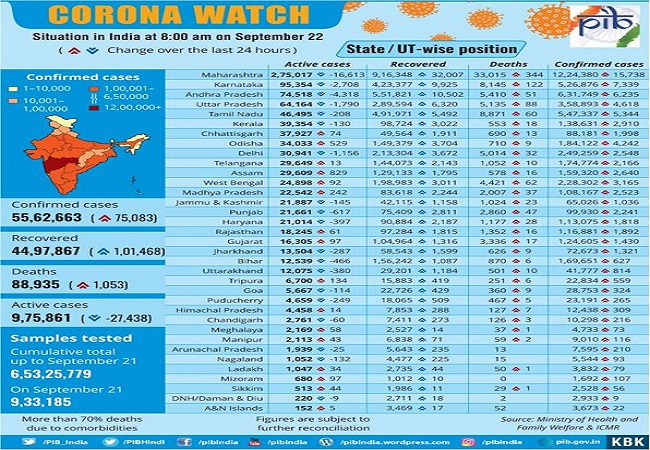 New Delhi: Till date, 44.9 lakh patients have recovered from Covid-19 in the country, which is highest in the world.
Speaking to press, Health Secretary Rajesh Bhushan said, India contributes 17.75% share in the total COVID-19 cases, however, in terms of recovered cases, it has reached 19/%% of total recoveries in the world.
Recovery rate has further improved to 80.86% and highest ever single day recovery of 1 lakh was registered in last 24 hours. More than 6.5 crore tests have been conducted so far and 12 lakh tests were conducted on a single day.
Highest Covid-19 recovery in a day
In an unprecedented surge, India has recorded the highest number of single day recoveries. More than 1 lakh (1,01,468) new recoveries have been registered in the last 24 hours in the country. In another landmark achievement, the trend of very high number of single day recoveries has sustained for the past four consecutive days.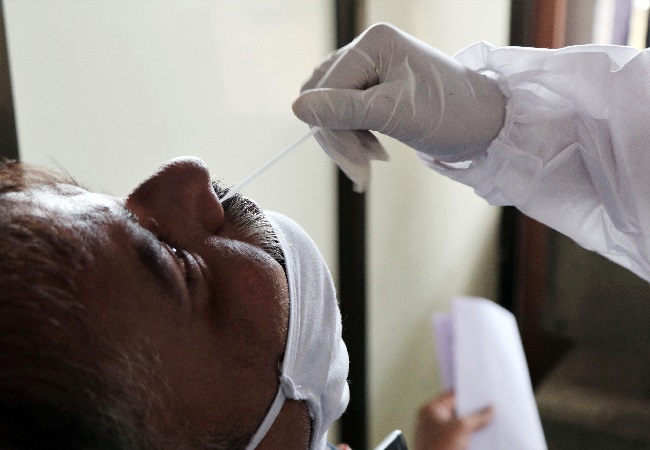 With this, the total number of recoveries are nearly 45 lakh (44,97,867). This has resulted in the Recovery Rate touching 80.86%. 79% of the new recovered cases are being reported from ten States/UTs, viz. Maharashtra, Karnataka, Andhra Pradesh, Uttar Pradesh and Tamil Nadu, Odisha, Delhi, Kerala, West Bengal and Punjab. Maharashtra continues to lead with more than 32,000 (31.5%) new recovered patients. Andhra Pradesh contributed more than 10,000 to the single day recoveries. India's landmark achievement of recording the maximum number of recoveries has positioned it as the top country globally. Case Fatality Rate (CFR) currently stands at 1.59%.
PM Modi to chair meet with 6 Chief Ministers on Covid-19
Prime Minister will chair a high level virtual meeting with the Chief Ministers and Health Ministers of seven COVID high burden States/UT to review the status and preparedness of COVID response and management, tomorrow, 23rd September 2020.These States/UT are Maharashtra, Andhra Pradesh, Karnataka, Uttar Pradesh, Tamil Nadu, Delhi and Punjab.More than 63% of the Active Cases of the country are concentrated in these seven States/ UT. They also account for 65.5% of the total confirmed cases and 77% of the total deaths. Along with the other five States, Punjab and Delhi have reported an increase in the number of cases being reported recently. Maharashtra, Punjab and Delhi are reporting high mortality with more than 2.0% Case Fatality Rate (CFR). Other than Punjab and Uttar Pradesh, their positivity rate is observed to be above the national average of 8.52%.The Centre has been leading the fight against COVID in the country in effective collaboration and close coordination with the State/UT governments.
PM Modi to speak to Kohli and Milind Soman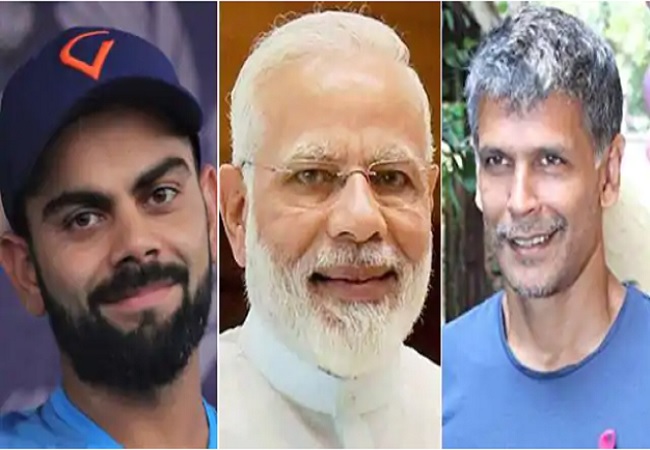 In a unique initiative, Prime Minister Shri.NarendraModi will interact with fitness influencers and citizens during a nation-wide online Fit India Dialogue which is being organized to celebrate the first anniversary of the Fit India Movement on September 24, 2020. The online interaction will see participants sharing anecdotes and tips of their own fitness journey while drawing out guidance from the Prime Minister on his thoughts about fitness and good health. Among those who will participate range from ViratKohli to MilindSoman to RujutaDiwekar in addition to other fitness influencers. In times of Covid-19, fitness has become an even more important aspect of life. This dialogue will see a timely and fruitful conversation on nutrition, wellness and various other aspects on fitness.
UGC Guidelines on for Session 2020-21 in view of COVID-19 pandemic
The Union Minister for Education Shri Ramesh Pokhriyal 'Nishank' today announced the University Grants Commission Guidelines on Academic Calendar for the First Year of Under-Graduate and Post-Graduate Students of the Universities for the Session 2020-21 in View of COVID-19 Pandemic. The Commission at its meeting held on 21 September 2020 approved the UGC Guidelines on Academic Calendar for the First Year of Under-Graduate and Post-Graduate Students of the Universities for the Session 2020-21 taking into account the ongoing COVID-19 Pandemic. The admissions to the first year programmes for the session 2020-21 will completed by the end of October 2020. The last date for admissions to fill up the remaining vacant seats shall be 30 November 2020. The Academic Session 2020-21 may commence from 01 November, 2020 for first year students.
Impact of Covid-19 Pandemic on Textile Industry
Textile sector is highly unorganized sector. The government has initiated special measures to help ameliorate the conditions in textile sector due to Covid pandemic and to boost production, marketing and job opportunities in the sector. The government has conducted a study viz. 'Impact of Covid-19 pandemic on Indian silk industry' to ascertain the crisis caused to the sector. The industry has faced various problems of production, cocoon and raw silk prices, transportation problem, non-availability of skilled workers, sale of raw silk and silk products, working capital and cash flow, reduced export/import orders, besides restrictions. In order to make the textile sector competitive by rebating all taxes/levies in international market, the Government has decided to continue the RoSCTL (Rebate of State and Central Taxes and Levies) scheme until such time the RoSCTL scheme is merged with Remission of Duties and Taxes on Exported Products scheme. Further, in order to boost exports in MMF sector, Government has removed anti-dumping duty on PTA (Purified Terephtallic Acid), a key raw material for the manufacture of MMF fibre and yarn. The Government of India has also announced a special economic package viz. AatmaNirbhar Bharat Abhiyaan for boosting economy of the country and making India self-reliant. Relief and credit support measures have been announced for various sectors. The weavers & artisans can avail benefits of these relief and credit support measures to revive their businesses which have suffered due to lock down necessitated by Covid-19 pandemic.
Smooth functioning of RTI during COVID-19
The Union Minister of State (Independent Charge), Development of North Eastern Region (DoNER), MoS PMO, Personnel, Public Grievances, Pensions, Atomic Energy and Space, Dr Jitendra Singh said that during COVID-19 pandemic, the Central Information Commission had taken steps to facilitate hearing of second Appeals/Complaints through audio/video facilities by intensive use of technology. In a written reply in RajyaSabha today, he said that as far as Central Information Commission is concerned, a total number of 4491 online requests have been processed since March, 2020 to 17.09.2020.