Home » Coronavirus »
Covid-19 Bulletin: Recovery rate inches closer to 60%, Fact-checking fake news
As on date, there are 1,19,696 more recovered patients than COVID-19 active cases. Also, while there are 2,15,125 active cases, all under active medical supervision, 3,34,821 patients have been cured/discharged.
June 30, 2020 20:26
New Delhi:  Prime Minister Narendra Modi today chaired a high-level meeting to review the planning and preparations for vaccination against Covid-19, as and when the vaccine is available.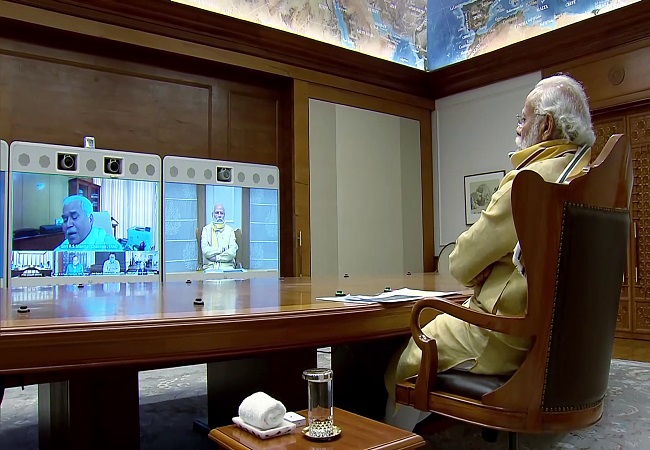 He noted that vaccination of India's vast and diverse population will need to factor in issues including those related to management of medical supply chains, prioritization of at-risk populations, coordination between different agencies involved in the process, as well as the role of private sector and civil society in this national endeavor.
Prime Minister enunciated four guiding principles that will form the foundation of this national effort:
1. Vulnerable groups should be identified and prioritized for early vaccination, for example, doctors, nurses, healthcare workers, non-medical frontline corona warriors, and vulnerable people among the general population.
2. Vaccination of "anyone, anywhere" should take place, without imposition of any domicile related restrictions for getting the vaccine.
3. Vaccination must be affordable and universal – no person should be left behind.
4. The entire process from production to vaccination should be monitored and supported in real-time with the use of technology.
TOP CORONA NEWS of The Day

Recovered cases are now 1 lakh 20 thousand more than the number of active cases
Collective and focussed efforts for containment and management of COVID-19 by the Government of India along with the States/UTs have led to the recovery rate among COVID-19 patients fast approaching 60%. As on date, there are 1,19,696 more recovered patients than COVID-19 active cases. Also, while there are 2,15,125 active cases, all under active medical supervision, 3,34,821 patients have been cured/discharged.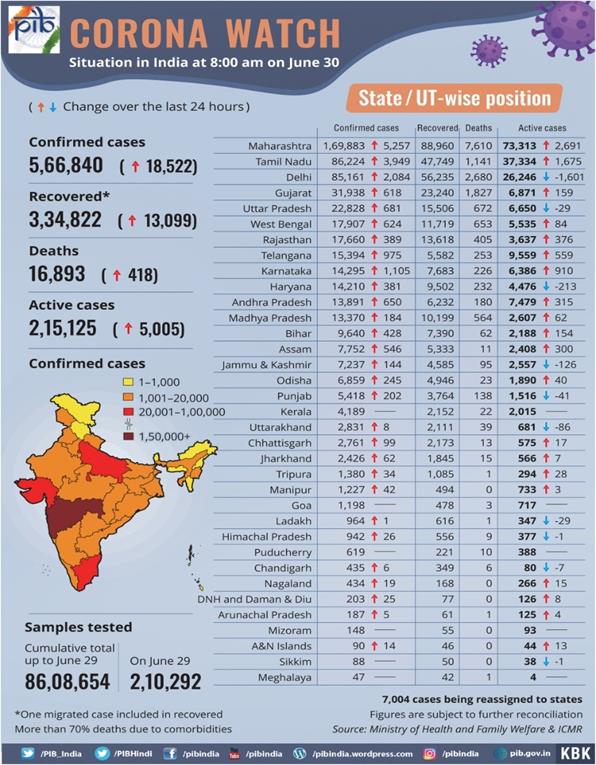 This has resulted in the recovery rate amongst COVID-19 patients further improving to 59.07%. During the last 24 hours, a total of 13,099 COVID-19 patients have been cured. The number of diagnostic labs is continuously increasing. India now has 1049 diagnostic labs dedicated to COVID-19. These include 761 labs in the government sector and 288 private labs.
Ministry of Home Affairs issues new Guidelines for Unlock 2
Union Ministry of Home Affairs (MHA) has issued new guidelines for Unlock 2 to open up more activities in areas outside the Containment Zones. The new guidelines will come into effect from July 1, 2020. The process of phased re-opening of activities has been extended further. The new guidelines, issued yesterday, are based on feedback received from States and UTs, and extensive consultations held with related Central Ministries and Departments. As stipulated in the Unlock 1 Order and guidelines issued on 30.05.2020, certain activities, i.e., religious places and places of worship for public; hotels, restaurants and other hospitality services; and shopping malls; have already been permitted from June 8, 2020 outside the Containment Zones.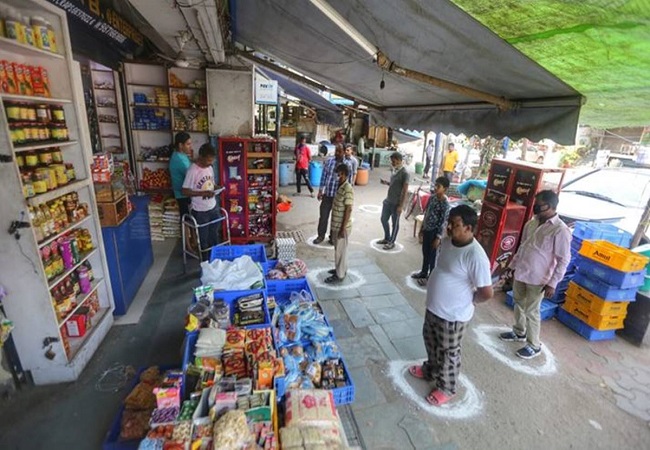 Detailed standard operating procedures (SOPs) have also been issued. Domestic flights and passenger trains have already been allowed in a limited manner. Their operations will be further expanded in a calibrated manner. Night curfew timings are being further relaxed and curfew shall be in force from 10.00 pm to 5.00 am. Training institutions of the Central and State Governments will be allowed to function with effect from July 15, 2020. SOP in this regard will be issued by the Department of Personnel and Training, Government of India. After extensive consultation with States and UTs, it has been decided that schools, colleges and coaching institutions will remain closed till July 31, 2020. Lockdown shall continue to be implemented strictly in the Containment Zones till 31 July, 2020.
COVID warrior: ASHAs at the forefront of COVID war in Uttar Pradesh; 1.6 lakh ASHAs tracked over 30.43 lakh migrant returnees
With the surge in the cases of COVID-19 in the country and the influx of migrant population from hotspot areas, one of the major challenges in Uttar Pradesh (UP) was to cater to the healthcare needs of returnees and arrest the spread in its rural population. ASHAs have played a critical role in supporting the state's COVID-19 management during this crisis.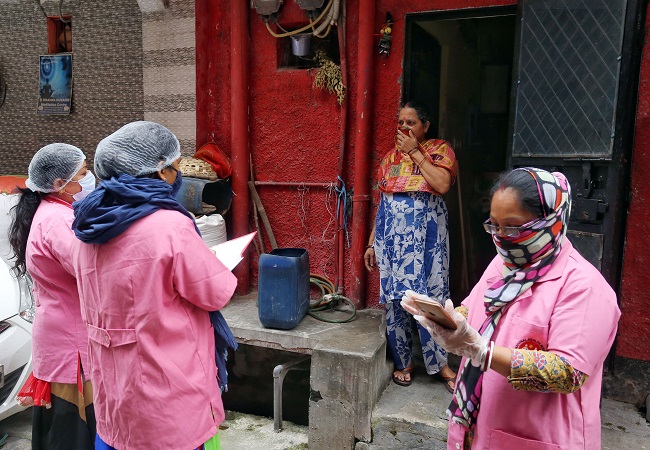 In a gigantic exercise, UP's 1.6 lakh ASHAs have tracked over nearly 30.43 lakh migrant returnees in two phases- 11.24 lakh in the first and 19.19 lakh in the second phase. They have assisted in contact tracing and community level surveillance.
PM addresses nation and announces extension of Pradhan Mantri Garib Kalyan Anna Yojana
Prime Minister Shri Narendra Modi today addressed the nation and announced the extension of Pradhan Mantri Garib Kalyan Anna Yojana till the end of November. Prime Minister emphasized that provision of food to those in need during lockdown has been the foremost priority of the country. As soon as lockdown was announced, the government brought about PM Garib KalyanYojana, under which a package of Rs 1.75 lakh crore for the poor was announced.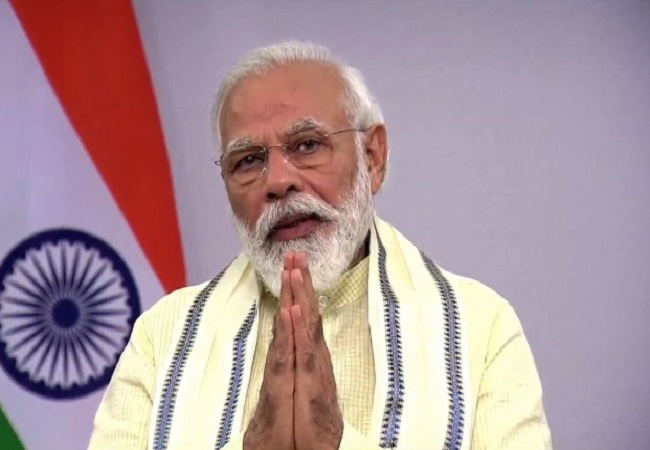 He noted that in the last three months, Rs 31,000 crore has been transferred in the Jan Dhan accounts of almost 20 crore poor families, Rs 18,000 crore has been transferred to the bank accounts of more than 9 crore farmers and Rs 50,000 crore is being spent on PM Garib Kalyan Rojgar Abhiyaan, which has been started to provide employment opportunities.
Loans worth more than Rs 1 lakh crore sanctioned under ECLGS
Under the 100 % Emergency Credit Line Guarantee Scheme (ECLGS) backed by a Government guarantee , Banks from Public & Private Sectors have sanctioned loans worth over Rs. 1 lakh crore as of June 26, 2020, of which more than Rs 45,000 crore has already been disbursed. This would help more than 30 lakh units of MSMEs & other businesses restart their businesses post the lockdown.
NBRI establishes advanced virology lab for COVID-19 testing
National Botanical Research Institute (NBRI), Lucknow, has established an "Advanced Virology Lab" for testing COVID-19. The facility has been developed based on the guidelines of the Indian Council Medical Research (ICMR), the World Health Organisation (WHO), and the Ministry of Health and Family Welfare. It is a Bio Safety Level (BSL) 3 level facility.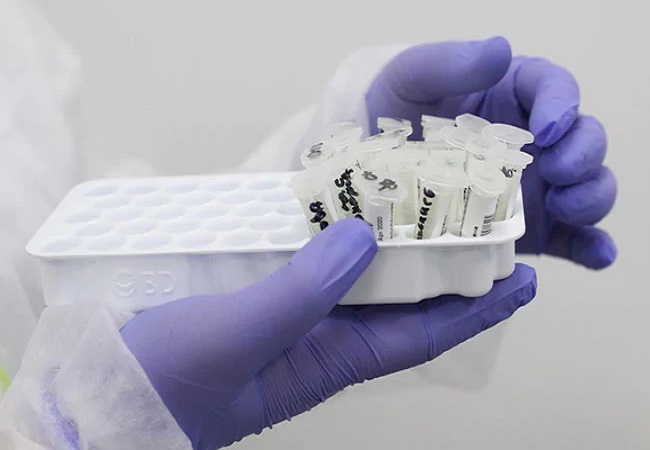 This advanced version has a "Negative Pressure", which means it has a suction facility that can suck any aerosol and pass it through filters. It can filter virus or bacteria to make it a safe COVID-19 testing facility. It reduces the possibilities of infections at culturing facilities.
Clean Energy Can Support India's Economic Recovery post-Covid-19
NITI Aayog and Rocky Mountain Institute (RMI) today released Towards a Clean Energy Economy: Post-Covid-19 Opportunities for India's Energy and Mobility Sectors report, which advocates for stimulus and recovery efforts that work towards building a clean, resilient, and least-cost energy future for India. These efforts include electric vehicle, energy storage, and renewable energy programs. The report identifies how Covid-19 is beginning to influence the clean energy transition in India, specifically for the transport and power sectors, and recommends principles and strategic opportunities for the country's leaders to drive economic recovery and maintain momentum towards a clean energy economy.Covid-19 has presented significant demand- and supply-side challenges for India's transport and power sectors, from liquidity constraints and supply shortages to shifts in consumer demand and preferences.
FACT CHECK:
DO's and DON'Ts of the coronavirus