Home » Coronavirus »
Covid-19 Bulletin: Total recoveries cross 35 lakh mark, number of recovered cases almost 4 times of active cases
Total number of recoveries has touched 35,42,663, taking the Recovery Rate to 77.65%. 60% of the new recovered cases are being reported from five States, viz. Maharashtra, Tamil Nadu, Andhra Pradesh, Karnataka and Uttar Pradesh.
September 11, 2020 21:08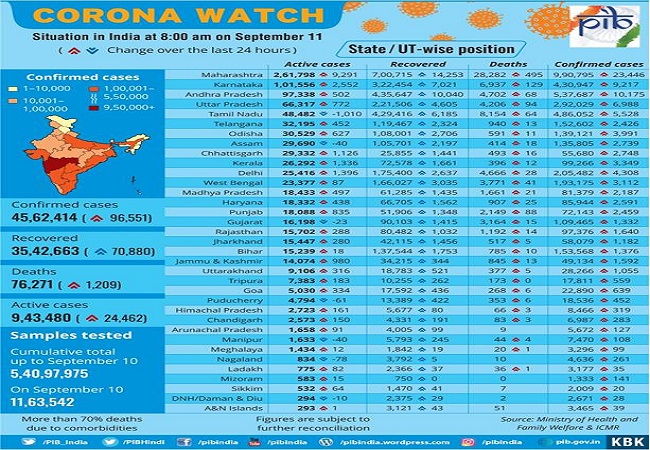 New Delhi: The rate of recovery from Coronavirus continues to scale up, with latest figure standing at 77.65%. Nearly, 35.50 lakh people in the country have recovered from the Corona virus pandemic. In past 24 hours, India has seen 70,880 recoveries from COVID-19.
The Health Ministry has said, the constant increase in recoveries ensured that the actual caseload remains on decline and is only 20.68 per cent of the total positive cases.
The number of recovered patients has now overtaken the active cases by nearly 3.8 times.
Total number of recovery post 35 lakh, 60% daily recovery from 5 states
India has been continuously reporting high number of recoveries. A total of 70,880 recoveries have been registered in the last 24 hours in the country. Maharashtra has alone contributed more than 14,000 and Andhra Pradesh has contributed more than 10,000 to the single day recoveries. With this, the total number of recoveries has touched 35,42,663 taking the Recovery Rate to 77.65%. 60% of the new recovered cases are being reported from five States, viz. Maharashtra, Tamil Nadu, Andhra Pradesh, Karnataka and Uttar Pradesh.96,551 new cases have been reported in the last 24 hours. Of this, Maharashtra alone has more than 23,000 and Andhra Pradesh has more than 10,000.Nearly 57% of the new cases are reported from only five States. These are the same States that are also contributing 60% of the new recovered cases.The total number of active cases in the country stands at 9,43,480 as on date.Maharashtra is leading this tally with more than 2,60,000 cases followed by Karnataka with more than 1,00,000 cases.Nearly 74% of the total Active Cases are in nine most affected States. Maharashtra, Karnataka and Andhra Pradesh contribute more than 48% of the total active cases. As many as 1,209 deaths have been registered in the past 24 hours. Maharashtra has reported 495 deaths followed by Karnataka with 129 deaths, whereas Uttar Pradesh has logged 94 deaths.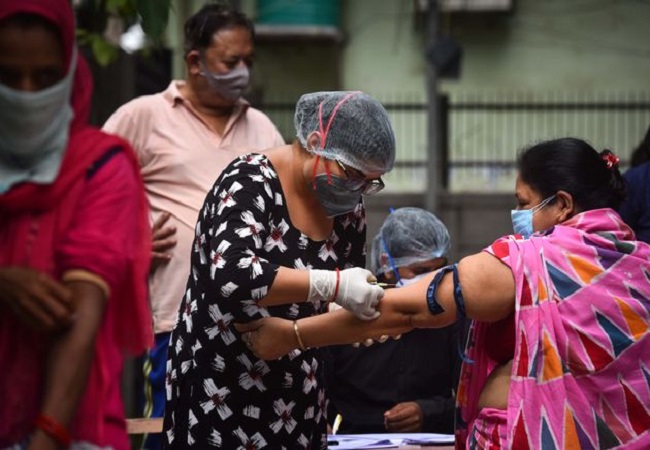 No restriction on movement of medical oxygen between States: Health Ministry urges States/UTs
It has come to the knowledge of the Union Health Ministry that few States are trying to curb the free inter-State movement of oxygen supplies by exercising provisions under various Acts and also mandating the manufacturers/suppliers located in the State to restrict their oxygen supplies to only the hospitals of the State. In view of this, the Health Ministry has reiterated the critical importance of Oxygen in hospitals for management of critical COVID patients. In a letter written to the States/UTs, Union Health Secretary has emphasised that availability of adequate and uninterrupted supply of medical oxygen is an important pre-requisite for managing moderate and severe cases of COVID-19.The Health Secretary has urged the States/UTs to ensure that no restriction is imposed on the movement of medical oxygen between them. It has been strongly reinforced that it is every State's responsibility to ensure that every hospitalized COVID patient receives oxygen.Adequate supply of oxygen throughout the country has enabled effective clinical care of the hospitalised moderate and severe cases, in conjunction with other measures. The adopted host of strategies have actively resulted in rising Recovery Rate and steadily declining Case Fatality Rate (1.67% currently). As on date, less than 3.7% of active patients are on oxygen support.
Prime Minister addresses Conclave on "School Education in 21st Century" under NEP 2020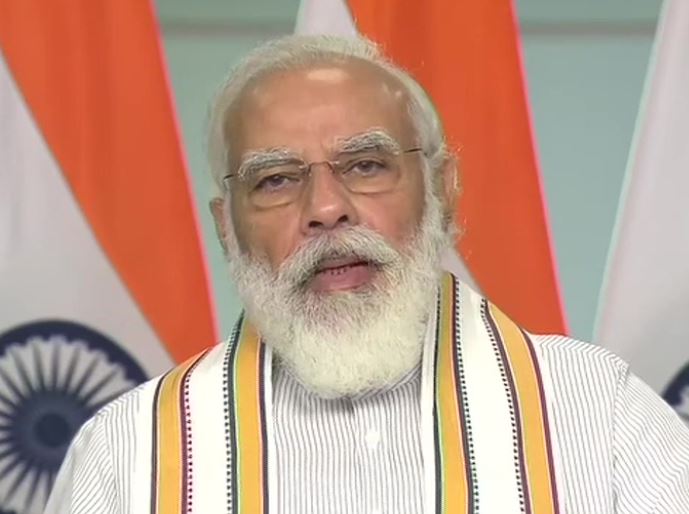 The Prime Minister Shri NarendraModi addressed the Conclave on "School Education in 21st Century" under the NEP 2020 today through video conference.Speaking on the occasion Prime Minister said that National Education Policy is going to give a new direction to 21st century India and we are becoming part of a moment that is laying the foundation for building the future of our country. He said that hardly any aspect of our life remained the same in these three decades yet our education system is still running under the old system. The new National Education Policy is a means to fulfilling new aspirations, new opportunities of a new India, he said.
Ahead of monsoon session, Venkaiah Naidu undergoes COVID-19 test
Preparing himself to preside over the upcoming Monsoon Session of the Parliament beginning on September 14, 2020, the Chairman, RajyaSabha, Shri M. Venkaiah Naidu underwent COVID-19 test today. It is mandatory for each Member to undergo COVID-19 test (RT-PCR) before attending the upcoming Monsoon Session, according to an advisory issued to all RajyaSabha Members. The Members have been asked to get their test done within 72 hours before the commencement of the Session at any hospital/laboratory authorized by the Government or at Parliament House Complex. For the convenience of the Members, three Test Centres are functioning in Parliament House Annexe from today. The members have also been requested to ensure that their test report is sent in advance to the RajyaSabha Secretariat via a designated e-mail so as to avoid any inconvenience at the time of their entry into the Parliament House during the Session. Similarly, RT-PCR test has been made mandatory for the employees of Parliament Secretariats and other agencies deployed in Parliament House Complex who remain in close proximity of the Members during the course of performance of their duties.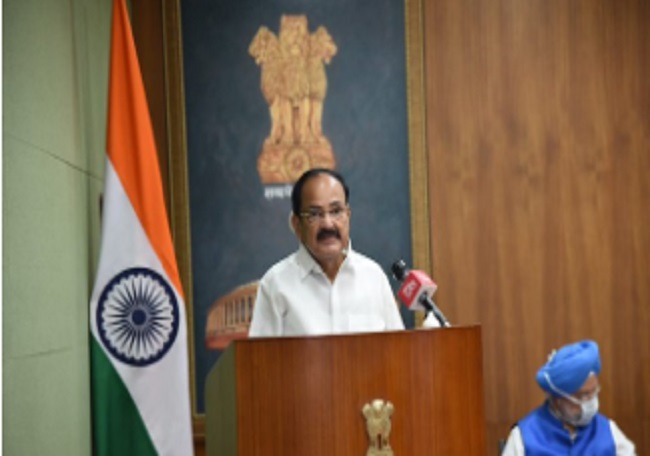 Vice President advises people to continue with necessary precautions relating to COVID-19
The Vice President of India, Shri M. Venkaiah Naidu today stressed the need to impart value-based education for all round development of the individual. He called for moving beyond academics and making value-based teaching and learning an integral part of our education system. The Vice President was speaking at the online launch of 'Heartfulness All India Essay Writing Event' organized by Shri Ram Chandra Mission in partnership with the United Nations Information Centre for India and Bhutan. This event is held every year to commemorate the United Nations International Day of the Youth between the months of July and November. Shri Naidu lauded the initiative and said that such events stimulate the younger minds and enable them to think positively in their lives. Appreciating the National Education Policy – 2020 for focusing on value-based education, Shri Naidu said that this emphasis on values has been an integral part of all our teachings since ancient times. Drawing attention to the challenging situation caused by COVID-19 pandemic, he observed that nations have shown strong resolve and are working together in emerging out of this strongly and together. Observing that adversity is the time when one's character is tested, he said that no problem is insurmountable when we work together with strong values. Shri Naidu also said that the pandemic has caused some stress in the people's mind and the best way to release this is to live together with one's family and practice meditation. He also appealed to provide succour and help to the needy and marginalized people in times like the current pandemic. He advised people to not become complacent and continue with necessary precautions and expressed hope that sooner than later the worldwide trials for a vaccine will bear fruit and we will be able to defeat the virus.
Government relaxes existing timeline for submission of Life Certificate: Dr Jitendra Singh
Union Minister of State (Independent Charge), Development of North Eastern Region (DoNER), MoS PMO, Personnel, Public Grievances, Pensions, Atomic Energy and Space, DrJitendra Singh said that in a major relief to elderly persons, Government has relaxed the existing timeline for submission of Life Certificate. All Central Government pensioners can submit Life Certificate from 1st November, 2020 to 31st December 2020. Earlier this used to be only for the month of November for maintaining continuity of Pension. However, the pensioners in the age group of 80 years and above, can submit Life Certificate from 1st October, 2020 to 31st December, 2020. During this extended period, the pension will be continued to be paid by the Pension Disbursing Authorities (PDAs) uninterrupted. Dr. Jitendra Singh said that the decision was taken in view of the ongoing Covid-19 pandemic and the vulnerability of elderly population to Corona Virus.
Amit Shah inaugurates developmental schemes in Gandhinagar worth Rs. 15.01 crores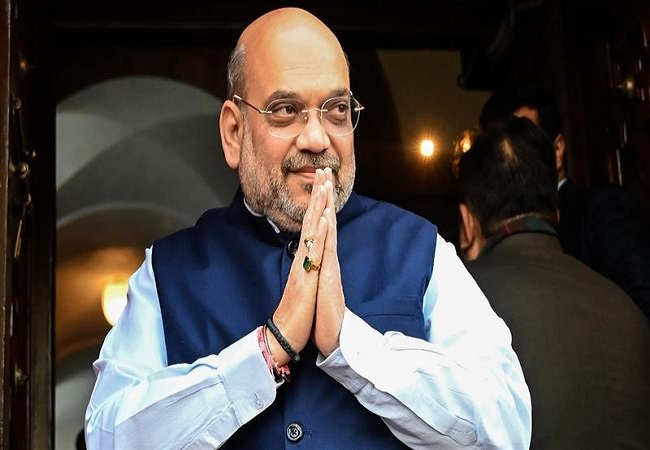 Union Home Minister Shri Amit Shah inaugurated and dedicated to the people development schemes in Gandhinagar district and city worth Rs. 15.01 crores via video conferencing yestertday. He also laid the foundation stone of various developmental projects worth Rs. 119.63 crores. This includes Smart City projects, upgradation of gardens, road widening and new classrooms in Girls School. These development projects will give a boost to the development of Gandhinagar. Deputy Chief Minister of Gujarat, Shri Nitin Patel also attended the function via video conferencing from Rupaal village. Speaking on the occasion, Shri Amit Shah said, "I am confident that under the leadership of the Prime Minister Shri NarendraModiji, we all will endeavour to make Gandhinagar a model LokSabha constituency." Shri Shah also said that "the nation is fighting a battle against Corona epidemic under the leadership of Prime Minister Shri NarendraModiji". He said as a result of these continuous efforts, there has been a decline in Casualty Rate and the Recovery rate has also improved.The Minister said that "public awareness is the only solution in the fight against Corona". He also appealed to the people to strictly observe Social Distancing.
Must continue working together to find solutions for COVID-19 pandemic : Santosh Gangwar
The Minister of State (I/C) for Labour and Employment Shri SantoshGangwar has called upon all G-20 members to continue to work together for finding solutions to the common problems resulting from the COVID-19 pandemic. Shri Gangwar was speaking at Virtual Meeting of G-20 Labour and Employment Ministers last evening through Video Conferencing. He pointed out that the COVID-19 pandemic has led to a new normal and changed the way we used to function.Referring to region specific measures to contain the impact of COVID-19 pandemic, he underlined that to mitigate the problems of the workers, India encouraged its employers for payment of wages to their workers. Shri Gangwar added that adequate arrangements were made to provide temporary shelters, food and medical facilities to the migrant labourers. In order to facilitate distribution of food grains to migrant workers, Shri Gangwar also informed that Indian Government has launched one nation, one ration card scheme. COVID-19 and its impact have also ben discussed in the G20 and the declaration also lists out the measures to mitigate the impact of COVID-19 on the labour market.