Home » Coronavirus »
Covid-19 Bulletin: WHO advises 140 tests/day/million population, 22 states/UTs meet the guidelines, recovery rate @ 63.24%…
During the last 24 hours 3,20,161 samples have been tested. The cumulative number of samples tested, as of now is 1,24,12,664. The testing per million for India is consistently rising. Today it has touched 8994.7.
July 15, 2020 21:17
New Delhi: The recovery rate from COVID-19 infection has now climbed up to 63.24% and recovered cases reached close to 6 lakh. The Ministry said, 20,572 people infected from the virus were cured during the last 24 hours taking the total number of recovered cases to 5,92,031.
The Central government has distributed around 2.31 lakh N95 masks, 1.23 lakh PPEs and 11,660 ventilators to States, UTs and Central institutions to ensure effective clinical management of COVID-19.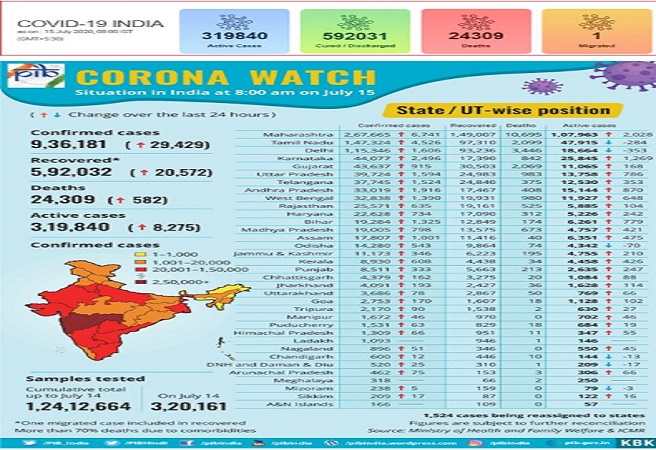 Recovery rate rise to 63.24%, recovered cases close to 6 lakhs
The last 24 hours have seen a sharp rise in the number of COVID-19 patients recovering. 20,572 people were cured taking the total number of recovered cases among COVID-19 patients to 5,92,031. The recovery rate has climbed up to 63.24% today. The surge in recovered cases is driven by aggressive testing, timely diagnosis and effective management of the patients either through supervised home isolation or under active medical attention in the hospitals. The actual case load of COVID-19 is 3,19,840 active cases.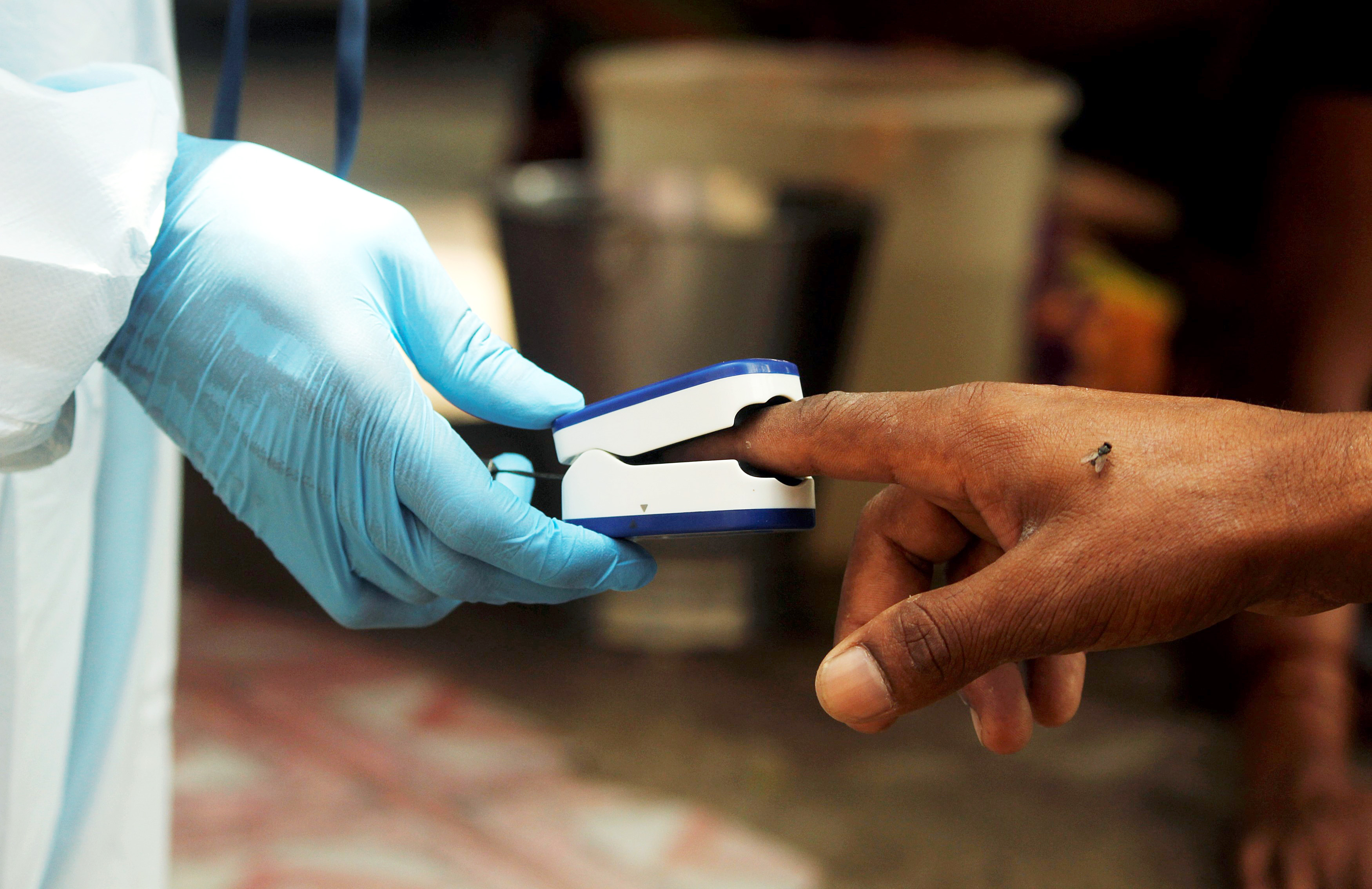 They are all under medical supervision. The norms and standards for Home Isolation along with use of oxymeters have helped to keep a check on the asymptomatic or mildly symptomatic patients without putting pressure on the hospital infrastructure.The gap between recovered and active cases has been consistently growing. It stands at 2,72,191 today. The number of recovered cases outweighs the active cases by a factor of 1.85.
WHO advises 140 tests/day/million population, 22 States/UTs in India fulfill the criteria
WHO in its Guidance Note on "Public Health Criteria to Adjust Public Health and Social Measures in the Context of COVID-19" has advised comprehensive surveillance for suspected cases. WHO has advised that a country needs 140 tests per day per million population. With the various coordinated efforts made by the Centre and the States/UTs, 22 States/UTs in India are already conducting 140 and more tests per day per million.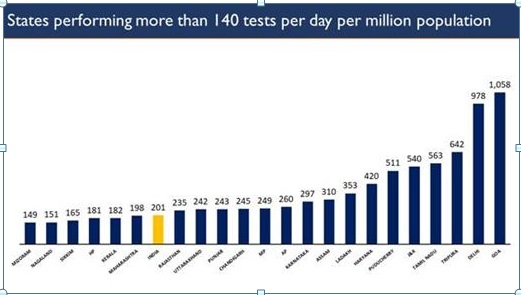 With 865 labs in the government sector and 358 private labs, the total number of testing labs in the country is 1223, as on date. During the last 24 hours 3,20,161 samples have been tested. The cumulative number of samples tested, as of now is 1,24,12,664. The testing per million for India is consistently rising. Today it has touched 8994.7. On 14th July 2020, more than 3.2 lakh tests were done on a single day.
Corosure: World's most affordable COVID-19 diagnostic kit
Union Human Resource Development Minister Ramesh Pokhriyal 'Nishank' today e-launched the World's most affordable RT-PCR based COVID-19 diagnostic kit developed by IIT Delhi and approved by the ICMR and DCGI in New Delhi. Pokhriyal said that Corosure, COVID-19 Diagnostic Kit developed by Indian Institute of Technology Delhi is a step towards Prime Minister NarendraModi's vision of a self-reliant India.He said that the country requires cheap and reliable testing for the country which can help to control the pandemic. The Corosure Kit has been developed indigenously and is much cheaper than other kits.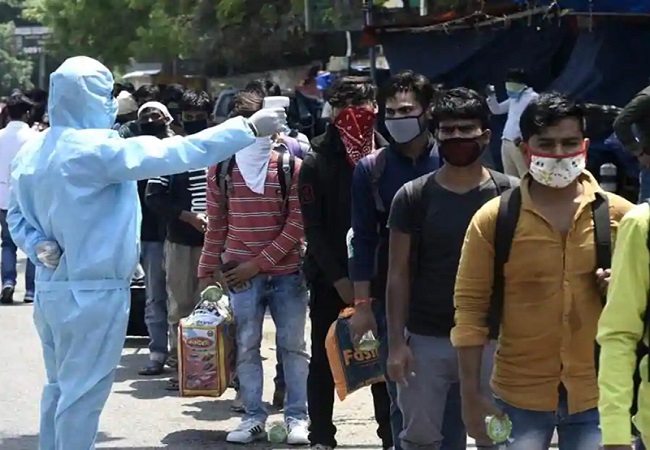 PM Modi exhorts Youth to skill, re-skill and up-skill
In his message to the Digital Skills Conclave held today on the occasion of the World Youth Skills Day and the fifth anniversary of 'Skill India' mission, the Prime Minister Narendra Modi exhorted the youth to skill, reskill and upskill in order to remain relevant in the rapidly changing business environment and market conditions. He said the world belongs to the youth due to their ability to acquire new skills all the time.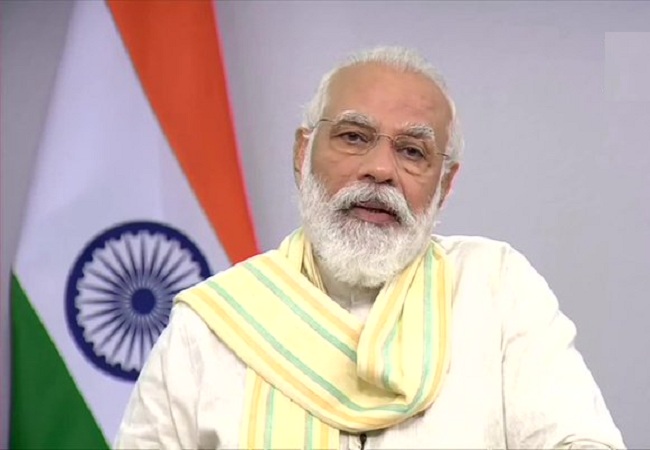 He stated that the Skill India Mission launched five years back on the same day has led to creation of a vast infrastructure for skilling, reskilling and upskilling and enhancing opportunities to access employment both locally and globally. Referring tothe portal launched recently for mapping the skilled employees and employers, the Prime Minister stated that this would help the skilled workers, including the migrant workers who have returned to their homes, to access jobs easily and the employers to contact skilled employees at the click of a mouse. He emphasized that the skills of migrant workers would also help in changing the local economy.
Atal Innovation Mission teams up with Ministries to support startups with COVID-19 solutions
As Covid-19 pandemic and economic shutdowns are dealing a severe blow on world economy, NITI Aayog's flagship Atal Innovation Mission, (AIM) is on full swing to keep the entrepreneurial spirit high across the country by teaming up with other Ministries and partners to support Startups with COVID-19 innovative Solutions and to further fight Covid- 19 pandemic. In this regard, AIM coordinated and concluded a series of virtual COVID-19 Demo-Days- an initiative to identify promising start-ups with potential Covid-19 innovations to further help them deploy and scale-up their solutions nationwide, yesterday. The initiative was launched in partnership with other government bodies including Biotechnology Industry Research Assistance Council (BIRAC), Department of Biotechnology (DBT); Department of Science and Technology (DST), Startup India, AGNIi, and other Ministries. Over 1,000 COVID-19 related start-ups from a diverse set of categories including curative, preventive and assistive solutions were put through two rounds of evaluation, from which more than 70 start-ups were shortlisted for the Virtual COVID-19 Demo Days. These start-ups will receive support in the form of funding, access to manufacturing abilities, supply chain and logistics and finding the right vendors and mentors.
Class X results of CBSE declared; Trivandrum records highest pass percentage
The Central Board of Secondary Education (CBSE) declared Class X results today. Trivandrum performed best amongst all regions with 99.28 % pass percentage followed by Chennai region with 98.95 % while Bengaluru stands at third position with 98.23 % pass percentage. A total of 18, 73,015students appeared in the exam out of which 17, 13,121students passed the exam. Overall pass percentage of this year is 91.46.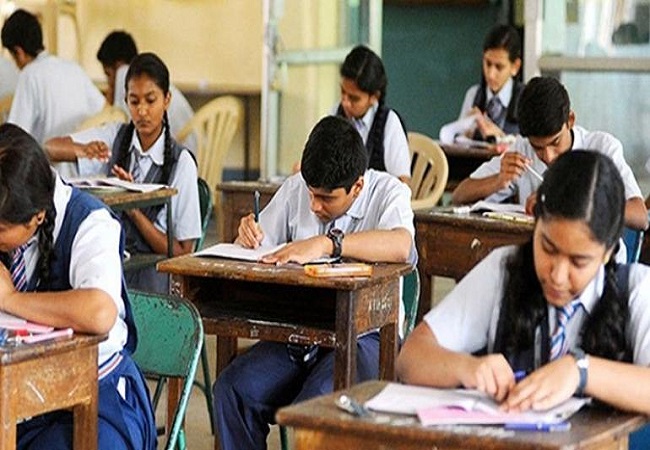 Rural Development Minister holds review meet of GaribKalyanRojgarAbhiyaan
Minister of Rural Development &Panchayati Raj Narendra Singh Tomar held a review meeting on the progress of GaribKalyanRozgarAbhiyaan through video-conferencing with the Rural Development Ministers and senior officials of six states, yesterday. Launched on 20th June 2020, the Abhiyaan is being undertaken in 116 districts in the states of Bihar, Uttar Pradesh, Jharkhand, Madhya Pradesh, Odisha and Rajasthan. The Abhiyaan will continue for 125 days, and 25 works coming under 11 different ministries have been identified for completion. The Minister said that it is the effort of the Government to provide employment to the migrant workers at their native places. He said the Abhiyaan is not only providing employment to returning migrants and similarly affected rural citizens, but also strengthening the economy and will saturate villages with public infrastructure and create livelihood opportunities. He laid emphasis on further accelerating the drive and creation of maximum infrastructure.
Kiren Rijiju calls upon states to create awareness about Atmanirbhar Bharat
Minister of Youth Affairs and Sports( I/C) Kiren Rijiju met Ministers as well as senior officials of the Youth Affairs and Sports Departments of 18 States and Union Territories through video conferencing yesterday. The meeting was the first part of the two-day conference where all States and UTs will share the roadmap forward for resumption of sports post Covid19 as well as of engaging more volunteers of the Nehru Yuva Kendra Sangathan (NYKS) and National Service Scheme (NSS) to promote various schemes at the State-level. Addressing the meeting, Rijiju said that the NYKS and NSS volunteers have done a commendable job working alongside civil administration during Covid 19. He stated that there are currently 75 lakh volunteers and the ministry has decided to take that number up to 1 crore in Unlock 2. The minister said the Prime Minister has already announced Atmanirbhar Bharat. As the country opens up, our volunteers will create awareness among all sections of society such as farmers, small business owners and others, regarding the direct benefits that they can get through being self-reliant.