Exam a perfect opportunity to tighten yourself up: PM Modi tells students in 'Pariksha Pe Charcha'
The event will be held at 7 pm today and will be held in virtual mode due to restrictions posed by the Covid-19 pandemic.
April 7, 2021 19:00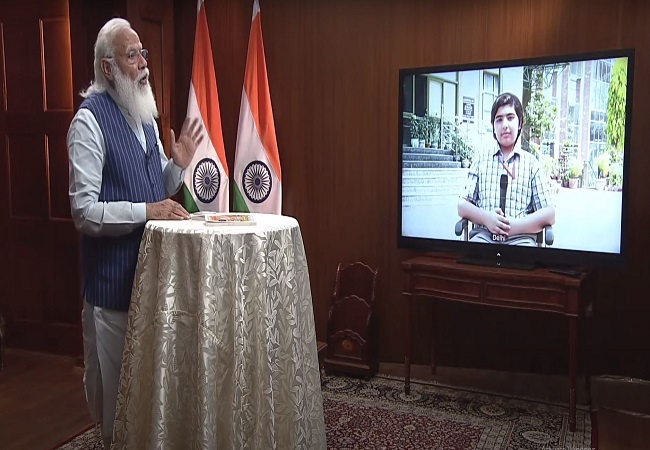 Pariksha Pe Charcha 2021 Live: PM Modi interacts with students, teachers, parents
New Delhi: Prime Minister Narendra Modi on Wednesday interacted with students, teachers and parents during 'Pariksha Pe Charcha 2021' via video conferencing wherein he advised students not to give exams under any pressure in order to perform in a better way.
"We have been living amid coronavirus for the past one year. I had to leave behind the urge to meet you all and come to you via a new format. To not meet you in person, to not experience your enthusiasm is a huge loss for me," PM Modi during the first virtual edition of 'Pariksha Pe Charcha'.
He listened to questions from two students over how to tackle the pleasure of exams.
The Prime Minister said, "Earlier parents used to be connected with children on many subjects and also were comfortable. Nowadays parents are involved with children for only their career, studies and celebrations."
Watch here:
UPDATES:
# Parents often set a goal, make a parameter. They then put the burden of realising those dreams & goals on their children. They start considering children as instruments & when they fail to pull them in that direction, they say that children lack motivation & inspiration: PM Modi
# Children are very smart. It is difficult to say if they will do what you tell them to. But there is a possibility that they minutely watch what you do and are tempted to re-enact it. When you connect our history, scriptures to your values, the children will be inspired: PM Modi
# We say 'Beta-beti ek samaan'…But in our households, there is inequality in the treatment meted out to our sons & daughters unknowingly. When that son enters social life, it leads to a possibility of shortcomings from his side towards gender equality: PM Modi
We must resolve to achieve our dreams. #PPC2021 pic.twitter.com/6TtPcjq4qd

— PMO India (@PMOIndia) April 7, 2021
Positive motivation augers well for growth and development of youngsters. #PPC2021 pic.twitter.com/ZsapitURgu

— PMO India (@PMOIndia) April 7, 2021
# I'd like to tell them, especially parents, that what have you done? I think it's the biggest mistake. We become conscious more than necessary & start over-thinking. I think this it's not the end. Life is very long, this is just a small halt. We should not create pressure: PM Modi
Free time is the best opportunity to learn new skills. #PPC2021 pic.twitter.com/t9GPgjk7wm

— PMO India (@PMOIndia) April 7, 2021
Attempt the difficult questions first. #PPC2021 pic.twitter.com/vHzCQY8eY3

— PMO India (@PMOIndia) April 7, 2021
# You knew of exams. They haven't come suddenly. It means you're not scared of exams but of something else. Atmosphere has been created around you that exams are everything. Sometimes schools, parents, relatives create atmosphere that you've to undergo a big event, huge crisis: PM Modi
# It's the first virtual addition of 'Pariksha Pe Charcha'. We've been living amid Corona for past one year. I had to leave behind the urge to meet you all & come to you via a new format. To not meet you in person, to not experience your enthusiasm is a huge loss for me: PM Modi
M Pallavi and Arpan Pandey ask PM @narendramodi how can we reduce fear?

This is how the PM responded… pic.twitter.com/ZWWbPg7T3r

— PMO India (@PMOIndia) April 7, 2021