Bigg Boss OTT: Pratik Sehajpal locks horns with Shamita Shetty, Divya Agarwal over ration (VIDEO)
The fight stated over food preparation; Divya and Pratik clashed calling each other 'ill-mannered', 'Bloody-fool' and 'Fake'.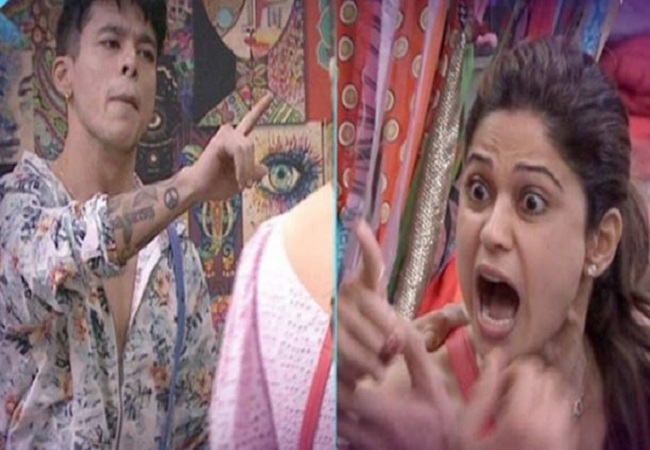 Bigg Boss OTT, on its very first day started on a traditional vile note, as contestant Pratik Sehajpal got into a heated argument with Shamita Shetty and Divya Agrawal over the use of ration.
While arguing over food preparations, Shamita at a point told Sehajpal to lower his voice. "You are not very well behaved", she further told him.
The whole point behind this clash was a declaration that Sehajpal made on the show. Pratik proclaimed that he would be preparing his food separately on his own, unless the tasks for everyone are not assigned by the Bigg Boss.
Khaane pe chhidi #PratikSehajpal aur #ShamitaShetty ke beech mein jung. Who do you think was right?

Watch their fight live on the #BiggBossOTT 24×7 live channel on #VootSelect.#ItnaOTT #BBOtt24x7 #BiggBossOTTVootSelect #Rubina #SidNaaz pic.twitter.com/y3SVbmAE5F

— Voot Select (@VootSelect) August 9, 2021
Shamita and Divya however, did not seem so impressed by his decision. Divya was concerned that Pratik using 'extra' ration to cook for  himself would eventually cost everyone else.
The arguments though tuned into a nasty fight when Divya found it irritating of Pratik to be hogging over the gas stove, while he was preparing chapatis only for himself. Divya shouted on him and told him to make chapatis for the rest of the contestants too. Pratik refused to it saying nobody owns the Bigg Boss.
View this post on Instagram
Later Divya claimed that whatever popularity Pratik have attained is because of her and her boyfriend Varun Sood. To this, Partik shouted back on her saying, "Kya popularity mili mujhe? (what popularity did I get?), Are you crack or what?" Pratik further termed her 'fool' and a 'fake' person as well.
View this post on Instagram