Home » Entertainment »
BMC issues 'stop work' notice to Kangana Ranaut for 'illegal' construction in Mumbai office
The actor-turned-filmmaker had in January launched her production company – Manikarnika Films – with a new well-built office in Mumbai's Pali Hill.
September 8, 2020 12:37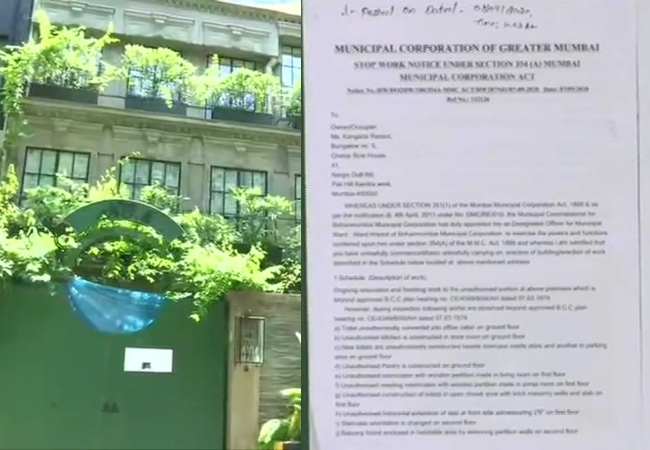 New Delhi: The Municipal Corporation of Greater Mumbai has pasted notice outside actor Kangana Ranaut's Manikarnika Films office in Mumbai, alleging unlawful construction in the premises.
The notice was issued a day after BMC officials visited the office. "We have served a notice to Ranaut to submit documentary evidence and permissions regarding illegal constructions. If she failed to file a reply within 24-hrs we will initiate action of demolition of illegal extensions, "said Vinayak Vispute, Assistant Municipal Commissioner, H-west ward (Bandra west). The BMC had served the notice under section 354 (A) of Mumbai Municipal Corporation Act for carrying out illegal constructions.
This comes a day after the Bollywood actress took to her Twitter handle to share videos of Brihanmumbai Municipal Corporation (BMC) officials at her office premises and claimed that they may demolish the property. "I have all the papers, BMC permissions.. nothing has been done illegal in my property, BMC should send a structure plan to show the illegal construction with a notice, today they raided my place and without any notice tomorrow they demolishing entire structure," Kangana claimed in her tweet.
ये मुंबई में मणिकर्णिका फ़िल्म्ज़ का ऑफ़िस है, जिसे मैंने पंद्रह साल मेहनत कर के कमाया है, मेरा ज़िंदगी में एक ही सपना था मैं जब भी फ़िल्म निर्माता बनूँ मेरा अपना खुद का ऑफ़िस हो, मगर लगता है ये सपना टूटने का वक़्त आ गया है, आज वहाँ अचानक @mybmc के कुछ लोग आए हैं 🙂 pic.twitter.com/C7zGe8ZyGe

— Kangana Ranaut (@KanganaTeam) September 7, 2020
In a follow-up tweet, Kangana sought "structure plan" from BMC" to show the illegal construction with a notice."
Also Read: BMC raids Kangana Ranaut's Mumbai office, 'they'll demolish property tomorrow' actress alleges
Kangana Ranaut के मुंबई ऑफ़िस पर BMC का छापा, एक्ट्रेस ने कहा- मेरा सपना ढहने वाला है…@mybmc #KanganaRanaut @TeamKangna @rautsanjay61 @PMOIndia pic.twitter.com/46sAzixz5v

— Newsroom Post (@NewsroomPostCom) September 7, 2020