Sedition Case: Kangana Ranaut asks 'WHY am I being mentally, emotionally and now physically tortured'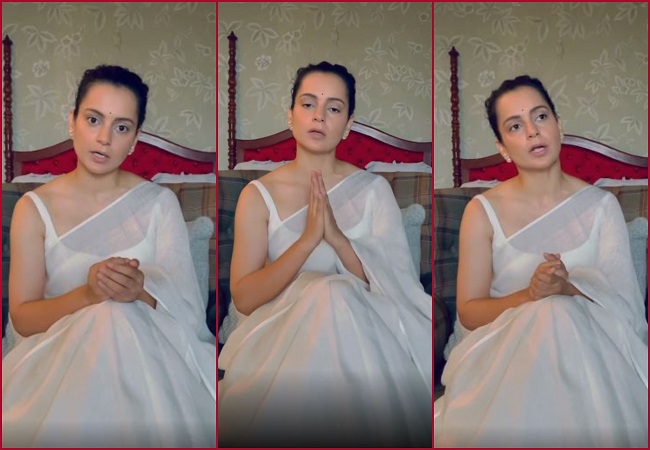 Mumbai: Bollywood actor Kangana Ranaut on Friday released a video where she can be heard asking a question "WHY am I being mentally, emotionally and now physically tortured? I need answers from this nation … I stood for you it's time you stand for me … Jai Hind "
This comes hours after Kangana Ranaut and her sister Rangoli appeared before the Bandra Police to record their statements, in connection with a sedition case.
View this post on Instagram
The Bandra police had registered the case against Fashion actor Kangana Ranaut and her sister Rangoli in October following a complaint lodged against them for allegedly "trying to create hatred and communal tension" through their posts on social media.
Kangana Ranaut and her sister had then moved the high court seeking to quash the FIR and the October 17 order passed by the magistrate following which the case was filed against them.
Meanwhile, on tHURSDAY Kangana Ranaut clapped back at Congress spokesperson Pawan Khera after he poked fun at one of her recent tweets.
"Laugh at me, when I came to film industry everyone laughed at me, they laughed at my accent, my hair, my clothes, my poor english, they laughed and then …..they cried …. they are still crying ….ha ha ha laugh …. laugh louder … Go on laughing," she wrote.
Laugh at me, when I came to film industry everyone laughed at me, they laughed at my accent, my hair, my clothes, my poor english, they laughed and then …..they cried …. they are still crying ….ha ha ha laugh …. laugh louder … Go on laughing ? https://t.co/YXcfiy9Quv

— Kangana Ranaut (@KanganaTeam) January 6, 2021