'Boycott Tanishq' trends on Twitter over its Hindu-Muslim ad; Netizens vent their anger….
The commercial is a part of Tanishq's current festive season's collection 'Ekatvam'. It has now led to social media outrage.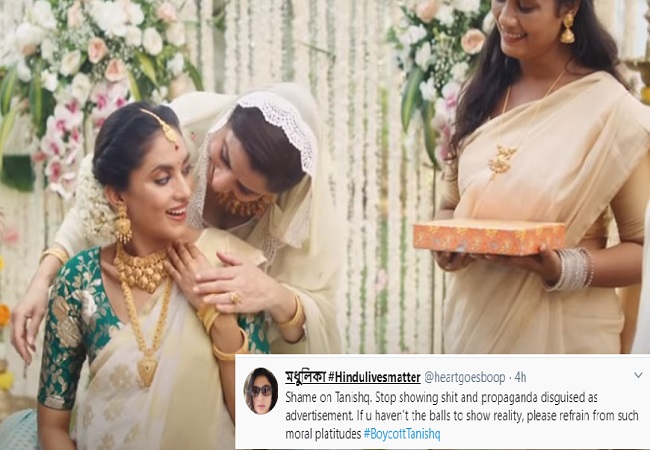 New Delhi: The Indian Internet is no stranger to outrage. An advertisement by Titan Group's Tanishq Jewellery featuring an interfaith married couple has received severe backlash on Twitter, with '#BoycottTanishq'
The advertisement, which was released on 9 October, shows a Muslim family preparing a traditional Hindu baby shower for their pregnant Hindu daughter-in-law.
As per description by Tanishq, "She is married into a family that loves her like their own child. Only for her, they go out of their way to celebrate an occasion that they usually don't. A beautiful confluence of two different religions, traditions, cultures."
The #BoycottTanishq group took to Twitter to trend the hashtag as they outrage alleging that the ad promotes 'love jihad' and was anti-Hindu in sentiments.
Watch the advertisement here:
https://youtu.be/hEwfhGAaxf8
How netizen reacted:
https://twitter.com/heartgoesboop/status/1315535407048781825?ref_src=twsrc%5Etfw%7Ctwcamp%5Etweetembed%7Ctwterm%5E1315535407048781825%7Ctwgr%5Eshare_3&ref_url=https%3A%2F%2Fwww.news18.com%2Fnews%2Fbuzz%2Foutraged-indians-on-twitter-want-to-boycotttanishq-after-it-shows-hindu-muslim-couple-in-new-ad-2953979.html
Why i see Hindu daughter in law everywhere….why dont you show Muslim daughter in law anywhere. Just Asking #BoycottTanishq

— Ranzy Singh (@ranzysingh) October 12, 2020
https://twitter.com/DamnWeirdGuy/status/1315533660901310467?ref_src=twsrc%5Etfw%7Ctwcamp%5Etweetembed%7Ctwterm%5E1315533660901310467%7Ctwgr%5Eshare_3&ref_url=https%3A%2F%2Fwww.news18.com%2Fnews%2Fbuzz%2Foutraged-indians-on-twitter-want-to-boycotttanishq-after-it-shows-hindu-muslim-couple-in-new-ad-2953979.html
https://twitter.com/bagga_daku/status/1315492776604098560?ref_src=twsrc%5Etfw%7Ctwcamp%5Etweetembed%7Ctwterm%5E1315492776604098560%7Ctwgr%5Eshare_3&ref_url=https%3A%2F%2Ftheprint.in%2Findia%2Fboycotttanishq-trends-after-ad-on-hindu-muslim-marriage-accused-of-promoting-love-jihad%2F521805%2F
https://twitter.com/PRacheni/status/1315453565452914694?ref_src=twsrc%5Etfw%7Ctwcamp%5Etweetembed%7Ctwterm%5E1315453565452914694%7Ctwgr%5Eshare_3&ref_url=https%3A%2F%2Fwww.freepressjournal.in%2Fviral%2Fstop-promoting-love-jihad-boycott-tanishq-trends-on-twitter-after-latest-ad-on-interfaith-marriage
@TanishqJewelry this is in extremely bad taste. Stop promoting love jihad. Priya Soni whose Muslim husband beheaded her bcos she refused to convert, is still seeking justice and you are promoting 'secularism'. very disappointing from a big brand like Tanishq. #BoycottTanishq https://t.co/PSkHxkz6k9

— Stop Hindu Hate Advocacy Network (SHHAN) (@HinduHate) October 11, 2020