By-poll Results 2020 LIVE UPDATES: BJP leads in 34 seats, wins 8 out of 58 across 11 states
By-poll Results 2020 live updates: It's a high stake battle in Madhya Pradesh where the Shivraj Singh Chouhan-led government needs at least eight more MLAs to prove simple majority.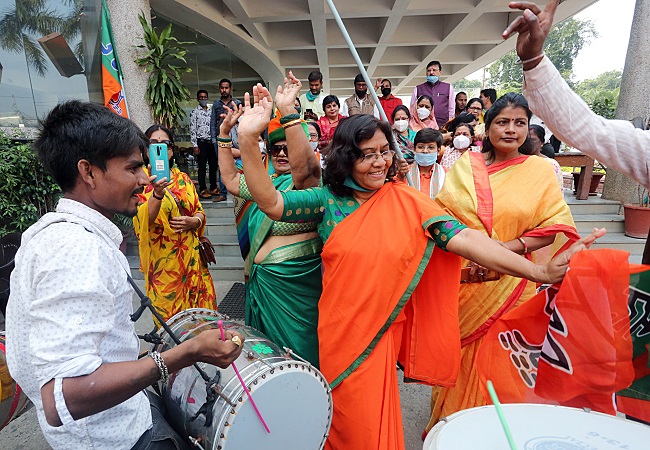 New Delhi: Counting of votes for by-polls held in 58 assembly constituencies across 11 states in the country began at 8 am on Tuesday. This will be carried out along with the vote-counting process in Bihar where the first major electoral exercise was held amid the pandemic.
The result of 28 assembly constituencies in Madhya Pradesh will decide the fate of Shivraj Singh Chouhan led-BJP government which requires at least eight more MLAs for a clear majority in the state assembly.
Apart from this, by-polls on 7 seats in Uttar Pradesh, 2 seats each in Odisha, Nagaland, Karnataka and Jharkhand, and one seat each in Chhattisgarh, Telangana and Haryana were held. The results of the bye-election will be announced today.
LIVE UPDATES:
Bhopal: Chief Minister Shivraj Singh Chouhan waves at the people gathered at his residence as trends show BJP leading in #MadhyaPradesh by-polls. https://t.co/z0jqxXEbPC pic.twitter.com/wfCM9vPpZw

— ANI (@ANI) November 10, 2020
#WATCH मध्य प्रदेश की जनता का और मेरा आत्मीयता का, प्रेम का और स्नेह का रिश्ता है। मुझे पूरा विश्वास था कि भाजपा को भारी विजय मिलने वाली है। जहां हम जीत रहे हैं वहां अधिकांश सीटों पर 40-50 हज़ार वोटों से जीत रहे हैं : मध्य प्रदेश CM शिवराज सिंह चौहान pic.twitter.com/Vc8iESn2rT

— ANI_HindiNews (@AHindinews) November 10, 2020
Gujarat: Chief Minister Vijay Rupani met BJP workers & celebrated at Kamlam in Gandhi Nagar as latest trends show BJP leading in 7 seats out of 8 and has won 1 seat.

Counting is currently underway for the state assembly by-polls pic.twitter.com/4HB7gotAOW

— ANI (@ANI) November 10, 2020
Patna: Members of BJP Mahila Morcha play dholak, celebrate with 'gulal' as latest trends show NDA leading over Mahagathbandhan in #BiharElectionResults. pic.twitter.com/hBkVCtWV0b

— ANI (@ANI) November 10, 2020
#UPDATE: Independent candidate wins one seat in #Manipur by-polls.

BJP has won two seats and is leading on two. https://t.co/clXEocmGD8 pic.twitter.com/HxgDgBw8gb

— ANI (@ANI) November 10, 2020
BJP is near to winning all eight seats. This is the trailer for the upcoming elections: Gujarat Chief Minister Vijay Rupani, in Gandhinagar #GujaratByPolls pic.twitter.com/0wA6A0dpxE

— ANI (@ANI) November 10, 2020
#Manipur: BJP wins two of the five seats which went to by-polls in the state, as per Election Commission

The party is also leading on two seats, Independent leading on one seat

— ANI (@ANI) November 10, 2020
#MadhyaPradesh by-polls: Bharatiya Janata Party leading on 17 seats, Congress on 9 and Bahujan Samaj Party on one. https://t.co/aUIxs6UMVW pic.twitter.com/yKly8YaFFZ

— ANI (@ANI) November 10, 2020
#ByPollResults Congress candidate Indu Raj leading over BJP's Yogeshwar Dutt (in file pic) from Baroda assembly constituency in #Haryana, as per Election Commission pic.twitter.com/EBfCBPBhOD

— ANI (@ANI) November 10, 2020
RJD's Tej Pratap Yadav (in file photo) trailing behind JDU's Raj Kumar Ray from Hasanpur seat#BiharElectionResults pic.twitter.com/voELEOFUq6

— ANI (@ANI) November 10, 2020
#ByPollResults: BJP leading in Dumka and Bermo Assembly seats of #Jharkhand and Dubbak assembly seat of #Telangana, as per Election Commission

— ANI (@ANI) November 10, 2020
#UPDATE BJP leading on three seats, Samajwadi Party on one seat and Bahujan Samaj Party on one seat out of the total seven seats for which by-polls were held in Uttar Pradesh https://t.co/1hrHy464gz

— ANI UP (@ANINewsUP) November 10, 2020
#MadhyaPradesh: Counting underway for 28 seats which went to by-polls.

Visuals from counting centres in Indore (Photo 1 and 2) and Morena (Photo 3 and 4)

As per Election Commission trends, BJP is ahead on 11 seats and Congress on 2. pic.twitter.com/PHZGK6db6C

— ANI (@ANI) November 10, 2020
#UPDATE: BJP takes lead on seven seats, Congress on one seat out of the eight #Gujarat Assembly seats which voted in by-polls, as per Election Commission trends.

Visuals from a counting centre in Vadodara, Gujarat pic.twitter.com/8YzqXyodqT

— ANI (@ANI) November 10, 2020
ByPollResults: Bharatiya Janata Party takes lead on 6 seats and Congress on 2 seats out of the 28 #MadhyaPradesh Assembly seats, as per Election Commission trends

— ANI (@ANI) November 10, 2020
ByPollResults: Bharatiya Janata Party takes lead on five out of the 28 #MadhyaPradesh Assembly seats, as per Election Commission trends https://t.co/yhCTh3ZQwd

— ANI (@ANI) November 10, 2020
Bharatiya Janata Party takes lead on two out of the 28 #MadhyaPradesh Assembly seats which voted in by-polls, as per Election Commission trends

— ANI (@ANI) November 10, 2020
#ByPollResults: According to Election Commission, BJP leading in RR Nagar and Sira Assembly seats of #Karnataka https://t.co/XAeDT9agXw

— ANI (@ANI) November 10, 2020
Telangana: Counting of votes underway for Dubakka assembly seat which went to by-polls pic.twitter.com/VPVKNfxIPW

— ANI (@ANI) November 10, 2020
#ByPollResults: Congress leading on one of the five Assembly seats of Manipur which went to by-polls

— ANI (@ANI) November 10, 2020
#ByPollResults: Samajwadi Party leading on one of the seven seats which went to by-polls, as per official Election Commission trends.

— ANI UP (@ANINewsUP) November 10, 2020
#ByPollResults: BJP leading on two of the eight Assembly seats of #Gujarat which went to by-polls.

— ANI (@ANI) November 10, 2020
Madhya Pradesh: Counting of votes for by-polls in 28 assembly seats is underway; visuals from a counting centre in Gwalior pic.twitter.com/7rrHhdIksE

— ANI (@ANI) November 10, 2020