Keshubhai Patel dies at 92: President Kovind, PM Modi condole former Gujarat CM's death
Keshubhai Patel, the BJP leader whom Narendra Modi replaced as chief minister of Gujarat in 2001, died on Thursday at the age of 92.
October 29, 2020 12:12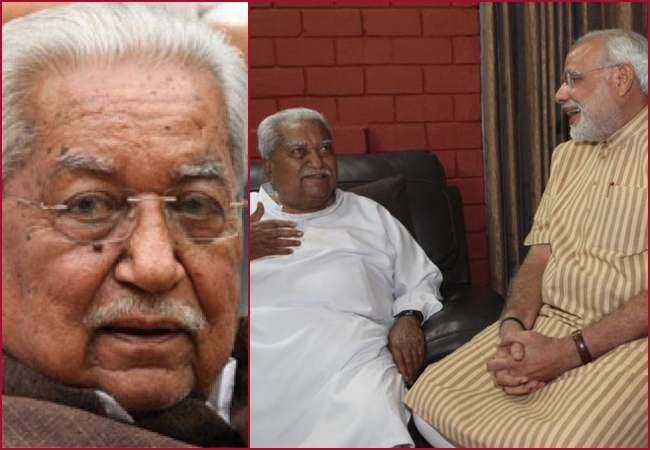 New Delhi: Former Gujarat Chief Minister Keshubhai Patel has passed away at the age of 92. He was admitted to a hospital in Ahmedabad.
According to reports, Keshubhai Patel had tested positive for coronavirus in September. The BJP leader was asymptomatic at the time of being diagnosed with Covid-19.
Taking to Twitter Prime Minister Narendra Modi, President Kovind and several other leaders condoled Keshubhai Patel's death.
Keshubhai mentored and groomed many younger Karyakartas including me. Everyone loved his affable nature. His demise is an irreparable loss. We are all grieving today. My thoughts are with his family and well-wishers. Spoke to his son Bharat and expressed condolences. Om Shanti. pic.twitter.com/p9HF3D5b7y

— Narendra Modi (@narendramodi) October 29, 2020
With the demise of Keshubhai Patel, former Gujarat chief minister, the nation has lost a stalwart leader. His long public life was dedicated to improving the lives of millions, especially in villages. As champion of farmers' causes, he enjoyed extraordinary rapport with masses.

— President of India (@rashtrapatibhvn) October 29, 2020
गुजरात के पूर्व मुख्यमंत्री केशुभाई पटेल जी के निधन का दुःखद समाचार प्राप्त हुआ। उनका लम्बा सार्वजनिक जीवन गुजरात की जनता की सेवा में समर्पित रहा। केशुभाई के निधन से गुजरात की राजनीति में ऐसी रिक्तता आयी है जिसका भरना आसान नहीं है। उनके परिजनों के प्रति संवेदना व्यक्त करता हूँ।

— Amit Shah (@AmitShah) October 29, 2020
गुजरात के पूर्व मुख्यमंत्री और वरिष्ठ नेता केशुभाई पटेल जी के निधन का दुखद समाचार मिला। जनसंघ से लेकर भाजपा तक, पार्टी के निर्माण और विस्तार में उनकी अहम भूमिका रही।

ईश्वर उन्हें मोक्ष प्रदान करें, व शोकाकुल परिवार को यह अपार दुख सहन करने की शक्ति दें। ॐ शांतिः

— Piyush Goyal (@PiyushGoyal) October 29, 2020
Sad to learn about the demise of stalwart leader and Former #Gujarat CM Shri Keshubhai Patel Ji.

His work will inspire everyone of us to strengthen the nation.
May his soul rest in peace.

Om Shanti🙏 pic.twitter.com/BwkowjDbwY

— Harsh Sanghavi (@sanghaviharsh) October 29, 2020
My sincere and deepest condolences to the family and well wishers of former #Gujarat chief minister #KeshubhaiPatel . He was an extraordinary politician with great values. #respect #RIP. We lost him to #coronavirus few minutes back.

— Shaktisinh Gohil (@shaktisinhgohil) October 29, 2020
This is a developing story.