#IStandWithShringiYadav TRENDS: Temple priest reveals reason behind thrashing Asif; check here
Drinking water a ruse for theft and harassing Hindu women-Read other side of the story here
March 16, 2021 13:23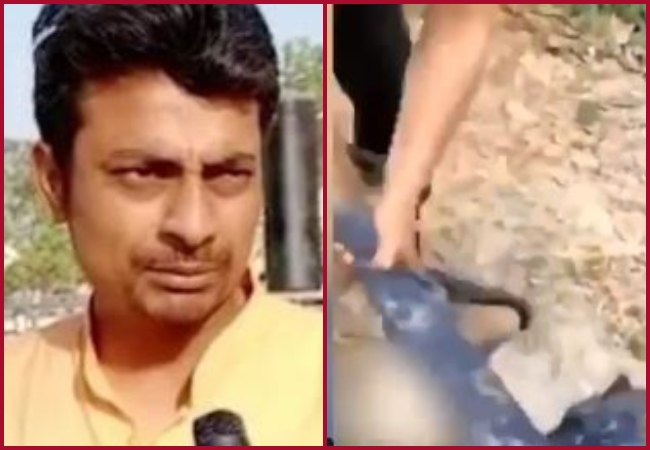 New Delhi: After a video of a boy being trashed in Uttar Pradesh's Ghaziabad for allegedly drinking water at a temple had gone viral on the internet.
Now, the other side of the story is doing round on the social media.
In a new development, an interview with one of the locals in the region, who is also a pandit at the temple, has brought the other side of the story.
In the video, he can be heard saying,  Asif was not in the temple compound to drink water but to harass the Hindu girls and steal artifacts and other things.
"There are two government taps right outside the temple building. There is another tap for drinking water right after the entrance of the temple and yet he (Asif) was found at the far end of the temple compound. He was not here for drinking water. These people routinely enter the temple compound for harassing the Hindu girls, defiling the temples and Hindu deities or stealing things. Why would anyone enter the temple compound and walk 500 meters for drinking water when the water is available right outside the temple compound?" the pandit said.
ये संदेश #SorryAsif वालों के लिए..
सत्य सामने आयेग ..
भाग 1/3 pic.twitter.com/Vp0dcOKWTX

— Hindu Ecosystem Official (@HinduEcosystem_) March 15, 2021
Listen to the Swami ji. He's stating the fact, explaining the condition of Hindus.

Why no one is talking about this? Hindus lives don't matter?#IStandWithShringiYadav pic.twitter.com/GnZezUV260

— Mr Sinha (@MrSinha_) March 16, 2021
WATCH: Boy mercilessly thrashed for drinking water in a temple, VIDEO sets flurry of reactions
Asif was a theft with a shitness & wildness in his mind.
Must always be beaten & action should be taken against such wild p!gs.
Pandit ji is right.
To protect our existence being a Hindu and living in Hindustan, it's our duty to protect humanity& family.#IStandWithShringiYadav https://t.co/4ww7ZahyfE

— Vikash Yadav (@vikasvkms711) March 16, 2021
#IStandWithShringiYadav . Shringi Yadav is my brother.#ShringiYadavIsMyBrother https://t.co/sjc3TMNmqw

— Amit Kumar (@am4bharat) March 16, 2021
We can clearly see handpump outside the temple then why he went inside the temple to drink water… and too 500 meters inside.
On Mahashivratri 5 years old Hindu girls got raped by jihadis at the back side of temple. #IStandWithShringiYadav pic.twitter.com/QudGU6SMjD

— Rohit Raj (@Sushant14280463) March 16, 2021
Me to those who started this trend– #IStandWithShringiYadav
Of course, I stand with all unapologetic hindus. 🚩🚩🕉️✊💪💪 pic.twitter.com/jZGbIODQUk

— KANISHK (@Myself_kanishk) March 16, 2021
More power to you #shringiyadav!! 🔥#IStandWithShringiYadavpic.twitter.com/fvX2Aq5jWI

— Shrutï 💫 (@marathi_mulgi__) March 16, 2021
I Am With Shringi Yadav .

Nation With A Nationalist 🚩#IStandWithShringiYadav

— Gajendra Chauhan (@Gajjusay) March 16, 2021
WATCH
#UttarPradesh: Muslim Child Thrashed For Drinking Water Inside Temple

In the video, the accused, Shringi Nandan Yadav, was seen asking the child his name, to which the child replied that his name was Asif. In no time, Yadav was seen assaulting the child.@Uppolice @UPGovt pic.twitter.com/1GE8h7yvdH

— Newsroom Post (@NewsroomPostCom) March 13, 2021