Karauli constable saving infant from fire goes viral, Twitter lauds his valour
Meanwhile, a Rajasthan police constable saved an infant during the communal violence on Saturday.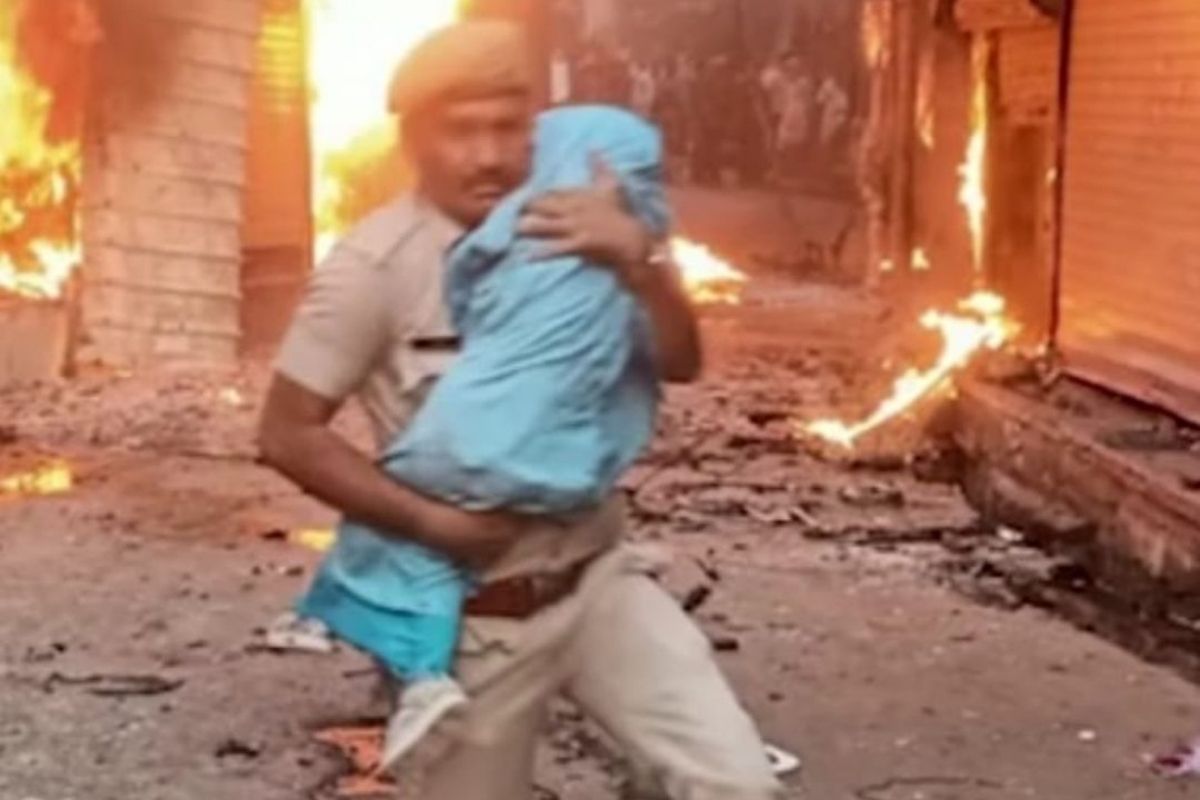 New Delhi: There are certain things around that still make us believe that humanity exists. Despite the violence that emerged in Rajasthan's Karauli district, a saviour attitude by a constable grabbed everyone's attention. The violence broke out after a motorcycle rally began in the town to celebrate the Hindu new year.
Meanwhile, a Rajasthan police constable saved an infant during the communal violence on Saturday. Netresh Sharma took the baby from two women who were trapped in the area and ran through fire.
While talking to NDTV, the 31-year-old constable stated, "I was providing protection to the procession by leading the way on a motorcycle patrol. Suddenly, when the stone pelting began, I rushed back and found two people sitting on the road. They had been injured and requested me to take them to hospital which I did."
Further, the police stated that the shops were set on fire while the cops were busy extinguishing the flame and rescuing people. "I suddenly saw a house in the middle of two shops that were burning with two-three women trapped inside. One of them had a child in her arms. As soon as I saw that scene, I rushed into the house," Sharma said.
"The flames were closing in on the door. The women begged me to help and I told them to give me the child who was already wrapped in a shawl. I took the child in my arms and I told the mother and the other women in the house to run out behind me," he added.
Within seconds of the action, the photo of Netresh went viral. The photo showed that amidst the flames, he held the child in his arms and close to his chest. "The women followed me and then I handed the child back to them," he further said.
He stated that he did not even know the gender identity of the child. He stated, "In fact, I don't even know if the child was a boy or a girl."
Rajasthan Police lauded the quick action and the saviour attitude of the constable, risking his life.
See the post:
एक मां को साथ लिए, सीने से मासूम को चिपकाए दौड़ते खाकी के कदम।#RajasthanPolice के कांस्टेबल नेत्रेश शर्मा के जज्बे को सलाम।

करौली उपद्रव के बीच आमजन की सुरक्षा पुख्ता करने में जुटी पुलिस। @RajCMO @DIPRRajasthan @KarauliPolice pic.twitter.com/XtYcYWgZWs

— Rajasthan Police (@PoliceRajasthan) April 3, 2022
Several netizens saluted his bravery of Sharma and send him congratulatory and well wishes. One of the users said, "@PoliceRajasthan we proud on you…. Love from District Bharatpur,' while another wrote, "A policeman with Conscience … Respect. But what is heartbreaking is that "this" is becoming a reality of our life. the hate, the violence, the fear… I fear for my country as vile people are trying to propagate a very dangerous narrative."
@PoliceRajasthan we proud on you…. Love from District Bharatpur ❤️❤️ https://t.co/T1qUH0NEnk

— Kamal B Kapoor (@kb_kapoor) April 4, 2022
A policeman with Conscience … Respect. But what is heartbreaking is that "this" is becoming a reality of our life. the hate, the violence, the fear… I fear for my country as vile people are trying to propagate a very dangerous narrative. https://t.co/MtnARU3BzT

— iamOnir (@IamOnir) April 4, 2022
See other reactions here:
"तम में प्रकाश हूँ,
कठिन वक़्त की आस हूँ।"
So proud of constable Netresh Sharma of Rajasthan Police for saving a precious life. This picture is in deed worth a thousand words.. pic.twitter.com/U2DMRE3EpR

— Sukirti Madhav Mishra (@SukirtiMadhav) April 4, 2022
फ़र्ज़ सबसे ऊपर !
सैल्यूट ! https://t.co/XGafeBLbuP

— Neha Giri (@neha_giri_) April 4, 2022
सच में!पुलिस के ऐसे साहसिक कार्य को हम नजरअंदाज नहीं कर सकते । बहादुरी के ऐसे कारनामे बहुत ही कम देखने को मिलते हैं। राजस्थान पुलिस के इस जवान को मैं दिल से सलूट करती हूं।@PoliceRajasthan https://t.co/mC9OV1VcgZ

— Soniya (@SoniyaJe) April 4, 2022
Well done 👍 खाकी वर्दी आप महान हो https://t.co/vna8qd86Te

— Barbad (@BarbadPrem) April 4, 2022
Well done 👍 खाकी वर्दी आप महान हो https://t.co/vna8qd86Te

— Barbad (@BarbadPrem) April 4, 2022
Well done… But justice to tab hoga jb iss sthiti ke liye jimedaron par kadi karwayi ho… https://t.co/N0leb6LC0U

— Parvesh verma (@erparvesh07) April 4, 2022
बहुत-बहुत धन्यवाद राजस्थान पुलिस को, हमें ऐसे ही राजस्थान पुलिस से अपेक्षा है। https://t.co/dRniwmFSHp

— Jogaram Patel (@JogarampatelMLA) April 4, 2022
A salute to Rajasthan Police https://t.co/zRwPLaUzIB

— Shri Kant Gupta (@ShriShrikantalw) April 4, 2022
Hats off to you https://t.co/coxgGsNXE1

— neeraj arora (@narora141) April 3, 2022