Mulayam Singh Yadav's daughter-in-law Aparna Yadav joins BJP, videos & memes float on social media
In the past, Aparna has praised BJP's initiatives in the state and had also donated Rs 11 lakh for the construction of Ram Temple in Ayodhya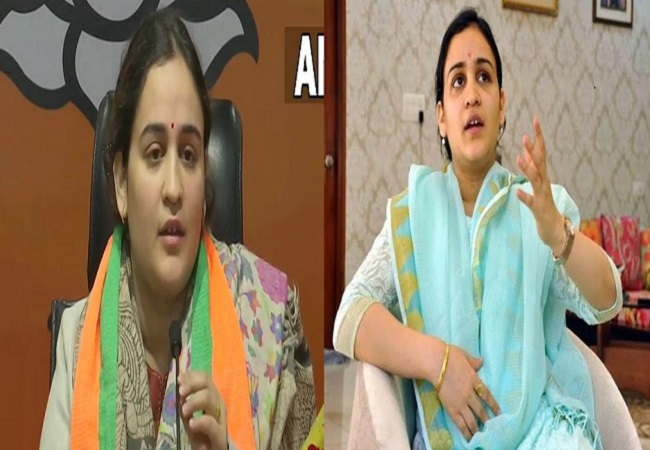 New Delhi: It has been a major setback for the Samajwadi Party ahead of Uttar Pradesh Assembly elections, as Aparna Yadav, daughter-in-law of former Uttar Pradesh chief minister Mulayam Singh Yadav, joined the Bharatiya Janata Party (BJP) on Wednesday.
Aparna Yadav joined BJP today in the presence of deputy CM Keshav Prasad Maurya & BJP State president Swatantra Dev Singh.
According to the sources, Aparna has sought a ticket from the Lucknow Cantt assembly seat. Aparna is the wife of Mulayam Singh Yadav's younger son Pratik.
Former Uttar Pradesh Chief Minister Mulayam Singh Yadav's daughter-in-law joins BJP #UttarPradeshElections2022 pic.twitter.com/ZEkd9wD2LV

— ANI (@ANI) January 19, 2022
As the news surfaced, Netizens grabbed the chance to take a dig on former UP CM Akhilesh Yadav,  while sharing memes and jokes on social media.
If that wasn't enough, some even shared hilarious edited videos, predicting the hypothetical current state in the Samajwadi Party.
Have a look at some reactions by Netizens:  
Welcome To BJP Family #AparnaYadav pic.twitter.com/C5hF3IiwPX

— Narendra Modi fan (@narendramodi177) January 19, 2022
Dimple Bhabhi next in line ? Tonti chor bhaiyya is the captain of a sinking ship.

#AparnaYadav pic.twitter.com/omqJkcmsze

— Tanisha Batra (@TanishaBatra80) January 19, 2022
Parfect Editing 👌👌👇👇🙈#AparnaYadav #Modi_For_Punjab_Development #AAPKaPegwantMann pic.twitter.com/ScPCQlgbNI

— Ashwin (@ashwinpanchari1) January 19, 2022
Pic 1 action for Gobar.
Pic 2 reaction for Cream 😂😂😂#AparnaYadav pic.twitter.com/JZwi5KthXJ

— Manjeet SINGH राठौर (@Singhmanjeet02) January 19, 2022
#AparnaYadav
Story pic.twitter.com/BJTsWuPWKQ

— विवेक दृष्टि (@KRAVI1977) January 19, 2022
Aparna Yadav joins BJP today.
Meanwhile Akhilesh Yadav: #Akhilesh_Yadav #AparnaYadav pic.twitter.com/4JAPoVQeKM

— Yash Vashisth Tyagi (@vashisthtyagi3) January 19, 2022
#AparnaYadav joins #BJP today.#Akhilesh_Yadav be like: pic.twitter.com/3ut4qxIUn3

— Avinash Sharma (@SumanSh42478368) January 19, 2022
In 2011, Aparna Yadav married Pratik Yadav.
In 2017 assembly elections, she had contested from Lucknow Cantt but was defeated by BJP's Rita Bahuguna Joshi. She had secured nearly 63,000 votes.
In the past, she has praised BJP's initiatives in the state and had also donated Rs 11 lakh for the construction of the Ram Temple in Ayodhya.