One year of Galwan Valley clash: Twitterati pay Tribute to the braves who laid down their lives & made ultimate sacrifice
Galwan Clash: Their courage & supreme sacrifice that began a new era of Indian Defence will inspire crores of Indians.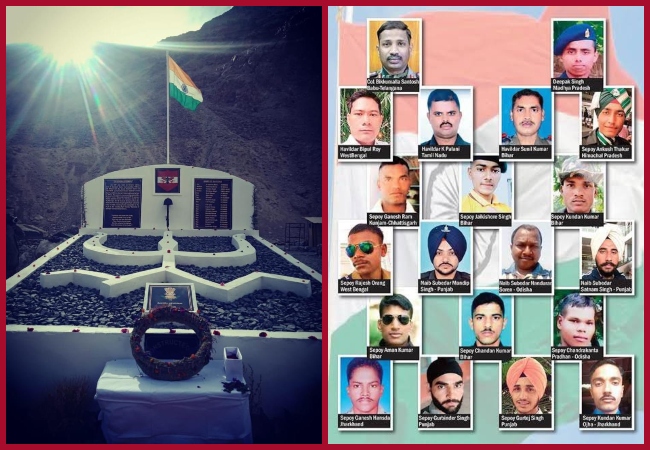 New Delhi:  A year after 20 Army soldiers had lost their lives in the violent faceoff with Chinese troops in the Galwan valley, Indians today paid tributes to our jawan who lost their lives.
This clash was one of the worst in 45 years, and led to a military standoff with China and at least 11 rounds of military talks for the disengagement process.
Twitterati pays tribute to our Braveheart's:
On this day a year ago, Our Brave Hearts put down Chinese Aggressors with bare hands at #GalwanValley.

Their courage & supreme sacrifice that began a new era of Indian Defence will inspire crores of Indians.

I salute each one of these Real Heroes with great pride.

Jai Hind ?? pic.twitter.com/pN4E2cskBG

— C T Ravi ?? ಸಿ ಟಿ ರವಿ (@CTRavi_BJP) June 15, 2021
Tribute to the braves who laid down their lives & made ultimate sacrifice for defence of our motherland ! Maa Bharti will never forget this sacrifice #GalwanValley pic.twitter.com/rG1X7ebZzd

— Shehzad Jai Hind (@Shehzad_Ind) June 15, 2021
Maha Vir Chakra, #GalwanValley Hero Colonel Santosh Babu and his supreme sacrifice will remain in the history. pic.twitter.com/6P1fOk8fjT

— Amar Prasad Reddy (@amarprasadreddy) June 15, 2021
15 June- this day, 1 yr ago- when the world was struggling wth China exported Covid Pandemic, China shamelessly tried to seize territory at #Galwan by violatng LAC wth India. But was sent back wth a bloody nose by our Army Bravehearts at great cost.#GalwanHeroes #GalwanValley pic.twitter.com/yKS9JX7CpI

— Rajeev Chandrasekhar ?? (@rajeev_mp) June 15, 2021
Salute to the Balwans of Galwan??

On this day, a year ago, our brave hearts laid down their lives protecting the nation at the #GalwanValley. India will never forget the supreme sacrifices made by our immortal heroes to keep our motherland safe and secure.@adgpi

??Jai Hind?? pic.twitter.com/EoWEye8NE1

— Dr Sudhakar K (@mla_sudhakar) June 15, 2021
Remembering the Heroes of #GalwanValley on the 1st Anniversary of their Supreme sacrifice for our motherland ??????. Never Forget, Never Forgive. #JaiHind pic.twitter.com/DJYj9btfyJ

— Gajendra Chauhan (@Gajjusay) June 15, 2021
#LestWeForgetIndia?? the gallant actions of #IndianBraves of 16 BIHAR, 3 PUNJAB, 3 MED REGT & 81 FIELD REGT & their supreme sacrifice at #GalwanValley fighting the Chinese #OnThisDay 15-16 June 2021 in Ladakh, #OpSnowLeopard

Remember their valour & service to the Nation always pic.twitter.com/ZY2bynl7dL

— LestWeForgetIndia?? (@LestWeForgetIN) June 15, 2021
Independence is not Free. It costs Soldiers…!!

Remembering the Bravehearts of #GalwanValley.

Nation First. pic.twitter.com/KsMagJtRfK

— PRO Shillong, Ministry of Defence (@proshillong) June 15, 2021
On this day last year we lost 20 of India's bravest in the #GalwanValley . They are remembered, saluted, cherished. The nation is proud of our bravehearts in uniform, whose supreme sacrifice protects & secures the rest of us. Never forget. Jai Hind ? pic.twitter.com/8AvfoovEYW

— Baijayant Jay Panda (@PandaJay) June 15, 2021
WATCH