PM Modi inaugurates Rashtriya Swachhata Kendra, launches week-long campaign to free India of garbage
After taking a tour of the Rashtriya Swachhata Kendra, Prime Minister interacted with 36 school students from Delhi, representing the 36 States and Union Territories.
August 8, 2020 20:41
New Delhi: Prime Minister Narendra Modi has said that Swachh Bharat Abhiyan has boosted the self-confidence and will-power of every countrymen and its impact is visible on the life of the poor.
Speaking after inaugurating Rashtriya Swacchata Kendra, PM Modi said, Swachh Bharat Abhiyan has brought about a permanent change in our social consciousness and behaviour. He said, cleanliness drive has been a big support in fight against Corona virus.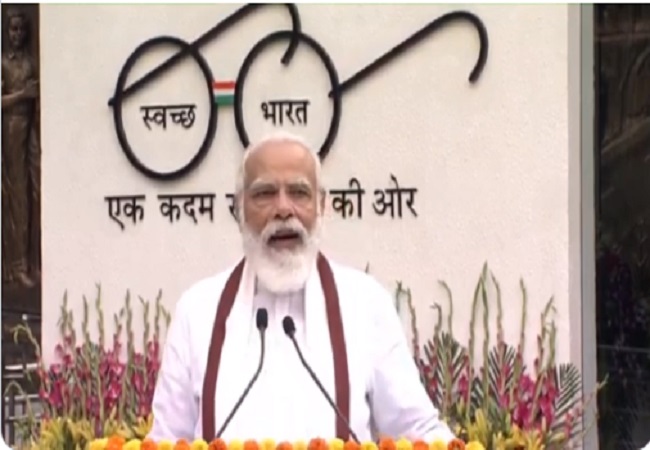 PM Modi asked what would have happened if pandemic like Corona virus had broken out before 2014. He said, the government could not have imposed lockdown when over 60 per cent population was forced to open defecation.
PM Modi said, in the last few years, lakhs of people across the country, who are inspired by Mahatma Gandhi, have made Swachh Bharat Mission a goal of their lives. He said, this is the reason that government has been able to provide toilet facility to over 60 crore people in just 60 months.
PM Modi said, a comprehensive Quit India Campaign is going on against poverty, garbage, compulsion of open defecation, compulsion of wandering for fetching water.
आइए, आज से 15 अगस्त तक यानि स्वतंत्रता दिवस तक देश में एक सप्ताह लंबा अभियान चलाएं।

स्वराज के सम्मान का सप्ताह, यानि 'गंदगी भारत छोड़ो सप्ताह'। pic.twitter.com/vsLbxMF7Ml

— Narendra Modi (@narendramodi) August 8, 2020
Week-long campaign to free India of garbage
The Prime Minister announced a week-long campaign from today till 15th August to free India of garbage.
He said, Rashtriya Swachhata Kendra is a tribute to Mahatma Gandhi's efforts towards cleanliness. PM Modi said, on this day, in 1942, a huge mass movement for independence started under the leadership of Gandhiji. He said, on such a historic day, the inauguration of National Sanitation Centre near Rajghat is very relevant in itself. The Prime Minister said, for today's world, there cannot be a greater inspiration than Gandhiji. He said, the whole world is coming forward to adopt Gandhiji's life and philosophy. He said, last year, when Gandhiji's 150th Birth Anniversary was celebrated in a grand manner all over the world, it was unprecedented.
Watch Live! https://t.co/YmoYeOswLw

— PMO India (@PMOIndia) August 8, 2020
After taking a tour of the Rashtriya Swachhata Kendra, Prime Minister interacted with 36 school students from Delhi, representing the 36 States and Union Territories, at the amphitheatre of the Kendra, adhering to social distancing protocols.
About Rashtriya Swachhata Kendra
Rashtriya Swachhata Kendra, an interactive experience centre on the Swachh Bharat Mission was first announced by the Prime Minister on 10th April 2017, on the occasion of the Centenary Celebrations of Gandhiji's Champaran Satyagraha.
In the first hall of Rashtriya Swachhata Kendra, visitors will experience a unique 360 degree audio visual immersive show, which will narrate India's Swachhata Story – a journey into the largest behaviour change campaign in the history of the world. The second Hall contains a series of interactive LED panels, hologram boxes, interactive games and much more, to tell the story of the work done to achieve Bapu's vision of a Swachh Bharat. The open-air displays in the lawn adjacent to Rashtriya Swachhata Kendra will showcase three exhibits which are anecdotes from the journey of India from Satyagraha to Swachhagraha, The artistic wall murals around the Kendra also chronicle the core elements of the Mission's success. The installations at Rashtriya Swachhata Kendra will introduce future generations to the successful journey of world's largest behavioural change campaign, the Swachh Bharat Mission. A balanced mix of digital and outdoor installations in the Kendra will impart information, awareness and education on Swachhata and related aspects.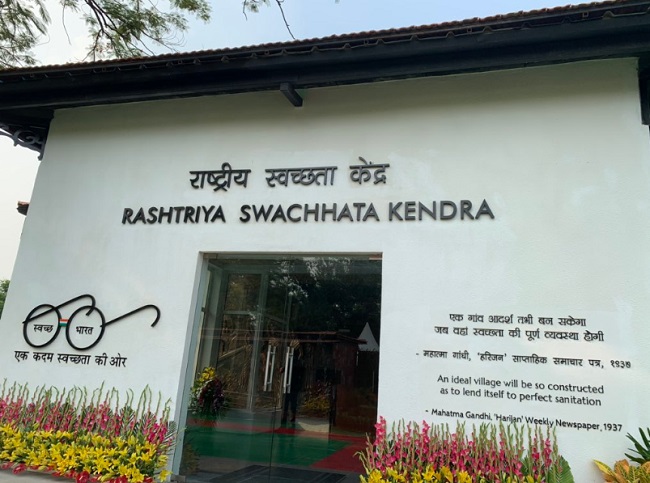 The Swachh Bharat Mission has transformed rural sanitation in the country and has changed the behaviour of over 55 crore people from open defecation to using a toilet. India has received high praise from the international community for this and we have set a precedent for the rest of the world to follow.
The mission is now in its second phase, aiming to take India's villages from Open Defecation Free (ODF) to ODF Plus, with a strong focus on sustaining ODF status and ensuring solid and liquid waste management for all.