Police books UP vendor for selling shoe with 'Thakur' written on soles
The district police later said on Twitter, "Had the police not taken the action as per the legal system, many people would have reacted differently or in the wrong way (ulti ya bhinn pratikriya dete). Hence, the police have followed the rules and please look at it in the same way."
January 6, 2021 11:00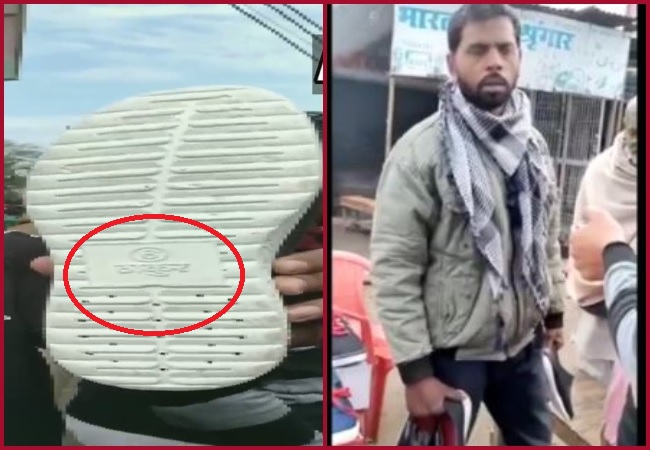 Uttar Pradesh: A roadside vendor has been detained in Uttar Pradesh's Bulandshahr for selling shoes with "Thakur" written on soles.
Police had received information that a man was selling caste branded shoes. The shoes had 'Thakur' written on its sole. A case has been registered and further investigation is underway, said Atil Srivastava, SP Bulandshahr
According to reports, the vendor, Nasir, was booked by police following a complaint by one Vishal Chauhan who alleged that he was selling shoes with the word 'Thakur' written on the soles.
"Based on the complaint, an FIR has been lodged against the shoe vendor at the Gulawathi police station and the matter is being investigated. Further action would be taken on the basis of the probe," Additional Superintendent of Police (City) Atul Kumar Srivastava said.
"A case has been filed under relevant sections at the concerned police station. The named accused is in the custody of the police and an investigation is on," the Bulandshahr police tweeted on Tuesday before he was released.
#UttarPradesh: 'ठाकुर' लिखा जूता बेच रहा था दुकानदार, हुआ विवाद
| @bulandshahrpol #UttarPradesh | pic.twitter.com/iYUJ56abQz

— Newsroom Post (@NewsroomPostCom) January 6, 2021
Meanwhile, as a video of the incident started doing the rounds on social media, it invited heavy criticism against the police action.
The district police later said on Twitter, "Had the police not taken the action as per the legal system, many people would have reacted differently or in the wrong way (ulti ya bhinn pratikriya dete). Hence, the police have followed the rules and please look at it in the same way."