Power of internet: Long queues outside Baba ka Dhaba after heartbreaking video goes viral, becomes top trend on twitter
An elderly couple running Baba ka Dhaba in Malviya Nagar, New Delhi, is struggling to earn a living. After a video of them crying went viral
October 8, 2020 16:49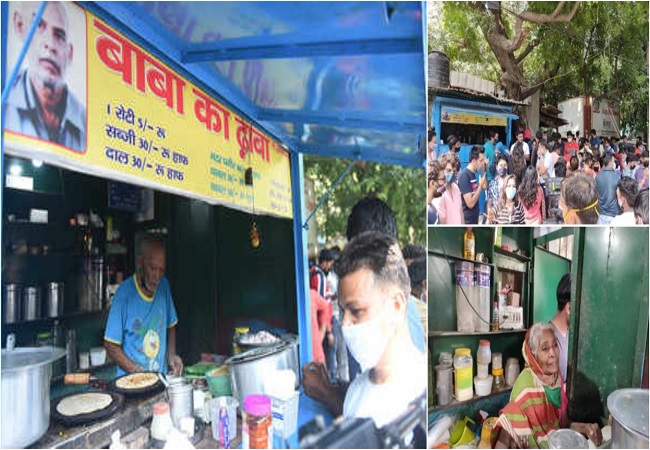 Long queues outside Baba ka Dhaba after heartbreaking video goes viral, becomes top trend on twitter
New Delhi: This story will make you believe in the power of the INTERNET. Somewhere in South Delhi, an elderly couple sells home-cooked meals and they are doing this for 3 long decades.
Guess what happens next, a video of their struggle in this pandemic goes viral on all kind of social media platforms moving thousands of people, including celebrities, cricketers and even companies.
Soon, 'Baba Ka Dhaba' became a top trend on Twitter. The video was shared a Twitter used named Vasundhara Tankha Sharma, after which many Bollywood celebrities, cricketers and netizens flooded support for 'Baba Ka Dhaba'.
This video completely broke my heart. Dilli waalon please please go eat at बाबा का ढाबा in Malviya Nagar if you get a chance 😢💔 #SupportLocal pic.twitter.com/5B6yEh3k2H

— Vasundhara Tankha Sharma (@VasundharaTankh) October 7, 2020
In the video shot by blogger Gaurav Vasan yesterday, 80-year-old Kanta Prasad shared that he and his wife Badami Devi usually started cooking at 6.30 am and were ready with the day's meal by 9.30 am. Dal, curry, parathas and rice were kept in large dishes to be sold for around ₹ 30-50 a plate.
When asked how much the aged couple earn in a day, Prasad says, "Earning? This is how much we've earned."
He then produced a thin bundle of Rs 10 notes from a box and said that's all they've earned. The couple said they don't earn more than Rs 80 a day, despite starting their day early at 6.30 am.
After the video was shared, it instantly went viral on Twitter and managed to garner more than 1.7 million views. Netizens retweeted the video in large numbers and urged people of Delhi to not just go and support the elderly couple's business, but also all the local businesses in their areas.
Even Bollywood celebrities like Randeep Hooda, Raveena Tandon and Suniel Shetty tweeted about the video. Take a look:
Do visit if you are in Delhi! 🙏🙏

बाबा का ढाबा
Block B, Shivalik Colony, Opposite Hanuman Mandir, Malviya Nagar, South Delhi. #SupportLocal #BabaKaDhaba https://t.co/yEfZPx3YAG

— Randeep Hooda (@RandeepHooda) October 8, 2020
#बाबाकाढाबा #dilliwalon #dil #dikhao. Whoever eats here, sends me pic, I shall put up a sweet message with your pics ! ♥️ #supportlocalbusiness #localvendors https://t.co/5DH73wz3SD

— Raveena Tandon (@TandonRaveena) October 8, 2020
Let's help put their smile back … our neighbour hood vendors need our help to ❤️🙏. https://t.co/X4RNcYOA9w

— Suniel Shetty (@SunielVShetty) October 8, 2020
Oh yes, the morning started with a smile on everyone's face.
AAP MLA @attorneybharti reached out to the old uncle & aunty who's tear broke our heart and does the needful.

Life is so short, pls help the people around you.

Well done sir @attorneybharti 🙏 pic.twitter.com/nZF6ih6HGV

— Abhishek Gupta (@IACAbhi) October 8, 2020
I am not able to message you, but is there a way I can help that man?? I would like to contribute.

— Ashwin 🇮🇳 (@ashwinravi99) October 7, 2020
Spread the word around.

Wipe his tears #BabaKaDhaba https://t.co/BE9cXGEnSs

— RAHUL SRIVASTAV (@upcoprahul) October 8, 2020
दिल्ली! चलो 'बाबा का ढाबा' पर मटर पनीर खाते हैं! मालवीय नगर में! 🙏🏽🙏🏽🙏🏽💜💜💜 #SupportSmallBusinesses #VocalForLocal #ShowHeart https://t.co/khus7WJMB8

— Swara Bhasker (@ReallySwara) October 7, 2020
Dear DB Family in Delhi.
I know we are still severely restricted in our movements – but if around Malviya Nagar – please stop by at Baba Ka Dhaba🙏🏼 https://t.co/WXXVB1NZKL

— Akash Banerjee (@TheDeshBhakt) October 7, 2020