'Government Doesn't Get It': Rahul Gandhi pleads nation-wide lockdown with protection of NYAY for the vulnerable sections
Last year, Rahul Gandhi himself said that a lockdown is not a solution to the COVID-19 virus instead its just a pause button.
May 4, 2021 11:13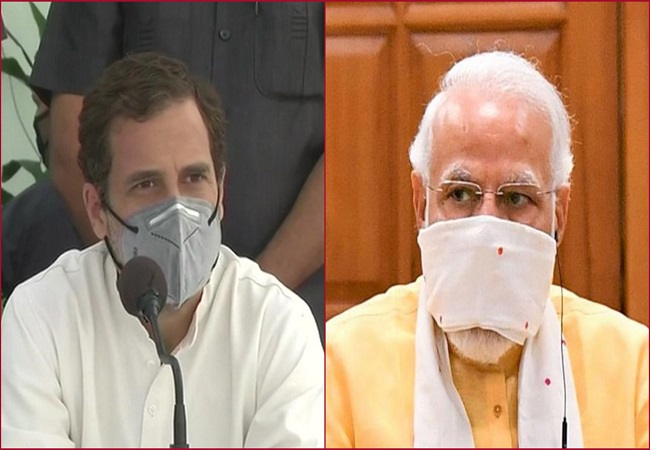 New Delhi: Congress leader and MP Rahul Gandhi tweeted on Tuesday asking the central govt. to impose a nation-wide lockdown even after being a vocal critic of it last year. Rahul said in his tweet on Tuesday that inaction of central government is killing innocent peoples.
Although last year when the govt. had imposed a two-month long nation-wide lockdown, Rahul had a opposed the decision publicly on multiple occasions. He said last year, "When you lock people up, the disease gets locked up. When you open the door, the disease will come rushing out."
GOI doesn't get it.

The only way to stop the spread of Corona now is a full lockdown- with the protection of NYAY for the vulnerable sections.

GOI's inaction is killing many innocent people.

— Rahul Gandhi (@RahulGandhi) May 4, 2021
Earlier this year in March Rahul again criticized the 'unplanned lockdown' which was imposed by the central govt., he tweeted:
The unplanned lockdown disaster continues to haunt the country.

Condolences to the lakhs of families being punished with indescribable pain for GOI's incompetence & myopia. pic.twitter.com/TBN7mS149W

— Rahul Gandhi (@RahulGandhi) March 19, 2021
In another video he said, "Lockdown is like a pause button, a lockdown is in no way a solution to the COVID-19 virus."
Congress opposed Lockdown, Rahul Gandhi was criticising lockdown even during recent election campaigns.

Now same shameless Rahul Gandhi is demanding lockdown. pic.twitter.com/j3X9RDfiPQ

— Ankur Singh (@iAnkurSingh) May 4, 2021
BJP IT-Cell chief Amit Malviya also confronted Rahul about his tweet on Tuesday and accused him of using pandemic for his cheap politics.
The only person who doesn't get it is – Rahul Gandhi.

Using the pandemic for cheap political thrills is a new low even by Rahul Gandhi's otherwise low standards! https://t.co/ockIHm99HV pic.twitter.com/burCmWcaLl

— Amit Malviya (@amitmalviya) May 4, 2021
COVID-19 Update
India registered a slight dip in COVID-19 cases as it registered 3,57,229 new coronavirus infections in the last 24 hours, informed the Union Health Ministry on Tuesday. While 3,449 people succumbed to the disease.