Rahul Gandhi tweets fake news to target Modi govt, gets trolled
Rahul Gandhi in his attempt to corner Modi government tweeted a fake news. Following this, Congress leader got a barrage of crtiticism on social media for 'belittling' armed forces.
October 30, 2020 17:44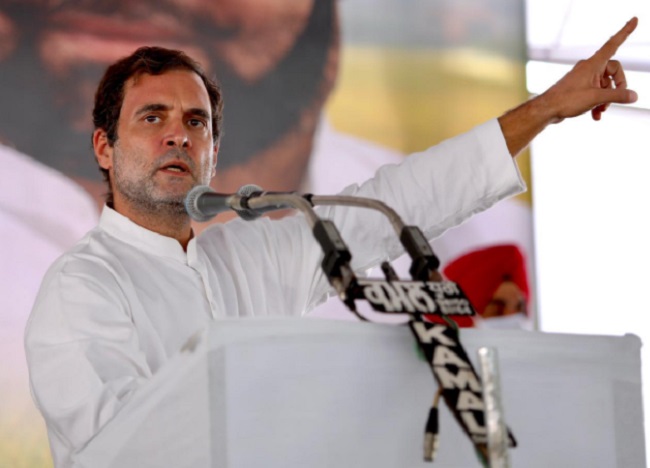 New Delhi: Former Congress president Rahul Gandhi fired fresh salvo on Modi government by tweeting a news report which claimed that Chinese troops have further transgressed into Indian territory.
While tweeting news report, he wrote, "Army jawans battle extreme cold as well as Chinese incursion while staying in tents while Prime Minister rides Rs 8,400 crore plane but fears taking name of China. Who got Acche Din?"
देश के जवान भयंकर सर्दी में साधारण टेंट में गुज़ारा करते हुए भी चीन के आक्रमण का डटकर मुक़ाबला करते हैं।

जबकि देश के PM 8400 करोड़ के हवाई जहाज़ में घूमते हैं और चीन का नाम तक लेने से डरते हैं।

किसे मिले अच्छे दिन? pic.twitter.com/mTn6wLafjm

— Rahul Gandhi (@RahulGandhi) October 30, 2020
Rahul has been highly critical of Centre's handling of Chinese transgression at the Line of Actual Control (LAC) in Eastern Ladakh and leaves no chance to corner Modi govt on the issue.
However, today, he made a blunder while slamming the government on Chinese aggressive stance against India.
He tweeted a fake news, which claimed (quoting former Ladakh MP) that Chinese troops have made fresh transgressions into Indian territory and have occupied positions in Finger 2 and 3 of Pangong Tso lake.
Indian Army has outrightly rejected this news, calling it fake.
.@the_hindu citing a claim, has published that Chinese troops have further transgressed into Indian territory and occupied positions in Finger 2 and 3 of the north bank of #PangongTso Lake.#PIBFactCheck: It is a #Fake news. @adgpi has refuted this statement. pic.twitter.com/PvNjUQRCt4

— PIB Fact Check (@PIBFactCheck) October 30, 2020
How netizens trolled Rahul for tweeting 'fake news'
Part 2 few facts about Rahul Gandhi urf Raul Vinci ..

Coward :- tendered unconditional apology in the defamation case filed by RSS.

Hawabaaz :- cried out loud RAFALE RAFALE during 2019 elections but never showed any proof 🤣

Friend of GHOTALEBAAZ:- tied up with Laloo Yadav.

— संदीप मिश्रा (@The_Modi_Bhakt) October 30, 2020
PM of India roaming in 8400 crore aeroplane. pic.twitter.com/d7hddAOxd3

— Intel Watch (@watch_intel) October 30, 2020
Have an ice cream. Politics is not your cup of tea. pic.twitter.com/GlW4BlEed3

— rdee (@munakashmiri) October 30, 2020
8400 करोड़ का हवाई जहाज मोदीजी ने अपने घर के लिए नहीं बनाया,,,,

यह भारत के पीएम ओर राष्ट्रपति के लिए है लेकिन दुर्भाग्य की पप्पू तुम कभी पीएम बनकर इसमें नहीं बैठ पाओगे।।

वैसे तुम्हारी अम्मी और जीजा सब करोड़ों के मालिक केसे बने वो हमें बता दो।। @RahulGandhi उर्फ पप्पू

— #AMOL RAJPUROHIT (@amol_singhRP) October 30, 2020
राहुल खान गांधी जी

अब तो #पाकिस्तान ने भी स्वीकार कर लिया है की पुलवामा आतंकी हमला हमने करवाया था

हमने ही भारतीय सेना के 46 जवानो की हत्या की थी

पाकिस्तान में साजिश की गई थी और अंजाम भारतीय मुसलमानों ने दिया था

पाकिस्तान ने स्वीकार कर लिया है

आप कब अपना अपराध स्वीकार करोगे?? pic.twitter.com/X7csZV5xco

— नेहा चौधरी (@Nehajaatni123) October 30, 2020