TV Anchor Rajdeep Sardesai taken off air, faces month's salary cut due to misleading tweet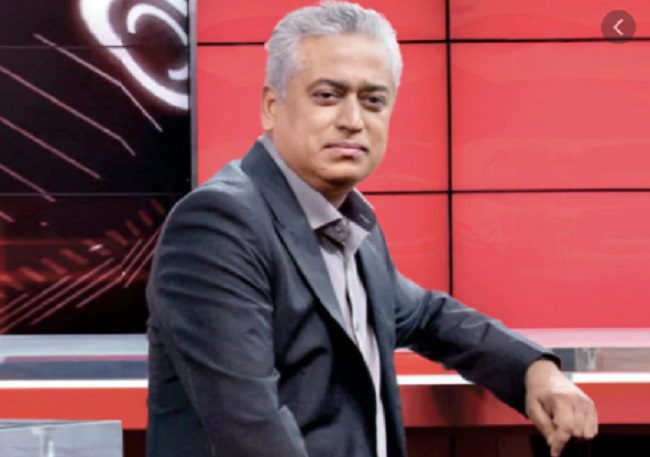 New Delhi: On January 26, when the agitating farmers had taken over the ramparts of Red Fort amid soaring tempers, TV anchor and India Today's consulting Editor Rajdeep Sardesai tweeted about the death of a young farmer in police firing.
But, the senior journalist's claim was denied by Delhi Police. The death of young farmer created flutter and had potential of precipitating violence manifold. But, since Delhi police acted on time and stopped the spread of any rumour, the issue didn't go out of hand.
Following this controversy, India Today Group has taken senior anchor and consulting editor Rajdeep Sardesai off the air for two weeks, citing his on-air claim and tweets of Delhi Police shooting and killing a farmer during January 26 tractor rally. The channel has also deducted one-month's salary from the anchor, the Wire reported.
What Sardesai tweeted and said 'on air'
Sardesai had tweeted, "One person, 45-year-old Navneet killed allegedly in police firing at ITO. Farmers tell me: the 'sacrifice' will not go in vain."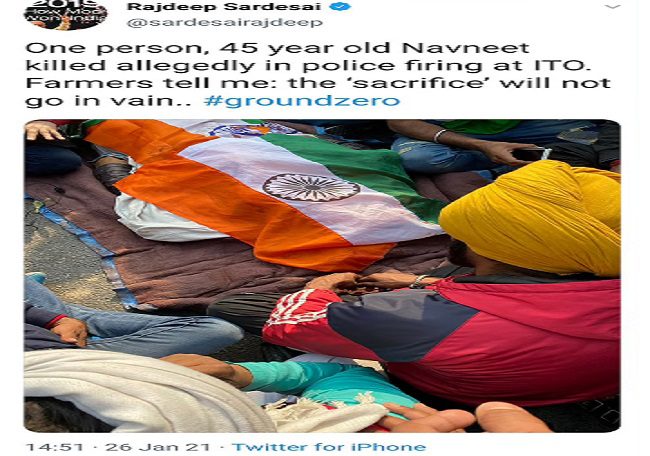 However, the tweet was deleted by the journalist later.
In LIVE TV coverage of the tractor rally, Sardesai said "The dead body shown to me was allegedly of 24-year-old Navneet Singh. He died apparently after he was shot in the head. There is simmering anger among the farmers and they are demanding justice in this case. They want answers over – who shot Navneet?"
This again created uproar and many BJP leaders took to Twitter, demanding FIR against the journalist for spreading 'fake news'.
राजदीप सरदेसाई ने झूठ बोला

राजदीप ने कहा कि उसने खुद देखा नवनीत के सिर पर गोली लगी थी

पोस्टमार्टम और वीडियो में राजदीप के झूठ का पर्दाफाश

राजदीप दिल्ली पुलिस पर हमले के लिए खुलेआम भड़का रहा था #ArrestRajdeepNow pic.twitter.com/1n5mAPG4Nr

— Kapil Mishra (@KapilMishra_IND) January 27, 2021
He is a repeat offender, should have been sacked! https://t.co/VNxUfHbI2r

— Amit Malviya (@amitmalviya) January 28, 2021
Delhi Police release video of tractor turning turtle
Death of a young farmer sent shockwaves even as the protesters went on rampage across the national capital. However, just hours later, it was confirmed that the farmer didn't die of police bullet but because of a 'tractor stunt' going awry.
Rejecting Rajdeep's claims of 'farmer killed in police firing', the Delhi Police released a video which showed the tractor going out of control and overturning.
The farmer who was driving the tractor was grievously injured later succumbed to his injuries.
While the farm protestors claim that the deceased Navneet Singh was shot at by Delhi police while on a tractor, this video clearly shows that the tractor overturned while trying to break the police barricades. The farm protestors allegations don't stand. Post mortem awaited.? pic.twitter.com/JnuU05psgR

— Rajdeep Sardesai (@sardesairajdeep) January 26, 2021
Rajdeep retracts statement after police rebuttal
After Delhi Police issued the rebuttal video, Sardesai tweeted, "While the farm protestors claim that the deceased Navneet Singh was shot at by Delhi police while on a tractor, this video clearly shows that the tractor overturned while trying to break the police barricades. The farm protestors' allegations don't stand. Post mortem awaited."