VIDEO: AAP MLA Naresh Balyan, others celebrate Punjab win outside Kumar Vishwas' residence
Ex AAP leader Kumar Vishwas had targeted the Kejriwal government against the new excise policy of the Delhi government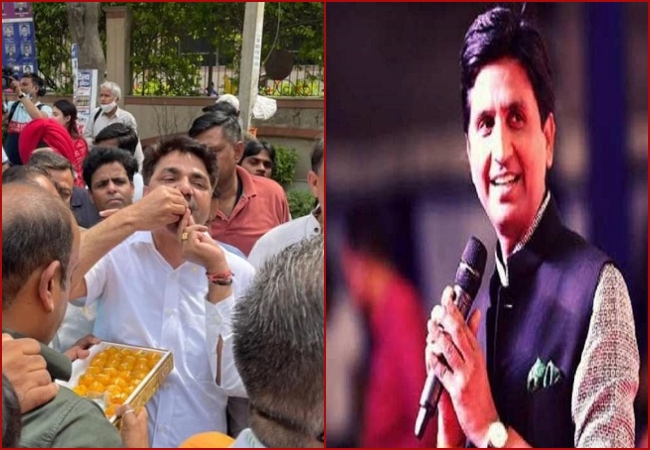 New Delhi: Aam Aadmi Party is moving towards a thumping majority in Punjab. Meanwhile, the attitude of the party leaders has also changed.
Now the front is being opened on old statements and the target is poet and ex AAP leader Kumar Vishwas.
AAP MLA Naresh Balyan has reached Kumar Vishwas's house along with a large number of his supporters.
In the past, there was a heated argument between the two on Twitter.
Watch the video here: 
कवि को मिठाई खिलाने उसके घर आया हूँ। वो 500 पुलिसकर्मी की सुरक्षा मे घर मे छिपे है, और क़ह रहे है की बोल दो की वो नहीं है। अरे कविवर आप पुराने साथी हो, मिठाई तो खाना ही पड़ेगा। हम आपके घर के बाहर है। इंतज़ार करेंगे। बाहर तो आना ही होगा कविवर। pic.twitter.com/RQ1ccn9wIa

— MLA Naresh Balyan (@AAPNareshBalyan) March 10, 2022
In fact, Kumar Vishwas had targeted the Kejriwal government against the new excise policy of the Delhi government.
After his attack, AAP MLA Naresh Balyan also entered the fray and there was a fierce debate between them on Twitter.
Kumar Vishwas had said that a Delhi liquor mafia came to me along with the liquor hoarder MLA, requesting to implement the policy of raising the age of drinkers from 21 to 18 and opening of 1000 new contracts.
"I scolded and drove away and warned both the leaders", he had said.
"चोर जो चुप ही लगा जाता तो वो कम पिटता,
बाप का नाम बताने की ज़रूरत क्या थी..!"
😂मैंने तो बस "दारू जमाख़ोर विधायक" लिखा था, तुम ही आए थे यह जताने की ज़रूरत क्या थी बालक ?😳 https://t.co/KPyVs4jZLd

— Dr Kumar Vishvas (@DrKumarVishwas) January 3, 2022
In response to this, Naresh Balyan had said that you seem to have consumed the wrong substance this morning.