"What can I say?…": Nitish Kumar on raids on Tejashwi Yadav, RJD leaders
The Enforcement Directorate (ED) had on March 10 conducted a raid at the residence of Tejashwi in Delhi for over 11 hours.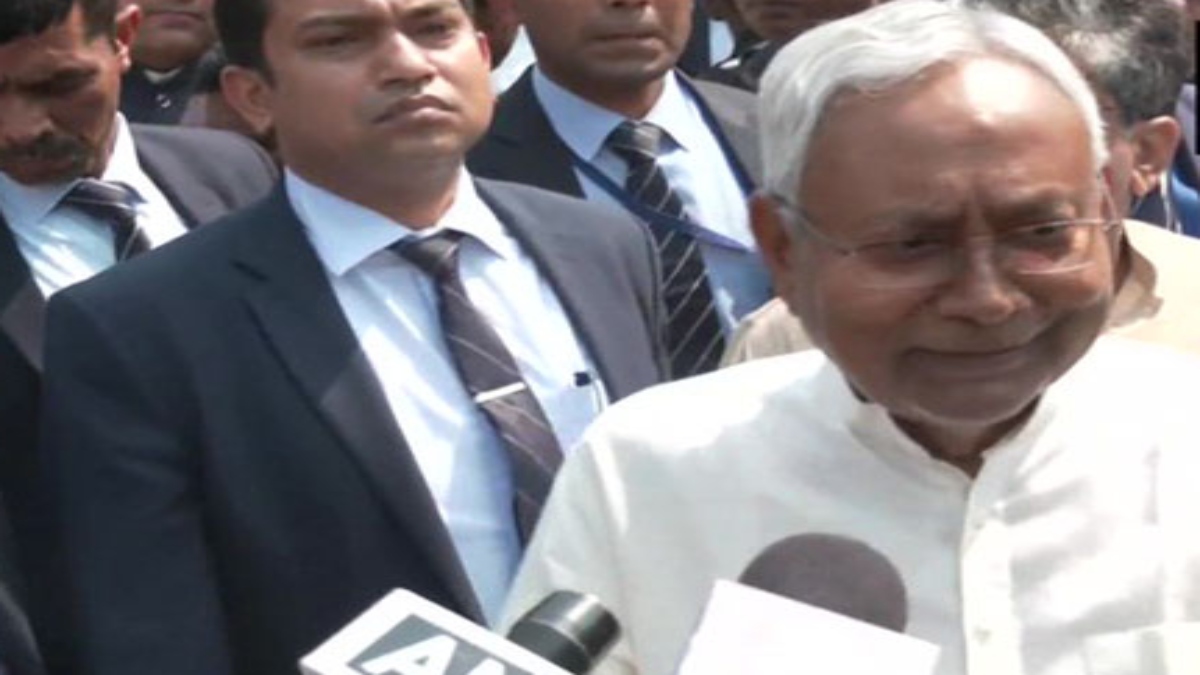 Patna: A day after central investigative agencies conducted raids on relatives of RJD chief Lalu Prasad Yadav, including Tejashwi Yadav, Bihar Chief Minister Nitish Kumar on Saturday took a dig at the BJP and said that action could be triggered due to the banding together of the Mahagathbandhan.
"…This happened in 2017. Then we (JDU-RJD) went our separate ways…five years went by and when we came together, raids occurred again. What can I say?…" the chief minister said shortly after news that CBI had summoned his deputy Tejashwi Yadav for questioning today in connection with the land-for-jobs scam.
In 2017, the JD(U) allliance with RJD broke down after CBI raids on Lalu Yadav over claims he rigged tenders when he was railway minister in the Congress-led central government.
Tejashwi Yadav who was deputy chief minister at that time too had resigned after he was named in the CBI's case. After the raids the JD(U) broke off and allied with the Bharatiya Janata Party.
Meanwhile, the Central Bureau of Investigation (CBI) summoned Bihar's Deputy Chief Minister Tejashwi Yadav in connection with the land-for-jobs case. However according to sources Tejashwi is likely to skip appearing before the probe agency due to his wife's ill-health.
The Enforcement Directorate (ED) had on March 10 conducted a raid at the residence of Tejashwi in Delhi for over 11 hours.
Terming the probe agencies CBI and ED as "pet parrots" of Centre, Janata Dal (United) National president Lalan Singh alleged that pregnant women and small children were harassed.
Taking to Twitter, Singh said, "In the case of land for job case, the CBI could not gather evidence after investigating twice. But after August 9, 2022, suddenly they started getting evidence from divine power and heavy raids took place at Lalu Prasad ji and his family members."
He further said that the probe agencies will do what is being instructed by the Centre as this is an "unannounced emergency".
"Even if the evidence is not found, pet parrots will do anything to show evidence. The horn of the cow is added to the buffalo and the horn of the buffalo is added to the cow. The newspaper says- 'The raid has been done due to AK Infosystem'… which has nothing to do with the job case. But well, pet parrots can do anything when instructed by their owner because this is an unannounced emergency," he further said.
Singh said that no matter how the Opposition leaders will be suppressed the country will be free from BJP in 2024.
#WATCH | Patna: Bihar CM Nitish Kumar speaks on Central agencies' raids on Opposition leaders, incl Tejashwi Yadav.

He says, "…This happened in 2017. Then we (JDU-RJD) went our separate ways…5 yrs went by & when we came together, raids occurred again. What can I say?…" pic.twitter.com/upCjO56ali

— ANI (@ANI) March 11, 2023

"This kind of ruthless behavior with pregnant women and small children has happened for the first time in the country, and the country will remember it. No matter how much you suppress, the country will be BJP-free in 2024," he added.
The ED also conducted raids against many relatives of former Railway Minister Lalu Prasad at multiple locations across Delhi, the National Capital Region (NCR) and Bihar in the alleged land-for-jobs scam.
The raids were conducted at the residence of Lalu Prasad's daughter Misa Bharti as well as RJD's leader and former MLA Abu Dojana in Bihar, said sources.
The ED carried out these searches under provisions of the Prevention of Money Laundering Act after filing an Enforcement Case Information Report (ECIR) taking cognizance of the Central Bureau of Investigation (CBI) case against Lalu Prasad in the matter.
The federal agency carried out these searches days after a CBI team questioned Lalu Prasad in connection with the land-for-jobs case. The CBI on Tuesday quizzed Lalu Prasad for nearly five hours in two sessions.
Tejashwi is the third person of the Yadav family who will be questioned in the case. Earlier, his parents (Rabri and Lalu Yadav) were questioned.
On March 7, Lalu Yadav was grilled by CBI for nearly six years in two sessions at his residence in Pandara Park, Delhi.
The CBI team had video-recorded the questioning of RJD chief Lalu Yadav in connection with the land-for-job case, in Delhi.
Lalu Yadav is suffering from prolonged illness, especially for his kidney-related ailments. After a Kidney transplant in Singapore, he returned to Delhi recently and he is continuously monitored by health experts in Delhi.
Lalu Yadav's family had asked CBI officials to maintain adequate distance and use masks during questioning.
On March 6, CBI questioned former Bihar Chief Minister Rabri Devi in connection with the land-for-jobs case at the Pandara park residence of his daughter Rajya Sabha member Misa Bharti.
Earlier, a CBI official had said that the central agency had served notice to Yadav a few days ago and is likely to question Lalu Yadav soon.
CBI had filed the chargesheet in October last year, against former Lalu Prasad Yadav, Rabri Devi, their daughter Misa Bharti and 13 others in the land-for-jobs scam.
The chargesheet stated that during the investigation, it was found that the accused in conspiracy with the then GM Central Railways and CPO, Central Railways engaged persons as substitutes in lieu of land either in their name or in the name of their close relatives.
This land was acquired at prices lower than the prevailing circle rate and much lower than the market rate. It was also alleged that the candidates have used false TC and submitted false attested documents to the Ministry of Railways, said the CBI statement.
The alleged scam occurred between 2004 and 2009 when Lalu Yadav was the Railway Minister. Apart from the Rashtriya Janata Dal (RJD) chief, the chargesheet also includes the name of the then Railway General Manager.
CBI stated that the investigation had revealed that the candidates were considered for their engagement without any need for substitutes and there was no urgency for their appointment which was one of the main criteria behind the engagement of substitutes and they joined their duties much later from the approval of their appointment and they were subsequently regularised.
Recently on February 27, while taking cognisance of the CBI chargesheet, Delhi's Rouse Avenue Court issued summons against Lalu, his wife Rabri Devi and 14 others in connection with an alleged land-for-job scam.