Anand Mahindra wins hearts by helping quadruple amputee to get job (VIDEO)
In December 2021, Anand Mahindra shared a post on Twitter where he praised a man named Birju Ram.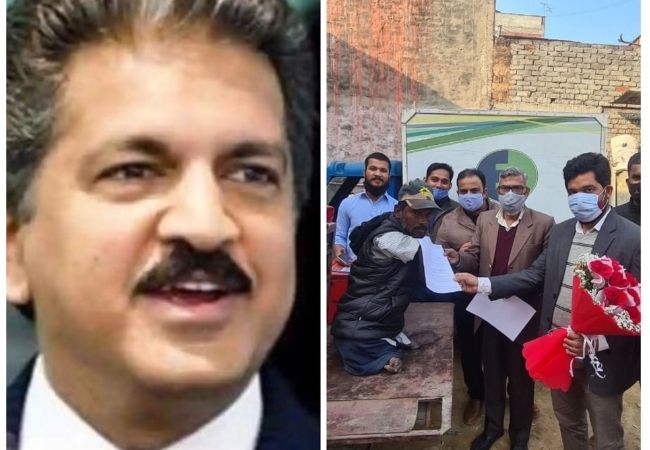 We witness several people here and there earning livelihood despite facing several hurdles all the time. They never consider their shortcomings as a negative condition and emerge to be successful ones in their own field of life. Interestingly, among all the industrialists, Anand Mahindra gets inspired by the stories of all those people. In his recent post, he shared a story of a quadruple amputee from Delhi who acquired a job at a Mahindra EC charging station.
In December 2021, Anand Mahindra shared a post on Twitter where he praised a man named Birju Ram. Along with posting a video of the same, he wrote, "Received this on my timeline today. Don't know how old it is or where it's from, but I'm awestruck by this gentleman who's not just faced his disabilities but is GRATEFUL for what he has. Ram, can @Mahindralog_MLL make him a Business Associate for last mile delivery?"
Earlier today, Anand Mahindra again took to Twitter to share the news of Birju Ram being an employee at Mahindra at present. Sharing some snaps, he wrote, "There have been many follow up videos and negative 'revelations' about this gentleman on YouTube But I want to thank Ram and @Mahindralog_MLL for employing Birju Ram at one of our EV charging yards in Delhi. EVERYONE deserves a break…"
See the post here:
There have been many follow up videos and negative 'revelations' about this gentleman on YouTube But I want to thank Ram and @Mahindralog_MLL for employing Birju Ram at one of our EV charging yards in Delhi. EVERYONE deserves a break… https://t.co/pBpH6TpgnB pic.twitter.com/mJHYKvjzBZ

— anand mahindra (@anandmahindra) February 2, 2022
Since the time of the share, the post has garnered over 3,900 likes and is still counting. Various people took to the comment section to appreciate the great move by the business tycoon. Here are some of the reactions of the netizens:
HatsOff SirG https://t.co/Qm7Us4TUYS

— Yousuf_khan (@Usufkhan_7) February 3, 2022
Seriously great..😘👏🙏 https://t.co/c8JTsYhdkf

— B.N.SHUKLA (@bnshukla_hr) February 3, 2022
….. यही मानवीयता @anandmahindra जी की पहचान है
पूरी कहानी यहां पढ़ें. https://t.co/eVmBgX9VzC https://t.co/0WgEVy3AGu

— Manish Mishra (@manishmishra75) February 3, 2022
EVERYONE deserves a break… 🇮🇳✌️ https://t.co/FafL2HE8iA

— Gadadhar Tiwary (@tiwarygadadhar) February 3, 2022
Great inicitive by anand mahindra i am very proud of sir which given an opportunity to this person… https://t.co/SrETmJygbX

— Ashish Tiwary (@Ashish777Ashish) February 3, 2022
Your helping nature is very inspirational for all youths and citizens of India sir …..!🥰🙏🙏 https://t.co/K4OfTulTD8

— Dron (@DronKSahu) February 3, 2022
Some Enterprenuers live in people Hearts https://t.co/aJwjCrNbyl

— Alwal Reddy Gogu (@gogualwal999) February 2, 2022
Very inspiring sir @anandmahindra 🙏🏻 https://t.co/auHUTD4hQZ

— Geeक ✽ (@yatharthsingh) February 2, 2022
@anandmahindra sir only one word
"WoW"🙏🇮🇳 https://t.co/Ehzs10DQsQ

— Ashish Bansal (@GrtAshishBansal) February 2, 2022
बहुत खूब सर जी #दुवा मे याद रखा https://t.co/sQ1rdwrqUz

— Yogesh kadam (@Yogeshkadam89) February 2, 2022
An act of kindness goes a long way.

Inspiring @anandmahindra https://t.co/9wuJOsDnVO

— B Thomas (@DrThomas_B) February 2, 2022
@anandmahindra You are inspiration to all👍👌 https://t.co/r2LdAi0xkP

— rema karat (@rremakarat) February 2, 2022